Vekoma has built over 300 roller coasters. No other ride manufacturer has more coasters to their name than Vekoma and anyone who has visited a theme park has probably ridden a Vekoma coaster.
Vekoma was founded in 1926 as a manufacturer of agricultural and mining machinery. In 1967, Vekoma started manufacturing amusement rides such as Ferris Wheels and has, since the mid-1970s, specialised in manufacturing thrill rides.
Vekoma's First Coaster
CORKSCREW
The Corkscrew Coaster was the first ride type that made Vekoma coasters desirable. Easy to construct in a relatively small area, the Corkscrew model offered riders the inversion after which it's named. There are slight variations of the Corkscrew model, such as an added curve or an extra corkscrew but the general layout remains the same. The ride type debuted in 1979 with Tornado at Walibi Belgium and Super Wirbel at Holiday Park in Germany and was the first coaster type ambitiously developed by Vekoma. The Corkscrew model is no longer made by Vekoma but several examples still operate today.
Examples:
Corkscrew at Playland at the PNE, Canada
Loopen at TusenFryd, Norway
Corkscrew at Valleyfair, USA
Big Loop at Heide Park Resort, Germany
See also: Corkscrew Coasters
Vekoma's Product Range
BOOMERANG
The Boomerang Coaster is one of Vekoma's most popular models; about 50 of them have been built since 1984. Riders are winched backwards out of the station up a spike-like lift hill. The train is then released and hurtles through the station, around cobra roll and vertical loop inversions before coming to a rest up another spike. The train is then released from the second spike where it travels the track in reverse. There are various Boomerang models such as The Giant Inverted Boomerang and Invertigo where the trains are suspended below the track.
Examples:
Speed of Sound at Walibi Holland, Netherlands
Triops at Bagatelle, France
Aftershock at Silverwood, USA
Goliath at Six Flags New England, USA
See also: Boomerang Coasters
FAMILY BOOMERANG
As the name suggests, the Family Boomerang (sometimes referred to as a Junior Boomerang) is a variation of the Boomerang model. The Family Boomerang doesn't invert, instead of a cobra roll and loop, it had a spiraling helix. This coaster type made is début in 2011 in Europe with Ben 10: Ultimate Mission at Drayton Manor in the UK and slight variations have been made to at least three of the half dozen or more that have been built since.
Examples:
Velociraptor at Paulton's Park, UK
Ben 10 – Ultimate Mission at Drayton Manor, UK
See also: Boomerang Coasters
SUSPENDED LOOPING COASTER (SLC)
There are over 30 SLCs in the world, the first one was El Condor at Walibi Holland. As the name suggests, trains are suspended below the track and it features several inversions. Although Vekoma do make customised SLCs, the vast majority of them are off-the-self models that come in one of five sizes. The earlier SLCs are renowned amongst enthusiasts as having an uncomfortable ride experience.
Examples:
Condor at Walibi Holland, Netherlands
Odyssey at Fantasy Island, UK
Batman: The Ride at Six Flags Mexico
Kumali at Flamingo Land, UK
See also: Inverted Coasters
SUSPENDED FAMILY COASTER
Vekoma developed a smaller version of their SLC for families to enjoy together. The first models opened at Canada's Wonderland and Kings Island in Ohio, USA, in 2001. The company went on to perfect the coaster by making the ride smoother and removing the over-the-shoulder restraints in 2006 when Kvasten opened at Gröna Lund in Sweden.
Examples:
Orkanen at Fårup Sommerland, Denmark
Flight of the Pterosaur at Paultons Park, UK
Freedom Flyer at Fun Spot America, USA
Kvasten at Gröna Lund, Sweden
See also: Suspended Coasters
SWINGING TURNS
Vekoma counteracted the popular Arrow Dynamics Suspended Coasters with their Swinging Turns suspended model – Dream Catcher at Bobbejaanland in Belgium, which opened in 1987. Only three were manufactured, all of which are still operational.
See also: Suspended Coasters
MINE TRAIN
Vekoma manufacturers the classic Mine Train coaster most people associate with the original construction – Big Thunder Mountain at Disneyland Paris. There are about 10 of these coasters in the world. They offer a compact layout that features many turns and drops. These coasters lend themselves to themeing, especially where the train travels near enclosed spaces. Two different sized Mine Train models are available from the company, although a customised version is possible.
Vekoma also developed Disney's Seven Dwarfs Mine Train, a new model that features the world's first swinging cars.
Examples:
Colorado Adventure at Phantasialand, Germany
Calamity Mine at Walibi Belgium
Mammut at Gardaland, Italy
Seven Dwarfs Mine Train at Walt Disney World's Magic Kingdom, USA
See also: Mine Train Coasters
MOTORBIKE COASTER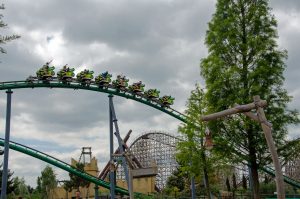 The Motorbike coaster is named after it's innovative rider seating position (trains are themed to motorbikes) and it's launch. There are two standard off-the-shelf models available and the ride can be customised. Vekoma Motorbike coasters do not invert and have a low minimum rider height limit, so they are ideal for family parks who want an adventurous, thrilling coaster. The first one to open was Booster Bike at Toverland in the Netherlands. Zamperla [hyperlink to Zamperla Manufacturer page] also produce a similar type coaster.
Examples:
Booster Bike at Toverland, Netherlands
Velocity at Flamingo Land, UK
See also: Hydraulic Launch Coasters
FLYING DUTCHMAN
Need a cheaper alternative to a B&M Flying Coaster? Well look no further! A Vekoma Flying Dutchman seats riders in a horizontal flying position. The trains are reclined in the station and flipped upside down on the lift hill. The track layout is full of swooping turns and several inversions to create the illusion of flight. There are only three of these coasters operating in the world, all of which are in the USA. Vekoma also make a variation of this coaster type called Stingray which is a compact design with a vertical lift hill.
Examples:
Batwing at Six Flags America, USA
Firehawk at Kings Island, USA
Nighthawk at Carowinds, USA
See also: Flying Coaster
VEKOMA LSM LAUNCH COASTER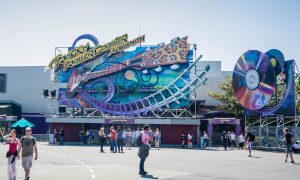 There are two Vekoma LSM Launch coaster models; The standard 3,268 foot (996m) track length version and the Disney variation. The Disney variation is a customised version and is used for the Rock 'n' Roller Coaster attraction found at their parks in France and Florida, USA. Both models have a launch and inversions.
Examples:
Xpress: Platform 13 at Walibi Holland, Netherlands
Rock 'n' Roller Coaster at Walt Disney Studios Park, France
See also: LSM Launch Coasters & Catapult Launched Coasters
WOODEN COASTERS
Only three Vekoma wooden coasters have ever been built, all in 2000-2001, and the company discontinued the type soon thereafter. There are several manufacturers dedicated to creating wooden coaster of greater intensity, therefore Vekoma Wooden coasters never became popular.
Examples:
Loup Garou at Walibi Belgium
Robin Hood at Walibi Holland, Netherlands
Other information
Vekoma also manufacturer water rides and other thrills rides. The most popular being the Madhouse, which is a flat ride built inside of a building where a gondola swings back and forth to a maximum of 15° at a controlled speed while the large circular room rotates in the opposite direction. As the ride progresses, the two rotations creates the illusion that the room has flipped upside down.
The name Vekoma comes from a combination of the founder's name and factory; Veld Koning Machinefabriek.
Manufacturer Contact Details
Vekoma Rides Manufacturing B.V.
Schaapweg 18
6063 BA Vlodrop
The Netherlands
Tel: +31 475 409 222