A Mine Train roller coaster is recognisable by the appearance of the trains. The trains typically resemble a locomotive train engine at the front (sometimes with a drivers cab) and have mine carts or carriage styled cars for the rest of the train. Mine Train coasters tend to be themed to runaway mine trains, the Wild West or a Mountain train. Not all Mine Train coasters use gravity to coast like traditional roller coasters do, some are powered around the track using motors built into the train similar to a Scalextric car on a track. Mine Train coasters tend to have multiple lift hills, but do not have inversions. Instead the track elements are made up from banked turns, helixes, and straight sections of track. Mine Train coasters use steel for the track, although some parks add wooden railway sleepers to give the ride an authentic locomotive feel.
The Original
ARROW DYNAMICS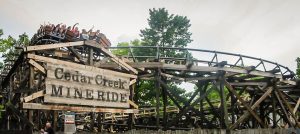 The first Mine Train Coaster to open was Run-A-Way Mine Train (now named without the hyphens) at Six Flags Over Texas, USA, in 1966. Run-A-Way Mine Train was the first major coaster of the time to break from using traditional wood, but use tubular steel track instead. Arrow Dynamics (then Arrow Development), with design engineers Ronald Toomer, Karl Bacon, and Ed Morgan, advanced the steel coaster technology into a new era. Run-A-Way Mine Train features three lift hills and two tunnels, one of which travels under the park's Caddo Lake. This feature is regarded as the world's first underwater coaster tunnel.
Operating example:
Runaway Mine Train at Six Flags Over Texas, USA
El Diablo – Tren de la Mina at PortAventura Park, Spain
Dahlonega Mine Train at Six Flags Over Georgia, USA
Big Bad John at Magic Springs & Crystal Falls, USA
Variations
VEKOMA MINE TRAIN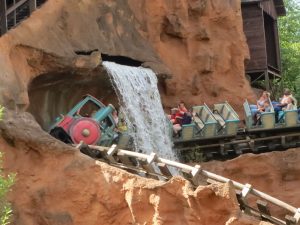 Vekoma started building Mine Train Coasters in 1992 when they were commissioned to build the famous Big Thunder Mountain at Disneyland Paris in France. Big Thunder Mountain was a new product in Vekoma's portfolio, leading to the creation of the MK-900 model, where 900 represents the length of track in meters, which has three lift hills. Vekoma also produce a shorter 785 model that has two lift hills. Vekoma Mine Trains are customisable to suit any park's requirements.
Almost all Vekoma Mine Trains have elaborate and huge frontages, which adds to the desired theme of the ride. The most notable exception is Disney's Seven Dwarfs Mine Train, which features the world's first swinging cars and some of the most advanced animatronics ever found on a coaster.
Operating examples:
Big Thunder Mountain at Disneyland Paris, France
Colorado Adventure at Phantasialand, Germany
Calamity Mine at Walibi Belgium
Mammut at Gardaland, Italy
MACK RIDES POWERED COASTER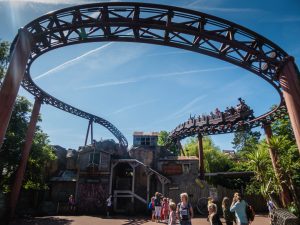 Mine Trains by Mack Rides are powered coasters that do not use conventional roller coaster physics to move around the track. Electric motors power the wheels of the coaster, allowing the ride operator freedom to control the speed and designers more freedom to create interesting layouts. For example, the Runaway Train at Alton Towers, built by Mack, would take up more space if it used a conventional lift hill and drop, so imagineer John Wardley could go nuts with the layout. In some respects, Mack Power Coasters are not technically Mine Train Coasters but their execution of powered technology tends to be used for this type of coaster. Mack's Blauer Enzian coaster type, of which they have built 10, is typically used as a Mine Train Coaster.
Operating examples:
Le Train de la Mine at Nigloland, France
Bob Express at Bobbejaanland, Belgium
Odinexpressen at Tivoli Gardens, Denmark
Alpenexpress Enzian at Europa Park, Germany
ZAMPERLA
There are various Zamperla coaster types that are themed to mine trains, although only one model (pictured right) is given the moniker. It's virtually the same style as a Mack Rides version, albeit on a smaller scale, and only a handful have been built.
The Family Gravity Coaster model is the most common in the company's lineup, with over 20 Mine Train styled coasters of the 30+ in operation.
SBF VISA MX601
The SBF VISA Group has built more than a half dozen MX601 coasters, which is their catchy name for their Mine Train coasters. MX601 coasters have a figure of eight layout, they take up very little space and use tire propulsion to move the train up the lift hill, leaving only the final helix as a coasting section. However, with the advent of their extremely popular spinning coaster models in 2014 (MX608) and 2016 (MX609), production of these models has nearly ceased.
ZIERER FLITZER
Although usually themed to racing cars, one Zierer Flitzer coaster is styled to a Mine Train. Silver Mine at Freizeitpark Plohn in Germany opened in 2000 featuring a fully themed station and custom cars that are designed like runaway mine carts.