Although somewhat-dated, LIM (Linear Induction Motors) technology is a form of electro-magnetic propulsion that was the first launch method to see widespread use by numerous companies. They are generally used to replace a traditional lift hill and do not contain any moving parts.
An induction motor operates with alternating current supplied directly to an electrical coil called a stator. If the rotor and stator are unrolled into a flat plane, the induction motor becomes a Linear Induction Motor. An electrical current pulses through the LIM creating an electro-magnetic force that pulls at aluminum fins attached to the car undercarriage, creating forward motion that's used to launch the train or boost it along the track.
The Original
PREMIER LIM BOWL
Also known as "spaghetti bowl" coasters, these tightly-packed Premier looping coasters begin with an LIM launch from the station. The rides feature four inversions packed into a twisted layout of turns, helices, and hills. Most LIM Bowl trains have been retrofitted with lap bars in place of OTSRs (over the shoulder restraints)!
The first two models were enclosed and called Flight of Fear. They opened in 1996 at Kings Dominion in Virginia and Kings Island in Ohio (both in the USA). Three years later two more opened at Six Flags America (Joker's Jinx) near Washington DC and Six Flags Fiesta Texas (Poltergeist) in the USA.
Examples:
Joker's Jinx at Six Flags America, USA
Poltergeist at Six Flags Fiesta Texas, USA
Flight of Fear at Kings Island, USA
Variations
PREMIER LIM SHUTTLE LOOP COASTER
Premier LIM Shuttle Loop Coasters are famous for their incredibly intense and out-of-control ride experiences. The main production version was manufactured in 1998 and consists of a launch, inverted top hat, overbanked turn, and vertical reverse spike where the train goes up the spike and falls back down to retrace the circuit backwards.
Examples:
Mr. Freeze at Six Flags St. Louis, USA
Mr. Freeze at Six Flags Over Texas, USA
In 2012 Six Flags reversed the seating so riders face backwards and the coasters were renamed to Mr. Freeze Reverse Blast.
Examples:
Mr. Freeze Reverse Blast at Six Flags St. Louis, USA
Mr. Freeze Reverse Blast at Six Flags Over Texas, USA
In 1998 Premier also built Batman and Robin: The Chiller, a pair of dueling LIM coasters featuring slightly different elements along a similar track pattern. Although a park guest favorite, the coaster suffered from technical issues for years and was sold in 2008 to Beto Carrero World in Brazil, were it has sat in storage ever since.
Two years after the first LIM Shuttle Loop Coasters opened, Premier built another called Speed – The Ride at the NASCAR Café in Nevada, USA. It was very similar to the originals, but had a different layout without the inverted top hat. The Sahara Hotel and Casino that housed the NASCAR Café was demolished in 2011 and the disassembled coaster still sits in a nearby parking lot.
PREMIER LIM TRIPLE LAUNCH COASTER
Premier's most well known LIM launch coasters are the Revenge of the Mummy coasters at the Universal Studios parks in Florida, California and Singapore. The first opened in Orlando and Hollywood in 2004, with the one in the Far East coming some six years later. Like the original Flight of Fear LIM Bowl coasters (above), these three are also enclosed. However, the coasters do not invert and feature three launches throughout the circuit and do not have identical layouts.
Example:
INTAMIN IMPULSE COASTER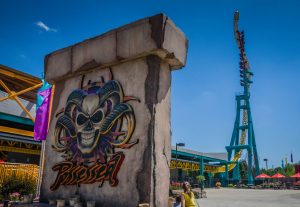 In 1998 Intamin manufactured their first LIM launched shuttle coaster – Linear Gale at Tokyo Dome City in Japan. Two years later they created the first twisted version – Steel Venom at Geauga Lake in Ohio (now Possessed at Dorney Park in Pennsylvania), USA. These inverted coasters launch the seven car train four times, forwards then backwards, out of the station and up vertical spikes. The forward spike is twisted (a vertical spiral), whereas the rear spike is straight with a holding brake that suspends riders for a few seconds during the final decent.
There are a few variations to the standard, with V2: Vertical Velocity at Six Flags Discovery Kingdom in California having a 45° inclined front spiral due to restricted airspace over the park and Wicked Twister at Cedar Point in Ohio having vertical spirals at both ends.
Examples:
Vertical Velocity at Six Flags Great America, USA
Possessed at Dorney Park, USA
V2: Vertical Velocity at Six Flags Discovery Kingdom, USA
Steel Venom at Valleyfair!, USA
INTAMIN LAUNCHED LOOPING COASTER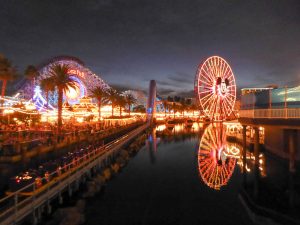 The one-off LIM launched Incredicoaster (formerly California Screamin') at Disney California Adventure Park also includes a chain lift hill in the middle of the circuit and is the world's longest coaster with an inversion.
INTAMIN SUSPENDED CATAPULT COASTER
In 1998, a year after the company's LSM Launched Freefall coasters debuted, Intamin introduced the inverted LIM launched coaster with Volcano: The Blast Coaster at Kings Dominion in Virginia, USA. Using a second LIM launch to boost the train out of the top of the man-made volcano, this model paved the way for future Impulse designs to be what they are today. Although a favorite among park guests and enthusiasts alike, the ride closed and was removed in 2018.
Example:
Volcano: The Blast Coaster at Kings Dominion, USA
VEKOMA LAUNCHED COASTER
In addition to two chain lift hills, Vekoma added a LIM launch to Big Grizzly Mountain Runaway Mine Cars at Hong Kong Disneyland. The other four Vekoma manufactured Disney Mine Train coasters in California, Florida, France and Japan use three chain lift hills.
SCHWARZKOPF LIM LAUNCHED SHUTTLE LOOP COASTER
Although Schwarzkopf only manufactured their popular Shuttle Loop coasters with weight drop or flywheel launches, Walibi Belgium decided to replace the flywheel with a Gerstlauer LIM launch for the transformation of Turbine into Psyké Underground in 2013.