Vekoma Boomerangs are the most common production model coaster in existence, with over 50 installations worldwide. Popular when it was first created, the Boomerang has since fallen into disfavor with enthusiasts, who are not fond of its rough, massively-cloned ride. However, it should be noted that Boomerangs are important coasters, as their cheap price tag and small footprint make them perfect for smaller parks – and often pull in the money needed to build larger, more thrilling coasters.
The Boomerang coaster begins with a pull up a steep incline, backwards, out of the station, by a catch car attached to a cable. Once at the top of the incline, the train is released, and it falls down the incline and through the station into a Cobra Roll ("Boomerang") element. A vertical loop follows before the train starts up another hill. When the train's forward momentum runs out, a lift chain pulls the train up the remainder of the second incline and releases, allowing the train to fall backwards and repeat the circuit in reverse.

The Original
The original Boomerang took shuttle coasters to a new level, combining the thrill of a suspenseful hanging drop, multiple inversions followed by the same again; only this time backwards.
Boomerang at Six Flags Mexico is believed to be the first since it was constructed in 1982 and supposedly opened briefly in 1983 at Rafaela Padilla in Puebla, Mexico before relocating to Mexico City. However, some say it did not open until 1984, after the second Boomerang built that year opened at Bellewaerde in Belgium.
Examples:
Boomerang at Wild Adventures, USA
Cobra at PowerPark/PowerLand, Finland
Speed of Sound at Walibi Holland, Netherlands
Sea Serpent at Morey's Piers, USA
Variations
INVERTED BOOMERANG (a.k.a Invertigo)
Exactly the same drop, cobra roll, vertical loop, and reverse as a standard Vekoma Boomerang, only this time riders are left dangling under the track. Thus an inverted version with back-to-back seating that provides additional thrills, as all riders but the front and back rows have the opportunity to watch the people in front of them experiencing the attraction.
Examples:
Stinger at Dorney Park, USA
Triops at Bagatelle, France
Invertigo at Kings Island, USA
GIANT INVERTED BOOMERANG (GIB)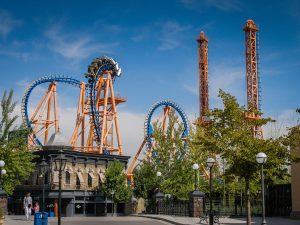 A "giant" take by Vekoma on their Invertigo coasters, the Giant Inverted Boomerang (GIB) combines a unique 4-across seating system with two vertical cable lifts, a giant Cobra Roll ("Boomerang") element, and a giant Vertical Loop over the station.
The ride travels through the course once forwards, then is lifted to the top of the second tower and released to complete the circuit backwards as well.
The rides, while an interesting concept, proved to be extremely unreliable. They were consistently out of operation, and many modifications were made to the lift systems, trains, and even track in an unsuccessful effort to make them reliable. To this day, they still prove to be unreliable rides, but they run more consistently than they originally did.
Examples:
Aftershock at Silverwood, USA
Goliath at Six Flags New England, USA
FAMILY BOOMERANG (a.k.a. Junior Boomerang)
Taking the basic idea of the Boomerang coaster (reverse up a hill, drop forwards through the station, elements, second hill then repeat backwards) and scaling it down for a younger audience to enjoy, Vekoma have produced a coaster that's fun for the entire family.
Ben 10: Ultimate Mission opened in 2011 as the world's first Family Boomerang and slight variations have been made to at least three of the two dozen or more that have been built since.
Examples:
Velociraptor at Paulton's Park, UK
Ben 10 – Ultimate Mission at Drayton Manor, UK