a.k.a Spinner, Spinning Wild Mouse, Twister Coaster
Originating as the spinning Wild Mouse, essentially a typical wild mouse coaster with cars that could freely spin at certain points in the track, the Spinning Coaster has expanded to include more unique and less-mouse like layouts. The cars have also changed, from all riders facing one direction, to riders facing opposite directions or facing each other.
The Original
REVERCHON SPINNING COASTER
Essentially a spinning car on a generic Wild Mouse track, the original Reverchon  spinning coaster is very tame, but can often be more fun than the more technically-impressive versions of today. Unlike newer spinning coasters, the four riders face one direction as they traverse the dual layer circuit.
Examples:
Raton Loco at La Feria Chapultepec Magico, Mexico
Primeval Whirl at Disney's Animal Kingdom, USA
Crazy Mouse at DelGrosso's Amusement Park, USA
Flagermusen at Fårup Sommerland, Denmark
Variations
MAURER SPINNING COASTER (S-COASTER)
More intense layouts and a smoother ride experience make Maurer Spinning Coasters, or S-Coasters, one of the company's most popular models, pleasing to thrill seekers as well as families. Maurer's first installation was Spinning Coaster Maihime at Tokyo Dome City in Japan, which opened in 2000.
The four-person S-Cars spin freely as they move along the track and unlike Reverchon and Gerstlauer (below) versions, riders face away from each other in pairs. The speed of the spin is determined by the weight distribution of the riders, so theoretically every ride is different. The S-Coaster tends to be a customized installation and can feature special track elements, such as those found on Winjas at Phantasialand in Germany.
Examples:
Steel Dragon at Waldameer, USA
Winjas at Phantasialand, Germany
Undertow at Santa Cruz Beach Boardwalk, USA
Sky Spin at Skyline Park, Germany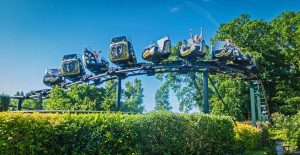 Maurer came up with a one-off variation of their spinning coaster in 2001, that is essentially a clone of the Intamin Twist and Turn coaster (see below). Twistrix at Drievliet Family Park in the Netherlands is an extremely family-friendly variation with a basic layout that features gentle inclines and a powered train with eight cars of two-person spinning seats.
MACK RIDES SPINNING COASTER
Mack Rides debuted this coaster type in the form of Euro Mir in 1997 at their own Europa Park in Germany. Things fell silent for the Mack spinning coaster after the model debut, but recently have re-invigorated the type by adding features like elevator lifts, as well as launches and inversions on their Xtreme Spinning Coasters like Time Traveler at Silver Dollar City in Missouri, USA. They differ from all the other spinning coasters here as the ride comprises of trains of spinning cars, rather than individual cars. The four seater cars can have riders face one other or sit back-to-back, so at certain points in the ride you'll get to see other riders.
Examples:
Cobra's Curse at Busch Gardens Tampa, USA
Time Traveler at Silver Dollar City, USA
d'Wervelwind at Toverland, Netherlands
Turbulence at Adventureland Long Island, USA
GERSTLAUER SPINNING COASTER
Adding to their portfolio of smaller, curious coaster types, Gerstlauer introduced their inward facing spinning coaster in 2004 with Fairly Odd Coaster (previously know as Timberland Twister) at Nickelodeon Universe in Minnesota, USA. The cars of this coaster spin freely during the ride and react to weight and acceleration, making each ride unique. The spin tends to be a little more intense when you get it, but you feel a little more detached than on other spinners as you're looking at other people, rather than track.
Examples:
The Joker at Six Flags Mexico
Galaxy Orbiter at Galaxyland Amusement Park, Canada
Spinning Dragons at Worlds Of Fun, USA
Fairly Odd Coaster at Nickelodeon Universe, USA
ZAMPERLA TWISTER COASTER
The Twister Coaster is similar to other spinning wild mouse coasters produced by other manufacturers. Unlike other models, Zamperla Twisters use individual lap bar restraints for the riders. Like the Reverchon Wild Mouse models, up to four riders can sit facing forward in a car that travels along a track with several small drops and 180° hairpin turns. The Twister Coaster comes in several set sizes or can be customized to a theme park's specification.
Examples:
Wild Mouse at Fantasilandia, Chile
Ragin' Cajun at Six Flags America, USA
Une Souris Verte at Parc Saint Paul, France
Tyfonen at Tivoli Friheden, Denmark
FABBRI SPINNING MOUSE
Fabbri manufacturers a more compact version of the standard Reverchon layout although they are very similar in looks and ride quality. It's a little less "Wild Mouse" than the Reverchon version, but that's about the only real difference.
SBF VISA GROUP SPINNING COASTER
The SBF VISA Group began producing their extremely popular family friendly MX600 spinning coaster series in 2014. The coaster consists of very compact figure eight track layout and a four car train with back-to-back seating. The relatively low cost, extremely small footprint and minimal maintenance make it an attraction any park can add to their ride lineup.
INTAMIN TWIST AND TURN COASTER
Like the Maurer knockoff at Drievliet Family Park in the Netherlands (above), Intamin's Twist and Turn coasters are extremely family friendly with a basic layout that features gentle inclines and a powered train with two-person cars of spinning seats. Comet Express at Lotte World in South Korea was the first when it opened in 1995, six years before the Maurer clone.