Zierer is a German manufacturer that specialises in family friendly roller coasters and thrill rides. There are approximately 130 operating Zierer coasters in the world today. Despite having a large portfolio of coasters, their wide range of flat rides, particularly the traditional amusement park rides, are present in nearly every theme park in the world.
Zierer's First Coaster
FLITZER
Zierer's first coaster was Flitzer at Crystal Beach in Canada, which is no longer in operation. The coaster was named after the now-discontinued coaster model of which 10 were built. Only a couple of Flitzer coasters exist today, Flitzer at Morey's Piers in New Jersey, USA, was probably the most famous.
Examples:
Racing at Bakken, Denmark
Flitzer at Jenkinson's Boardwalk, USA
Silver Mine at Freizeitpark Plohn, Germany
Zierer's Product Range
TIVOLI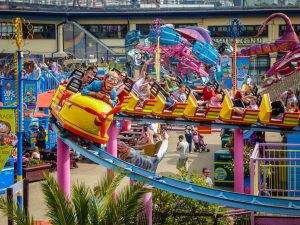 Zierer's most popular model with over 80 installations currently operating – the Tivoli model has been superseded by the Force model (see below). Four variations of the Tivoli model were available – small, medium, large and custom. Tivoli coasters are family coasters usually consisting of an oval and/or figure of eight layout and are easily identifiable through their long trains and a friction wheel lift hill mechanism.
Examples:
Jaguar at Knott's Berry Farm, USA
Autosled at Galaxyland Amusement Park, Canada
Tsunami at Six Flags Mexico
Viktor Vandorm at BonBon-Land, Denmark
TOWER LAUNCH COASTER
There is only one of these coasters currently in operation. Riders are launched via a Linear Synchronous Motor Drive (LSM) system from the station straight up a tower and through a tightly-packed track with inversions. They are similar to Gerstlauer Euro-Fighters in appearance.
Example:
Wicked at Lagoon, Utah
See also: LSM Launch Coasters
TOWER SPEED COASTER
It's basically the same as the company's Tower Launch Coaster, but without the launch. Both are similar to Gerstlauer Euro-Fighters in appearance with a vertical tower, multiple inversions and over-banked turns as well as a compact layout. Unlike their Gerstlauer counterparts, the Zierer models feature open cars that leave riders exposed for a heightened sense of excitement.
Example:
Impulse at Knoebels Amusement Resort, Pennsylvania
DROP ELEMENT COASTER
Intamin first introduced a drop element on a coaster in 2010 with Th13teen at Alton Towers in the UK, which features a controlled drop element where the train comes to a stop and the train, as well as the track it sits on, plunges down before the it continues on its way.
With their freefall drop tower experience, Zierer was quick to follow suite. Just two years later they produced Polar X-plorer at Legoland Billund in Denmark and Verbolten at Busch Gardens Williamsburg in Virginia, USA, the latter considered by most to be the best Drop Element Coaster manufactured.
Example:
ELEVATED SEATING COASTER
As the name suggests, the seats are raised which, according to Zierer, makes the different track elements more intense compared to the normal seat position. The track is made up of banked turns and airtime hills. While this might suggest the opposite, these coasters are actually very family friendly and have minimal rider height restrictions.
Examples:
Il Tempo Extra Gigante at Hunderfossen Familiepark, Norway
Crossbow at Bowcraft Playland, USA
FORCE
Similar to the Tivoli model in size and experience, however the track is slightly different. The Force model now replaces the Tivoli model. There are approximately 40 of these ride types operating in parks the world over. Force coasters also use a friction wheel lift hill mechanism.
Examples:
Donderstenen at Avonturenpark Hellendoorn, Netherlands
Feuerdrache at Legoland Deutschland, Germany
HORNET
This model is a early modification to the Tivoli that appeared in 1994-1995 and was discontinued after just two were built. The major differences are the twistier, compact track layout and the short trains.
Example:
Vol D'Icare at Parc Astérix, France
Other information
Zierer partnered with Schwarzkopf to build Lisebergbanan at Liseberg in Sweden and Knightmare at the now-defunct Camelot Theme Park in England.
Zierer also makes Ferris Wheel, Freefall Drop Tower, Wave Swinger, Star Shape, Jet Ski, Cycle Monorail and Kontiki attractions. Another previous attraction was the Four Man Bob ride type, popularised by Space Invader II at Pleasure Beach Blackpool in the UK (now at Brean Theme Park).
Manufacturer Contact Details
Zierer Karussell- und Spezial-maschinenbau GmbH & Co. KG
Josef-Wallner-Straße 5
94469 Deggendorf
Phone: +49 (0)991 91060