Gerstlauer was founded in 1981 by Hubert Gerstlauer, a former employee of Schwarzkopf. In 40 years of business they have built 100 coasters, all of which are still in operation.
In the early days as Gerstlauer Elektro GmbH, the company was responsible for many of the electrical and pneumatic systems for several ride manufacturers in Germany. In 1992, they bought some of the production facilities from Schwarzkopf and produced their first coaster in 1998 (more info below). Gerstlauer also dabble in flat rides, wooden roller coaster trains and transportation rides.
Gerstlauer are probably best known for their Euro-Fighter coaster model which offers a thrilling coaster with a small footprint, due to its vertical lift hill and beyond-vertical drop. However, the majority of Gerstlauer coasters tend to be quite family friendly with a lower minimum height limit for riders.
Gerstlauer's First Coaster
Gerstlauer's first coaster was G'sengte Sau at Erlebnispark Tripsdrill in Germany. On the opening day in 1998, inline skater Dirk Auer skated on the coaster's rails wearing specially designed inline skates while carrying a liter of beer! However, he suffered a fall and successfully repeated the feat in 2001 on the the German TV show "Wetten dass..?", sans the beer stein.

Gerstlauer's Product Range
EURO-FIGHTER
The Euro-Fighter is Gerstlauer's signature ride. Nearly 20 of them have been built since 2003. A Euro-Fighter coaster is recognized by its innovative vertical lift hill and beyond vertical – usually 97° – first drop. The coaster has a small footprint and a compact layout so it's perfect for parks with limited space. Euro-Fighters can be constructed with a fixed base (like a traveling coaster) or with foundations. Gerstlauer Euro-Fighters usually feature several inversions and a launch section. There are three standard models available (varying in track length) as well as fully customized options.
Examples:
Rage at Adventure Island, UK
Mystery Mine at Dollywood, USA
Fluch von Novgorod at Hansa Park, Germany
Iron Shark at Galveston Island Historic Pleasure Pier, USA
See also: Dive Coasters
INFINITY COASTER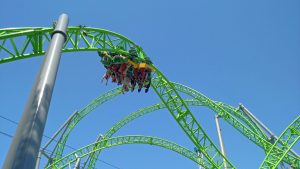 Infinity Coasters are a spinoff of Gerstlauer's Euro-Fighters in that they often feature vertical lift hills, beyond vertical drops and multiple inversions, however some use a launch in lieu of the vertical lift hill. The first Infinity Coaster – The Smiler at Alton Towers in the UK – opened in 2013 and holds the World Record for the most inversions on a roller coaster.
Examples:
Monster at Adventureland Iowa, USA
Karacho at Erlebnispark Tripsdrill, Germany
The Smiler at Alton Towers, UK
See also: LSM Launch Coasters
BOBSLED COASTER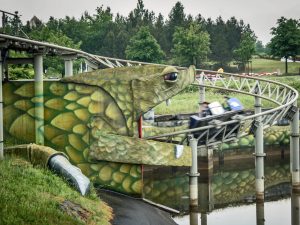 Not to be confused with actual Bobsled Coasters, Gerstlauer's Bobsled model was the first coaster created by the company. Characterized by sharp turns, banking curves, fast transitions, and exhilarating drops, the Bobsled Coaster offers the "feel" and fun of a Wild Mouse with the undeniable thrill of a free form coaster. Bobsled Coasters can be fully customized or there are three off-the-shelf models available.
Examples:
Cobra at Paulton's Park, UK
Vida Musen at Gröna Lund, Sweden
G'sengte Sau at Erlebnispark Tripsdrill, Germany
See also: Bobsled Coasters
LAUNCH COASTER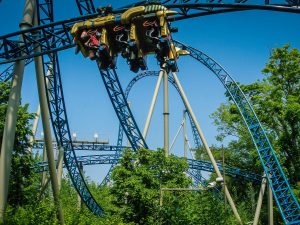 Gerstlauer coasters can be modified to include launches; some of the recent Infinity coasters have them. However, there are only two specific launch coasters by Gerstlauer operating – Lynet at Fårup Sommerland in Denmark and Anubis at Plopsaland De Panne in Belgium. The cars are launched using a linear synchronous motor (LSM) system. Launch Coaster layouts tend to be similar to Gerstlauer's Bobsled model, although the launch coaster features inversions.
Examples:
Lynet at Fårup Sommerland, Denmark
Anubis at Plopsaland De Panne, Belgium
See also: LSM Launch Coasters
FAMILY LAUNCH COASTER
In addition to LSM Launch coasters, Gerstlauer also manufacturer Tire (UK:Tyre) Launch Coasters, where motorized tires are used to push the train at speeds up to 30 mph (48 km/h).
In 2012, Gerstlauer combined a shooting dark ride, a spinning coaster and a tire propelled launch to create Gekion Live Coaster at Tokyo Joypolis in Japan. They followed that up in 2014 with the popular Firechaser Express at Dollywood in Tennessee, USA, that features a reverse launch in addition to a forwards one.
Example:
Firechaser Express at Dollywood, USA
See also: Tire Launch Coasters
SHUTTLE FAMILY COASTER
Gerstlauer's Shuttle Family Coasters are similar to their Family Launch Coasters in that both use motorized tires are used to push the train. However, this model uses them on the lift hill rather than a launch. They are also is designed for smaller children, as well as other family members.
Example:
Rewind Racers at Adventure City, USA
See also: Tire Launch Coasters
SPINNING COASTER
There are more than a dozen Gerstlauer Spinning Coasters in operation. The cars of this coaster spin freely during the ride and react to weight and acceleration, making each ride unique. Unlike most spinning coasters models offered by other manufactures, riders face one other in the four-person car. The first model opened in March 2004, Fairly Odd Coaster (previously know as Timberland Twister) at Nickelodeon Universe in Minnesota, USA.
Examples:
The Joker at Six Flags Mexico
Galaxy Orbiter at Galaxyland Amusement Park, Canada
Spinning Dragons at Worlds Of Fun, USA
Fairly Odd Coaster at Nickelodeon Universe, USA
See also: Spinning Coasters
WILD MOUSE COASTER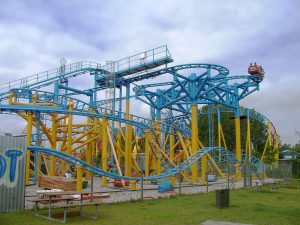 Many people think that Gerstlauer Bobsled coasters (see above) are wild mouse coasters because of their upper flat section of sharp, non-banked turns and we have no problem with that, but Han-Katten at BonBon-Land in Denmark is the only Gerstlauer wild mouse coaster currently in operation. Unlike the Bobsleds, it also features spinning cars.
Example:
Han-Katten at BonBon-Land, Denmark
See also: Wild Mouse Coasters
WOODEN COASTER
Gerstlauer Wooden Coasters are designed in partnership with Cordes Holzbau GmbH & Co. KG and offer the traditional experience cherished by roller coaster enthusiasts. Only one Gerstlauer Wooden roller coaster is in existence, Mammut at Erlebnispark Tripsdrill in Germany, which has a twister style layout.
See also: Wooden Twister Coasters
Other information
As the name suggests, Gerstlauer Amusement Rides manufacture many attractions in addition to roller coasters, including the very popular Sky Fly/Sky Roller, Polyp and giant Ferris Wheel flat rides.
Gerstlauer are often commended for their speedy construction.
Manufacturer Contact Details
Gerstlauer Amusement Rides
Industriestrasse 17
D-86505 Münsterhausen
Germany
Tel.: +49 8281 9968 0