Maurer SE (formerly Maurer Söhne) pride themselves on their innovative concepts and offer a limited, but exciting, range of rides. The company currently produces three types of roller coasters – X, S and R – but all three can be modified to include launches and other special track elements.
Maurer Söhne was founded in Munich, Germany in 1876 as a steel manufacturer. Their first roller coaster opened in 1996 and steel manufacturing remains their core business. The Maurer Rides subsidiary has over 60 coasters to their name as well as a few drop towers.
Maurer's First Coaster
Maurer's Product Range
S-COASTER
The Spinning Coaster, or S-Coaster, is one of Maurer's most popular models, with over 20 examples. The four-person S-Cars freely spin as they move along the track. The speed of the spin is determined by the weight distribution of the riders, so theoretically every ride is different. The S-Coaster tends to be a customized installation and can feature special track elements, such as on Winjas at Phantasialand in Germany. The first spinning coaster was Spinning Coaster Maihime at Tokyo Dome City in Japan, which opened in 2000.
Examples:
Steel Dragon at Waldameer, USA
Winjas at Phantasialand, Germany
Undertow at Santa Cruz Beach Boardwalk, USA
Sky Spin at Skyline Park, Germany
See also: Spinning coasters
The Compact Spinning Coaster is Maurer's current version of the popular Wild Mouse coaster, as the classic model is no longer in production (see below). Like their predecessors, this model is defined by many 180° hairpins turns punctuated with several small drops. The only major difference are the S-Car spinning cars.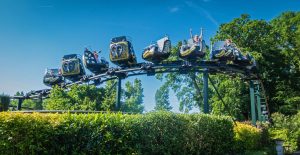 Maurer came up with a one-off variation of their spinning coaster in 2001, that is essentially a clone of the Intamin Twist and Turn coaster. Twistrix at Familiepark Drievliet in the Netherlands is an extremely family-friendly variation with a basic layout that features gentle inclines and a powered train with eight cars of two-person spinning seats.
X-COASTER (XTENDED COASTER)
The X-Car coaster is the most versatile coaster type in Maurer's portfolio. They are recognized by the trains with large, individual seats and have a floorless option. The X-Coaster usually has a small, compact footprint and several airtime hills. They can modified to have vertical or inverting-curved lift hills ("Humpty Bumps" as they are officially known), launches and Sky Loop layouts. The seats have a multimedia option where speakers play music during the ride and cameras film the riders. The first Xtended Coaster was G-Force at Drayton Manor in the UK, which opened in 2005.
Examples:
G-Force at Drayton Manor, UK
Hollywood Rip, Ride, Rockit at Universal Studios Florida, USA
The X-Coaster Launch model is a variation of the Xtended Coaster, but it features an electro-magnetic Linear Synchronous Motor (LSM) launch at the start of the ride.
The first Maurer X-Coaster Launch, Formule X at Drievliet in the Netherlands, opened in 2007. The fastest X-Coaster Launch is Shock at Rainbow MagicLand in Italy, which launches riders from 0-62 mph (100 km/h) in 2.5 seconds.
Examples:
Freischütz at Bayern Park, Germany
Formule X at Drievliet Family Park, Netherlands
Shock at Rainbow MagicLand, Italy
See also: LSM Launch Coasters
SKY LOOP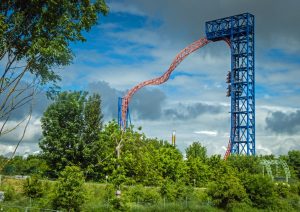 Maurer's Sky Loop coaster is characterized by its vertical lift hill and its compact, vertical-loop layout with a 360° heartline roll inversion at the top. The original Sky Loop model is just a loop although extended versions are available. The first Sky Loop opened in 2004 – Sky Wheel at Skyline Park in Germany. Their popularity boomed in the early 2010s with five being built in 2011-12. The Sky Loop coaster can also be customized with a launch.
Examples:
Sky Wheel at Skyline Park, Germany
Abismo at Parque de Atracciones de Madrid, Spain
X Coaster at Magic Springs & Crystal Falls, USA
Ukko at Linnanmäki, Finland
See also: Inversions
R-COASTER (RACING)
The Racing Coaster is the latest addition to Maurer's product range. This coaster type duels and launches on two parallel tracks. The track are either separate tracks or use a Möbius (Moebius) Loop layout. Riders experience a race like sensation with high speed, banked turns and overtaking maneuvers at numerous crossings. The trains are launched using an electro magnetic Linear Synchronous Motor (LSM) system. The first R-Coaster premiered as Fiorano GT Challenge at Ferrari World Abu Dhabi, U.A.E., in 2010.
See also: LSM Launch Coasters
WILD MOUSE
Maurer discontinued their Wilde Maus Classic (Wild Mouse) coaster model in 2000. he company's first Wild Mouse coasters were traveling models manufactured in 1994 with the first permanent fixture opening two years later (see above). Fifteen non-transportable Wilde Maus Classic coasters were built and over a dozen are still in operation. Although they are no longer manufactured, Maurer still provides technical support and replacement parts for the rides.
Examples:
Crazy Mine at Hansa Park, Germany
Wild Mouse at Funtown Splashtown, USA
Holly's Wilde Autofahrt at Holiday Park, Germany
Wild Mouse at Lagoon, USA
See also: Wild Mouse Coasters
SPIKE COASTER
Maurer definitely went out of the box with their Spike coaster, that debuted in 2017 with the opening of Sky Dragster at Skyline Park in Germany. The electrical powered motorbike coaster's drive system has teeth that interlock with "spikes" along a monorail track, that propels the vehicle and allow riders to control their speed by twisting and releasing the  motorbike handles.
In addition to park installations, the company announced that it will also become the 'first coaster at sea" with the installation of Bolt: Ultimate Sea Coaster on Carnival Cruise's newest luxury liner, Mardi Gras, which was scheduled to set sail in 2020 before the coronavirus outbreak shut down the industry. The video below shows the ride unveiling at IAAPA 2019.
LOOPING COASTER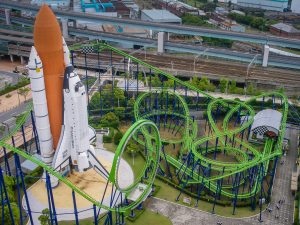 In 1996 Maurer designed and manufactured their one and only looping coaster – Venus GP at Space World in Japan. The very photogenic coaster features a layout that twists and turns in and around itself as well as a life-sized model of NASA's Space Shuttle. It also has a circular vertical loop, similar to those found on classic Schwarzkopf looping coasters.
See also: Looping Coasters
Other information
Maurer coasters tend to be family friendly. The trains have roomy seats suitable for riders with a larger waist line. These seats offer an exposed and incredibly comfortable ride experience.
Standing 164 feet (50m) tall, Maurer's Power Towers are the world's tallest transportable free fall attractions with two currently traveling the German fair circuit.
Another company subsidiary, Maurer German Wheels, also manufacture Ferris Wheels. Their R80XL model is the largest transportable Giant Observation Wheel in the world.
Manufacturer Contact Details
Maurer AG
Frankfurter Ring 193
D-80807 Munich
Germany
Tel.: +49 89 32394