Mack Rides was founded in 1780 by Paul Mack in Germany, where building stage coaches and carriages was their main business. One hundred years later, Mack started to build carriages and caravans for circuses, but it wasn't until 1920 that they started to manufacturer fairground rides.
Their first wooden coaster came a year later and, in 1936, they produced their first petrol-powered ride. Mack pioneered the wooden wild mouse ride in 1957.
Confident with their portfolio of rides, Mack opened Europa-Park in Rust, Germany, in 1975 to showcase their rides. Apart from pioneering the log flume and Splash Battle rides, Mack also produce dark rides, revolving houses (similar to Vekoma's Mad House) and other common theme park rides like spinning Tea Cups.
Mack Rides' Product Range
MEGA (AND LAUNCH) COASTER
The Mack Mega Coaster is, in essence, a standard roller coaster design. It's Mack's take on the classic sit-down coaster, albeit with optional inversions and LSM launches, and the company's counter to Intamin's Mega-Lite design. The trains are slightly different compared to standard coasters and Mega-Lites in that the seats are exposed. Mack Mega Coasters tend to have well spaced inversions making the ride experience fun and family friendly rather than incredibly intense.
Examples:
Helix at Liseberg, Sweden
Alpina Blitz at Nigloland, France
Manta at SeaWorld San Diego, USA
blue fire Megacoaster at Europa Park, Germany
See also: LSM Launch Coasters
BOBSLED COASTER
Mack's Bobsled Coasters emulate the bobsleigh tracks seen at the Winter Olympics. Each Bobsled train has seven two-seater cars. Once the train leaves the lift hill, it runs freely along the channel without the aid of tracks. Bobsled Coasters usually have several long high-speed turns where the train tilts up to 75° on its side. The first Mack Bobsled Coaster, Schweizer Bobbahn at Europa Park in Germany, opened in 1985.
Examples:
La Trace du Hourra at Parc Astérix, France
Bobbahn at Heide Park, Germany
Avalanche at Pleasure Beach Blackpool, UK
Schweizer Bobbahn at Europa Park, Germany
See also: Bobsled Coasters
POWERED COASTER
A powered coaster is a roller coaster that (rarely) has a lift hill because the speed of the train is controlled by the ride operator. The benefit of a powered coaster is the action can begin immediately and the speed through the corners can be controlled. Mack Powered coasters are occasionally referred to as "Blauer Enzian" coasters; a reference to the name of powered trains in 1950's Germany. Powered coasters are often themed to mine trains. Spinning cars (see below) can be used instead of standard ones.
Examples:
Odinexpressen at Tivoli Gardens, Denmark
Le Train de la Mine at Nigloland, France
Dynamite Express at Familiepark Drievliet, Netherlands
Alpenexpress Enzian at Europa Park, Germany
SPINNING COASTER
Mack's first Spinning Coaster, Euro Mir, appeared in 1997 at Europa Park in Germany. The cars on the train spin as they move along the track. The train is made up of several four-seater cars where riders ether face one other or sit back-to-back and the spin can either be controlled using non-connecting magnets on the track or a free-spinning movement. Demand for Mack spinning coasters was low following Euro Mir's debut compared to other manufacturers offering spinners, but that has changed in recent years thanks to the addition of elevator lifts, launches and inversions.
Examples:
Cobra's Curse at Busch Gardens Tampa, USA
d'Wervelwind at Toverland, Netherlands
Turbulence at Adventureland Long Island, USA
See also: Spinning Coasters
XTREME SPINNING COASTER
In 2018 Mack Rides built their first Xtreme Spinning Coaster: Time Traveler at Silver Dollar City in Missouri, USA. It was the first spinner to invert, sending riders upside down while spinning round and round. In addition to a Dive Loop and Zero-G Roll, it also features an LSM launch and LSM boost, another first for Spinners. No wonder they call it extreme.
Example:
Time Traveler at Silver Dollar City, USA
See also: Spinning Coasters
WILD MOUSE (WILDE MAUS) COASTER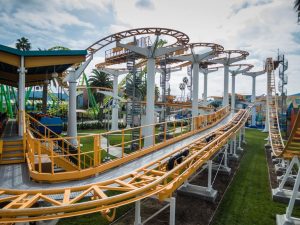 In 1957, Mack created the first prototype for the wild mouse coaster out of wood. The first permanent steel Mack Wild Mouse coasters appeared in 1996. The track is characterised by several tight, hairpin 180° turns and small drops. As the cars career around the corners, riders of the Wild Mouse will have the illusion that the car is falling off the track, providing another great thrill.
Examples:
Project X – Test Strecke at Legoland Deutschland, Germany
Ricochet at Kings Dominion, USA
Goofy's Sky School at Disney California Adventure Park, USA
Coast Rider at Knott's Berry Farm, USA
See also: Wild Mouse (Steel) Coasters and Wild Mouse (Wood) Coasters
E-MOTION COASTER
Mack's E-Motion Coaster has a standard coaster track layout, it's the cars that make the difference. The cars have a spring suspension that causes it to rock and shake in multiple directions. The first E-Motion Coaster to open was Tulireki at Linnanmäki in Finland, in 2004. Only two E-Motion coasters have been built, however the second one – Reaper: Drop ride to doom! at Amsterdam Dungeon in the Netherlands – closed in 2014 after just nine years of operation.
WATER COASTER
A Mack Water Coaster is a roller coaster with a water splash. The ride usually begins with a roller coaster section with several turns and drops. The finale is a steep drop into a large water pool which creates a wave that drenches riders. The splash volume can also be controlled so the splash is less intense in colder weather. The company's first water coaster to open was Journey to Atlantis at SeaWorld Orlando, USA, in 1998.
Examples:
Skatteøen at Djurs Sommerland, Denmark
Journey to Atlantis at SeaWorld San Diego, USA
Poseidon at Europa Park, Germany
Journey to Atlantis at SeaWorld Orlando, USA
See also: Water Coasters
SUPER SPLASH
Mack's SuperSplash coasters are similar to their Water Coasters, except these have turntables mid-ride so riders experience drops backwards. The first turntable spins counterclockwise 45° so the car drops backwards down and up on to the second turntable, which spins another 45° counterclockwise so the car drops forward into the splash section of the ride.
SuperSplash at Plopsaland De Panne in Belgium is the exception, with an elevator lift taking the place of the turntables and reverse drop.
Examples:
Journey to Atlantis at SeaWorld San Antonio, USA
SuperSplash at TusenFryd, Norway
SuperSplash at Plopsaland De Panne, Belgium
Atlantica SuperSplash at Europa Park, Germany
See also: Water Coasters
POWER SPLASH
Mack's PowerSplash coasters vary from their Water Coasters in many aspects. It's basically a LSM Launch coaster with a U-shaped track featuring, a turntable loading platform, small airtime hill and Splash Track between the two vertical spikes. The Splash Track rapidly fills up with water during the third backwards spike ascent, allowing for a huge splash down after the final forwards drop.
Example:
Pulsar at Walibi Belgium, Belgium
See also: Water Coasters
BIG DIPPER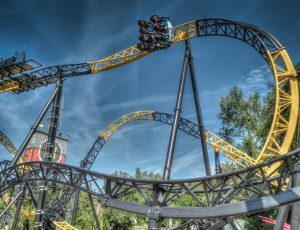 Mack unveiled their first Wing Coaster in 2016 with the opening of Lost Gravity at Walibi Holland in the Netherlands. The "BigDipper" style cars on Lost Gravity have seats similar to those found on Intamin wing coasters with the two center seats above the track and the outer seats a little lower on either side. However, the cars have only two rows of seats, which allows the coaster to feature inversions – something Intamin's do not.
Example:
Lost Gravity at Walibi Holland, Netherlands
See also: Wing Coasters
Other information
As well as rides, Mack also manufacturers transport rides such as monorails and bendy-buses!
Mack rides are generally very reliable, but in case something goes wrong, Mack offer a same-day dispatch for spare parts and even have a 24 hour help line!
Mack Rides is one of the top 100 businesses in Germany.
Manufacturer Contact Details
Mack Rides GmbH
Mauermattenstr. 4
D-79183 Waldkirch
Germany
Phone: +49 7681 2000 205
Website