Orlando, Florida, USA
14-17 November 2017 – Every November, the movers and shakers in the amusement park industry gather in sunny Orlando to shape the way we will ride for many years to come. All of the big ride manufacturers attend to demonstrate their attractions to the 27,000 buyers from theme parks, zoos, aquariums etc. The deals made at the IAAPA Expo could come to fruition at a park near you. CoasterForce stomped around the nine miles of aisles for four fun filled days to bring you all of the news from the trade show floor!
If there's a major attractions opening next season, you can be sure that the proud park owners and builders will pull a sheet to unveil the vehicle to the waiting crowd. Here's a look at the best of the bunch.
Twisted Cyclone train
The Georgia Cyclone at Six Flags Over Georgia closed earlier this year to allow Rocky Mountain Construction to redesign and remodel the coaster for a new generation. The park and RMC unveiled an American classic themed car that will blast around Twisted Cyclone's track from Spring 2018.
Oscar's Wacky Taxi train
From one iconic America car to another – The Gravity Group unveiled a New York taxi cab themed train for Oscar's Wacky Taxi wooden coaster opening at Sesame Place, PN, USA, in 2018.
Harley Quinn Crazy Coaster train
The final train reveal at the show was for another Six Flags coaster – Harley Quinn's Crazy Coaster due to open at Six Flags Discovery Kingdom early next year. The manufacturer of the ride, Skyline Attractions, unveiled the Skywarp coaster concept at IAAPA 2016 and, aside from the one pictured above, it is rumoured that another Six Flags has bought one.
Skywarp evolves!
Skyline Attractions revealed two new variations of their Skywarp coaster – the Skywarp Eclipse and Skywarp Horizon. Both rides are sing rail launch rides. Technically, they could easily break the record for the most launches on a coaster by doing multiple circuits.
Infinity Falls raft
Breaking the record for the biggest rapids drop is Infinity Falls at SeaWorld Orlando. The soak-tastic 40ft drop will be ready to ride in 2018 and up to eight riders at a time will take a journey through a rain forest themed river on this gorgeous raft by Intamin.
The rebirth of Steeplechase
S&S Sansei is bringing back a classic – Steeplechase. The idea to bring the classic Arrow coaster back into production came about when Nick Thompson from Pleasure Beach Blackpool started chatting to S&S at a previous trade show. The new Steeplechase comes in various themes including dinosaurs and motorbikes. Bringing a classic from the past to the present could be the future!
Time Traveler train
Time Traveler at Silver Dollar City is opening next season and will be the world's tallest, fastest and steepest spinning roller coaster! The park and Mack Rides unveiled the the train to what was, undoubtedly, the largest press announcement gathering during the Expo.
Dynamic Attractions All Terrain Dark Ride
Dynamic Attractions revealed two new attractions at IAAPA 2017. The All-Terrain Vehicle is a trackless dark ride that can travel over, as the name suggests, any terrain and up and down slopes. This attraction won IAAPA's award for Best New Attraction 2017. The innovative company also unveiled Flight Cycle, a Flying Theater ride where riders sit on motorbikes.
Cloud Coaster
From the ground to the sky, Extreme Engineering is build a suspended Cloud Coaster through the middle of a Ferris Wheel. The project will open at Mega Park, Quebec City, next year.
Triotech and Ubisoft partnership
Interactive attraction giant Triotech and video game legend Ubisoft announced a partnership to bring a new type of virtual reality (VR) to any size visitor attraction. Utalising the Raving Rabbids and Assassin Creed brands, players will wander around a real maze shooting bad guys in a virtual reality world.
More Virtual Reality
To say that VR is now a staple of an IAAPA trade show is an understatement. It's everywhere. We counted at least 35 companies- almost the same number as coaster manufacturers – offering some kind of VR experience at IAAPA 2017, either as their main business or part of it. Whether you love it or hate it – we personally prefer the real life experience if we're honest – VR is going to be part of the industry for the foreseeable future.
Birdly – a bird simulator
It looks totally ridiculous but it is probably the most simple and effective use of VR we've seen. Riders lay on a simulator and flap their wings to fly around a virtual landscape. The fan at the front of the simulator adds the feeling of flight (or so we were told).
Finger Coaster
If you've ever wanted to ride the coaster you've scribbled on a piece of paper, now you can. Riders sketch their creation on a touchscreen, don a VR headset and then experience their ride on a simulator.
Avatar Coaster VR
The concept is simple. Build a model coaster and then strap yourself in a gyro swing and experience the model using VR. The model train travels along the track in tandem with the gyro swing.
Aquaticar
Back to the real world – sort of. Aquaticar car is like something out of a James Bond film. Riders can travel underwater but keep their upper body completely dry. Imagine putting a glass rim first into water to create an air pocket and you'll get the idea. Of course, it's a lot more technical than that.
Crazy Cabs
If you prefer your vehicles on dry land, then Crazy Cabs is probably more your thing. Using the cars from their Spinning Coaster, SBF Visa has created a Breakdance type ride that will leave you in a spin.
Cyber Worm
Italian manufacturers Mamma Mia demoed their Cyber Worm thrill ride. It's a swinging ship ride where the seat rows move up and down! There's some great airtime at the peak of the swing when the seats are fully raised! A video of this ride can be viewed on CoasterForce Twitter.
The Incredible Hulk
Hulkmania took hold at IAAPA when wrestling legend Hulk Hogan appeared at the show. Hogan fought his way around the trade show floor to pin down a perfect attraction for his new Beach Shop in Orlando. We'll find out what he settled on very soon. Oh yeah!
Creation Nation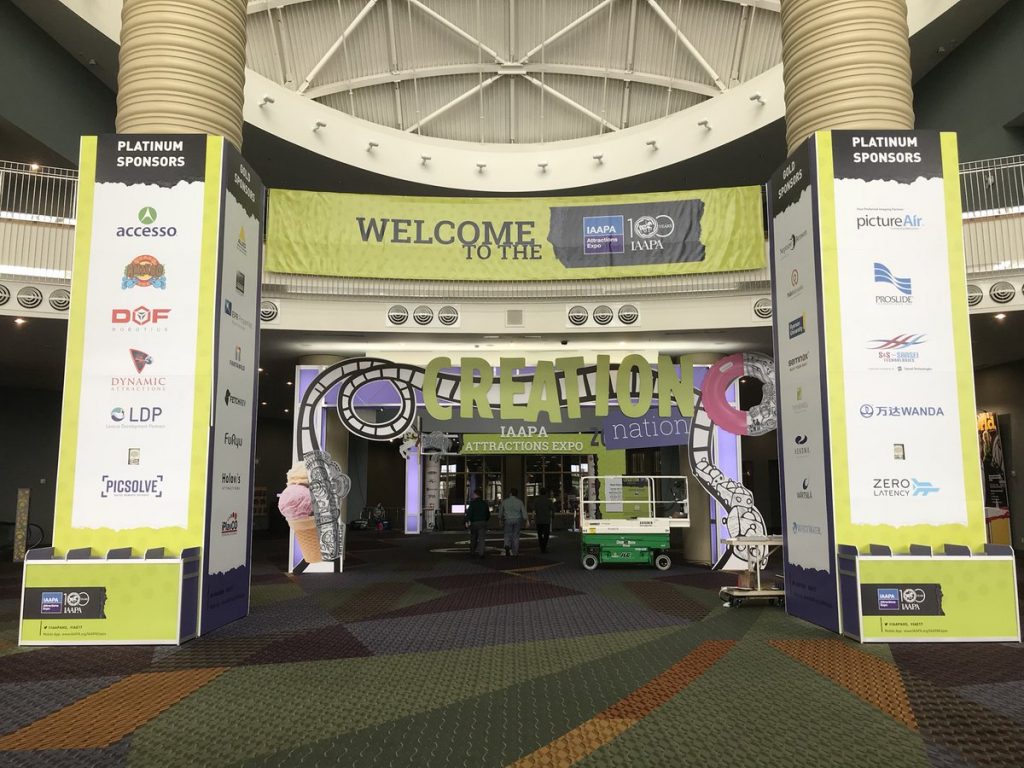 'Creation Nation' was the theme of the IAAPA Expo 2017 and it's true that creativity was in abundance. Even the tsunami of VR attractions were creative, as both Birldy and Finger Coaster demonstrated. However, it's the teams of creatives who champion actual, shared experiences full of wonder where real creativity lies. Whether it's using a Human Hamster Wheel to make a slushy or a rider controlled spinning roller coaster, as long as those with creative minds keep exploring new and somewhat bizarre ideas, theme parks and rides will keep getting better and better! Roll on IAAPA Expo 2018!