S&S are more of a thrill ride manufacturer than a coaster manufacturer. That's not to say they don't make coasters, it's just that they are more well known for their innovative flat rides. S&S was founded by Stan Checketts in 1989, and started to manufacture reliable bungee jump towers under the name of Sports Tower Inc. In 1993 came another division of S&S, S&S Sports Inc., who made trampoline equipment.
In 1994 S&S started to manufacture thrill rides for amusement parks, the "Space Shot" tower ride being their first creation. S&S are renowed for their innovative use of compressed air to control their rides.
Sports Tower Inc. and S&S Sports Inc. were sold in 1995 and 1996 respectively, allowing the newly labeled S&S Power to concentrate on pneumatically powered rides. S&S Power changed their name to S&S Worldwide in 2010 before Sansei Yusoki of Japan acquired just over 77% interest in the company forming S&S – Sansei Technologies.
S&S Power's First Coaster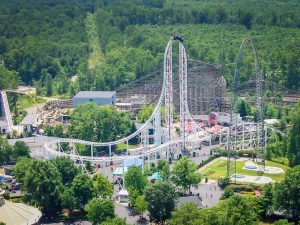 With the company's compressed air shot and drop tower history, it's no surprised that their first roller coaster was the Thrust Air 2000 coaster Hypersonic XLC at King's Dominion in Virginia, USA, which opened in 2001. Using the company's Thrust Air's pneumatic system, the coaster launched from 0-80 mph (0-129 km/h) in 1.8 seconds.
S&S's Product Range
AIR THRUST LAUNCH COASTER
Although generally considered inferior to the Hydraulic Launch system perfected by Intamin, the Thrust Air's pneumatic system is capable of much quicker, intense launches. The most recognized Air Thrust Launch Coaster is Dodonpa at Fuji-Q Highland in Japan. The coaster often features in "most scariest rides" polls due to its amazing launch acceleration of 0-107 mph (0-172 km/h) in 1.8 seconds. The Air Thrust coaster is basically taking the S&S Tower Ride technology and laying it horizontal.
In 2004 S&S modified Buzzsaw Falls at Silver Dollar City in Missouri, USA to create an elaborate compressed air launch coaster out of the former Premier Rides water coaster. More on the family friendly side, Powder Keg: A Blast in the Wilderness launches riders 0-53 mph (0-85 km/h) in 2.8 seconds.
Nearly a decade later S&S gave it another go with Ring Racer at the famous Nürburgring race track in Germany. Featuring a 0-99.4 mph (0-160 km/h) in 2 seconds launch, the coaster suffered from multiple issues with the air compressors and only operated for a few days in 2013.
In spite of the problems, that wasn't the end and S&S opened Maxx Force at Six Flags Great America near Chicago, Illinois in 2019. Designed by Joe Draves from Alan Schilke's Ride Centerline engineer team, the coaster features five inversions, including the world's tallest double inversion at 175 feet (53m), the fastest launch in North America going from 0-78 mph (0-125.5 km/h) in 2 seconds as well as the world's fastest inversion at 60 mph (96.5 km/h)!
Examples:
Powder Keg: A Blast in the Wilderness at Silver Dollar City, USA
Maxx Force at Six Flags Great America, USA
See also: Air Launched Coasters
EL LOCO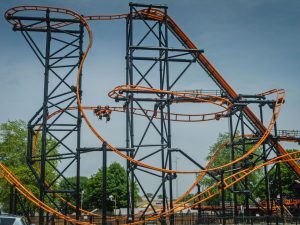 The S&S El Loco model is a compact coaster, characterised by a beyond-vertical drop (between 111°-121°), tight corners and abnormal banking. The design of the beyond-vertical first drop took the "Steepest Drop" battle to Gerstlauer's Euro-Fighter model, as the two continue to break the world record with each new installation. The first El Loco opened in July 2008 as Steel Hawg at Indiana Beach, USA.
Examples:
Steel Hawg at Indiana Beach, USA
El Loco at Adventuredome, USA
Timber Drop at Fraispertuis City, France
Mumbo Jumbo at Flamingo Land, UK
See also: Dive Coasters
4D/FOURTH DIMENSION COASTER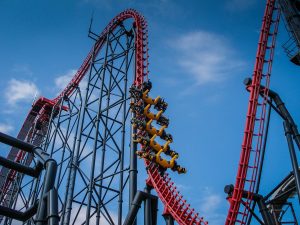 The Fourth Dimension Coaster model was originally invented by the now defunct manufacturers Arrow Dynamics. Arrow went bust in 2002 and S&S acquired the rights to Arrow's portfolio of coasters; the 4D being one of them. The 4D coaster has winged seats that rotate 360° as the trains move along the track. The one and only Arrow 4D coaster opened in 2002 at Magic Mountain in California, USA. S&S Worldwide manufactured two Forth Dimension coasters since acquiring the rights – Eejanaika at Fuji Q Highland in Japan and Dinoconda at China Dinosaurs Park.
FREE FLY COASTER
S&S Worldwide's Free Fly Coaster is a variation of the Wing Coaster type. Instead of sitting above or below the track, riders sit either side of the track. On the Free Fly model, the row of bench seats are suspended below each wing and can freely rotate 360° as the coaster travels along the track. Tranan at Skara Sommarland in Sweden opened in 2009 and is the first and only S&S Free Fly.
Example:
Tranan at Skara Sommarland, Sweden
See also: Wing Coasters
FREE SPIN COASTER
The S&S Free Spin coaster is the company's version of a 4D Coaster and features wing seats like its Arrow and Intamin counterparts. Like the ZacSpins', the Free Spin seats rotate freely. However, the seating is different with only two riders next to each other and the axis at the rider's center of gravity rather than behind them. This allows for a more natural feeling rotation and a less painful ride experience.
Examples:
Batman The Ride at Six Flags Fiesta Texas, USA
The Joker at Six Flags Great Adventure, USA
See also: Wing Coasters
LSM LAUNCH COASTER
S&S – Sansei Technologies took inspiration from Premier's Sky Rocket II in creating their first LSM launch coaster when GaleForce was built in 2016 at Playland's Castaway Cove in New Jersey, USA. However, the coaster suffered many delays fine tuning the triple launch and didn't open until the following year.
Example:
GaleForce at Playland's Castaway Cove, USA
See also: LSM Launch Coasters
MULTI-LOOPER
The first and only S&S Multi-Looper is Steel Curtain, which opened at Kennywood near Pittsburgh, Pennsylvania in 2019. Known for their custom coasters, it came as no surprise that the company jumped on the chance to create a new type of coaster when the park asked if they could create a multi-looping coaster unlike anything seen before. Named and themed after the famous NFL football team, the coaster features no fewer than eight inversions including the world's first Fake-out Inverting Drop as well as a Banana Roll, Sea Serpent, Top Gun Stall and the more common Dive Loop and Corkscrews.
Standing 220 feet (67m) tall, it's also the company's first Hyper Coaster.
Example:
SCREAMING SQUIRREL
S&S no longer produce the Screaming Squirrel model – thankfully! This model was known for its uncomfortable ride experience as riders spent half the ride held upside down. The coaster layout is made up of vertically stacked 180° hairpin turns (known as a "saxophone" inversion"), where riders head forward, flip upside down and then travel upside-down underneath their previous section of track several times. Only three were ever made, the first to open in 2005 was Sequoia Adventure at Gardaland in Italy.
SUSPENDED COASTER
The first and only S&S Suspended Coaster is Merlin's Mayhem, which opened at Dutch Wonderland in Lancaster, Pennsylvania in 2018. Although similar to Vekoma's Suspended Family Coaster, this model includes an on-board audio option like the company's El Loco coasters. And even though their first suspended coaster is a family model, the company can build larger versions similar to the classic Arrow suspended coasters.
Example:
WOODEN COASTER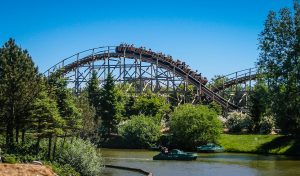 S&S Power/Worldwide only made four wooden coasters before they withdrew the ride type from their range in 2004. The first S&S Wooden Coaster was Timberhawk: Ride of Prey at Wild Waves Enchanted Village in Washington, USA, which opened in 2003.
Examples:
Timberhawk: Ride of Prey at Wild Waves Enchanted Village in Washington, USA
Falken at Fårup Sommerland, Denmark
Avalanche at Timber Falls Adventure Park, USA
Hell Cat at Clementon Park, USA
AXIS COASTER
Although not in production, CoasterForce had the opportunity to ride this prototype suspended coaster in 2020. S&S incorporated their 4D rotating vehicle technology used on their Free Spin coasters (above) and turned it on a new axis by using the track design to control how the seats rotate. The versatile coaster is available using the company's renown thrust air launch system or a standard chain lift hill and delivers deliberate and fluid movements that give the rider a feeling of flying unlike any other ride.
Example:
Other information
In 2002, S&S Power (as it was known then) acquired bankrupted coaster manufacturers Arrow Dynamics' entire portfolio, which became known as "S&S Arrow". S&S Arrow exclusively maintain and produce the 4D coasters and with the addition of the entire collection of Arrow coasters, S&S have more coasters than any other manufacturer.
Manufacturer Contact Details
S&S – Sansei Technologies
2935 North 400 West
North Logan, UT 84341
USA
Phone: +1 435 752 1948