Rocky Mountain Construction (RMC) was founded in 2001 in Idaho, USA, by Fred Grubb and Suanne Dedmon. Capitalising on Grubb's background in general construction, the company began specalising in projects connected to the themed entertainment industry, such as mini golf courses, zoos and water parks.
RMC were involved in the construction and repairs of many wooden roller coasters in the USA. Starting at Silverwood Theme Park in Idaho, where Fred began his career, RMC constructed the park's Timber Terror and Tremors wooden coasters for Custom Coasters International as well as the Vekoma Aftershock Giant Inverted Boomerang coaster. They also built the S&S Worldwide Timberhawk: Ride of Prey wooden coaster at Wild Waves Enchanted Village in Washington, USA. Intamin then contracted RMC to build two of their prefabricated wooden coasters – El Toro at Six Flags Great Adventure in New Jersey, USA, and T Express at Everland in South Korea.
In 2009, legendary coaster designer Alan Schilke sparked a partnership with RMC where he developed the Iron Horse track (now known as I-Box Track), a steel replacement for re-tracking wooden roller coasters. This led to the company designing and building their own roller coasters and becoming one of the most in-demand coaster manufacturers in a matter of a few years.
Alongside the Iron Horse track, RMC has developed other track techniques (detailed below) which have reviatalised and revolutionized wooden and steel roller coasters alike.
RMC's First Coaster
Rocky Mountain Construction's first roller coaster project was New Texas Giant at Six Flags Over Texas in Arlington. The New Texas Giant project was not a complete new custom built for RMC. The brief was re-track and remodel the existing Texas Giant wooden coaster to boost its declining popularity. RMC replaced Texas Giant's entire track with I-Box track and modified most of the support structures.
When New Texas Giant opened in April 2011,featuring three overbanked turns, the new coasters overall height and tallest drop was raised 10 feet (3m) and featured a 79 degree vertical angle, compared to the old 53 degrees. The coaster's top speed increased from 62 mph (100 km/h) to 65 mph (105 km/h) due to the changes. RMC's redesign of New Texas Giant consistently featured in the Golden Ticket Awards' Top 10 Steel Coasters rankings.
RMC's Product Range
I-BOX TRACK (previously known as Iron Horse)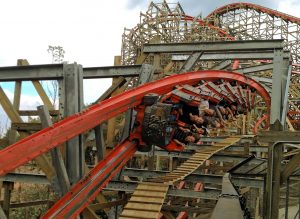 I-Box Track is a steel track commonly used by RMC to re-track old wooden roller coasters. First used on the New Texas Giant at Six Flags Over Texas in 2011, I-Box track allows for a smooth ride and can easily be incorporated into existing wooden coaster layouts and dimensions. Steel track allows for exciting elements such as inversions.
Examples:
Wicked Cyclone at Six Flags New England, USA
Storm Chaser at Kentucky Kingdom, USA
Medusa Steel Coaster at Six Flags Mexico
Iron Rattler at Six Flags Fiesta Texas, USA
TOPPER TRACK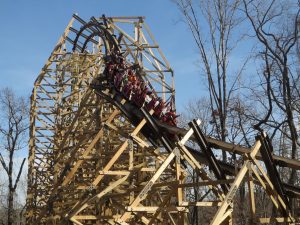 Rocky Mountain Construction's Topper Track consists of six layers of laminated wood and a steel top, which has the equivalent thickness of two layers of laminated wood (making it 75% wood, 25% steel). By replacing the top two layers of traditional wooden track with steel, maintenance costs are reduced and the rider is guaranteed a smooth ride. Topper Track allows square beams of wood to be twisted, permitting Rocky Mountain Construction to design layouts with maneuvers that are not traditionally possible with wooden roller coasters. The Topper Track took four years to develop and made its debut on Outlaw Run at Silver Dollar City in 2013.
Examples:
Outlaw Run at Silver Dollar City, USA
Goliath at Six Flags Great America, USA
LAUNCH LIFT HILL COASTER
In 2016, RMC manufactured their first coaster with a LSM launch lift hill. Although never confirmed, it is widely believed that the opening of Lightning Rod at Dollywood in Tennessee, USA, suffered from delays due to issues with the LSM launch, which was the first developed by Velocity Magnetics in Pennsylvania, USA.
T-REX TRACK
In September 2015, on a construction tour of the RMC factory Idaho, Fred Grubb exclusively revealed the T-Rex track to CoasterForce. The T-Rex track is a single rail roller coaster track, similar to what you would see on a monorail. The single rail allows for longer spans of track, meaning less connections and lower maintenance. The steel track can be twisted and shaped into almost any position to create coasters never seen before. RMC have also developed a smaller version of the T-Rex track which they call "Raptor Track" (see below).
RAPTOR TRACK
The Raptor Track is a smaller version of RMC's T-Rex Track. Raptor has all the durability and design benefits of the T-Rex Track, yet it uses less steel, requires less installation time and space, making it an affordable option for parks of all sizes. Due to the narrowness of the Raptor Track, riders sit in a single file formation. The train design gives each rider a unique, exposed coaster experience. The first RMC Raptor Track coaster to open was Wonder Woman Golden Lasso Coaster at Six Flags Fiesta Texas in 2018.
Example:
Other information
Rocky Mountain Construction manufactures the trains for their coasters, although the trains on New Texas Giant and Iron Rattler were made by Gerstlauer.
In 2013, Rocky Mountain Construction signed a deal with ride manufacturers Vekoma that allows the Dutch company to sell Rocky Mountain Construction's roller coasters outside the North American market.
Alan Schilke's former employer, S&S Worldwide, reached an agreement with RMC in 2014 to use a larger version of the I-Box track for their Free Spin 4D coasters, which Schilke also helped design. RMC manufactured the track and built the first one – Batman The Ride at Six Flags Fiesta Texas. They also manufactured the track for the second, but S&S subcontracted the construction of The Joker at Six Flags Great Adventure. RMC has since subcontracted the track manufacturing for all further S&S Free Spin 4D coasters.
Manufacturer Contact Details
Rocky Mountain Construction
11470 Carisa Ct.
Hayden, ID 83835
USA
Mailing Address
P.O. Box 2848
Hayden, ID 83835
USA