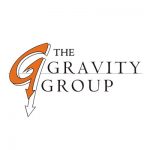 The Gravity Group, LLC was founded in 2002 by the top talent from defunct wooden manufacturers Custom Coasters International. The "dream team" of Lawrence Bill, Chad Miller, Korey Kiepert and Michael Graham have collectively worked on over 50 coaster projects between them since 1982. This wealth of expertise has allowed them to storm into the wooden coaster market. The Gravity Group do not manufacturer the coasters, they simply design them. Their older coasters were usually built in house by the parks or the parks' subcontractors, but all the newer ones are manufactured by their sister company Gravitykraft Corporation.
In 2008, The Gravity Group announced the development of their own wooden coaster trains called Timberliners. They are also produced by Gravitykraft Corporation. The Gravity Group promotes their trains as the only wooden coaster trains capable of steering through curves, resulting in a more comfortable and maintenance friendly ride. Timberliner trains first appeared in 2011 on Wooden Warrior at Quassy Amusement Park in Connecticut, USA.
The Gravity Group's First Coaster
The Gravity Group's debut coaster was Hades at Mt. Olympus Theme Park in Wisconsin, USA. Hades is a "hybrid coaster" where the track is made of wood, whereas the support structure is made of steel. Hades is renowned for its 800 foot (244m) long tunnel under the parking lot. In 2013, the coaster was renamed Hades 360 when The Gravity Group rebuilt the section of track in the parking lot to include a corkscrew inversion and a 135° overbanked turn.
Opened: 14. May, 2005
Height: 136 feet (41m)
Drop: 140 feet (43m)
Length: 4,726 feet (1,440m)
Speed: 60 mph (95 km/h)
Angle of first drop: 65°
The Gravity Group's Notable Coasters
THE VOYAGE, HOLIDAY WORLD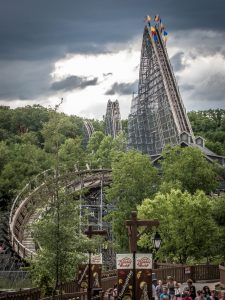 Since this $6.5 million out-and-back airtime machine opened in 2006, it has often topped polls as the best wooden roller coaster in the world. It holds the world record for the most tunnels on a wooden coaster (5) and the highest amount of airtime (24.3 seconds).
Opened: 6. May, 2006
Height: 163 feet (50m)
Drop: 154 feet (47m)
Length: 6,442 feet (1,964m)
Speed: 67 mph (108 km/h)
Angle of First Drop: 66°
BOARDWALK BULLET, KEMAH BOARDWALK
This Twister Coaster showed that The Gravity Group also had the ability to build an exciting and deceivingly long coaster into a small 1-acre (0.40 ha) footprint. We say deceiving long because just when you think the ride is going to end after the next curve, there's still more track around the bend.
Opened: 31. August, 2007
Height: 96 feet (29m)
Drop: 92 feet (28m)
Length: 3,236 feet (986m)
Speed: 51 mph (82 km/h)
Angle of first drop: 55°
TWISTER, GRÖNA LUND
Peter Osbeck, Senior Rides Manager at Gröna Lund, wanted to squeeze a wooden coaster in, under and around three existing steel coasters on the park pier and after riding Boardwalk Bullet he turned to The Gravity Group to create this marvel of engineering. Like its counterpart in Texas, this smaller version manages to use every inch of its tiny footprint to extend the ride time. It's also the first Gravitykraft coaster.
Opened: 7. May, 2011
Height: 50 feet (15m)
Drop: 50 feet (15m)
Length: 1,575 feet (480m)
Speed: 38 mph (61 km/h)
ZIPPIN PIPPIN, BAY BEACH
The original Zippin Pippin (just known as Pippin) was originally built in 1912 in Memphis, Tennessee. In 2005, the park where it resided, Libertyland, went bankrupt and the ride was auctioned off and reconstructed in North Carolina, USA. After years of neglect, The City of Green Bay, Wisconsin, purchased and rebuilt the coaster for $3.8 million at Bay Beach Amusement Park. With help from The Gravity Group, Zippin Pippin had to be completely refurbished as much of the original structure was unsalvageable.
Opened: 21. May, 2011
Height: 70 feet (21m)
Drop: 70 feet (21m)
Length: 2,865 feet (873m)
Speed: 40 mph (64 km/h)
Angle of first drop: 64°
CÚ CHULAINN, TAYTO PARK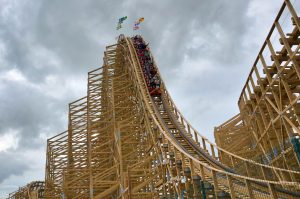 The Gravity Group also had the honor of creating the first wooden coaster in Ireland, with this ride themed around a mythological folklore hero. The $9.5 million coaster features two tunnels in addition to a 115° over-backed curve and was the third Gravitykraft coaster.
Opened: 6. June, 2015
Height: 105 feet (32m)
Drop: 102 feet (31m)
Length: 3,583 feet (1,092m)
Speed: 56 mph (90 km/h)
ROAR-O-SAURUS, STORY LAND
Specializing in small footprint coasters and after the huge success of Wooden Warrior at nearby Lake Compounce in Connecticut, it came as no surprise that Story Land in New Hampshire, USA turned to Gravity Group to create the park's first family thrill coaster. Featuring a dozen amazing out-of-your-seat airtime moments in a compact Twister layout, there's no doubt that little "Rory", the second Gravitykraft coaster, packs quite the punch.
Opened: 24. May, 2014
Height: 40 feet (12.2m)
Drop: 38 feet (11.6m)
Length: 1,175 feet (378m)
Speed: 33 mph (53 km/h)
SWITCHBACK, ZDT'S AMUSEMENT PARK
With only an extremely small space available, park owners Danny and Sarah Donhauser looked at various steel coasters before taking a gamble on this first-of-its-kind wooden shuttle coaster. Named after the famed Switchback Railway coasters of the late 1800s, this Gravity Group marvel of engineering features an 87° spike that the train ascends before transversing the track layout in reverse. This is Gravitykraft's fourth coaster.
Opened: 17. October, 2015
Height: 63 feet (19m)
Drop: 58 feet (18m)
Length: 1,175 feet (358m)
Speed: 40 mph (65 km/h)
Other information
Initially, Gravity Group consulted on existing projects, while getting ready for their first actual coaster build. Gravity Group has produced nearly 30 coasters in 15 years that have massively impressed the public, enthusiasts and park owners alike. Gravity Group coasters tend to have a lot of airtime and a twisting layout.
Manufacturer Contact Details
The Gravity Group, LLC
P.O. Box 62050
Cincinnati, OH 45262
Phone: +1 513 948 8400