a.k.a Vertical Drop Coaster, Dive Machine, Euro-Fighter, Infinity Coaster, El Loco
When this type of ride was first introduced with Oblivion at Alton Towers in the UK and Diving Machine G5 at Janfusun Fancyworld in China a couple of years later, everyone thought it would never be anything more than a gimmick. However, in 2005, Bolliger & Mabillard (B&M) proved that the Dive Coaster, seven years on from its first appearance as a one trick pony, could take on anything today. With a circuit comprising of one 90° drop and one near vertical drop, an inversion, and a water splash, SheiKra at Busch Gardens Tampa proved the true potential of this ride type.
Other manufacturers then took up the challenge with Gerstlauer and S&S Worldwide battling to see who could produce the steepest drop.
The Original
B&M DIVE COASTER
Still a secret even during construction, Oblivion is one of the most speculated coasters of all time. Billed as a "Dive Machine" and containing an 88° drop, over which the train was held by a reverse-chain system for a few terrifying seconds, the ride opened in 1998 to huge success even though it offers a short ride time compared to other coasters. Despite having a simple layout, Oblivion's excellent theme based around fear allows it to remain among the scariest rides today.
Examples:
Oblivion at Alton Towers, UK
Griffon at Busch Gardens Williamsburg, USA
Valravn at Cedar Point, USA
SheiKra at Busch Gardens Tampa, USA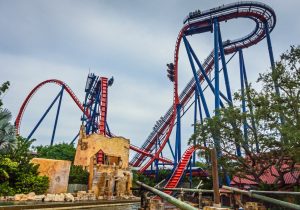 B&M opened SheiKra in 2005, which took Oblivion's concept to a whole new level. Maintaining the spirit of the original, SheiKra retained the short train length made of 8-across cars, holding chain over the first dive, and large drop, SheiKra expanded the concept by making the first drop a full 90° drop, adding an Immelmann inversion, and finishing with an interactive water splash.
B&M continues to evolve the Dive Coaster with each new installation, adding larger 10-across floorless trains, more varied elements, as well as taller and longer track.
Variations
GERSTLAUER EURO-FIGHTER
The evolution of the vertical drop roller coaster could only really go one way – more than vertical! Starting in 2003 with Vild-Svinet at BonBon-Land in Denmark, these Gerstlauer coasters treat riders to a 90° vertical lift hill followed by a beyond vertical (95°-121°) first drop – the ride experience is rounded out by extreme transitions, highly banked curves, helices, and inversions, the usual format of which is a single vertical loop followed by one or more barrel rolls. The coaster is designed to be small, compact, cheap, and transportable, although almost all current installations are of the permanent type.
Examples:
Mystery Mine at Dollywood, USA
Iron Shark at Galveston Island Historic Pleasure Pier, USA
SpongeBob SquarePants Rock Bottom Plunge at Nickelodeon Universe, USA
GERSTLAUER INFINITY COASTER
Another Gerstlauer version is the Infinity Coaster model, which takes the Euro-Fighter to another level by adding more varied elements and in some instances replacing the vertical lift with a launch. However, not all Infinity Coasters have vertical or beyond vertical drops.
Examples:
Karacho at Erlebnispark Tripsdrill, Germany
The Monster at Adventureland, USA
The Smiler at Alton Towers, UK
S&S EL LOCO
In 2008, S&S – Sansei Technologies (then S&S Worldwide) entered into the vertical drop coaster market, with the (then) world's steepest drop on Steel Hawg at Indiana Beach, USA. These compact coasters seem to be designed to make the rider constantly feel as though they're about to be thrown from the car. A mix, if you like, of diving coaster and a new generation of wild mouse.
Like the Euro-Fighters, each new El Loco installation featured a steeper drop ranging from 111° on Steel Hawg to 120.5° on Green Lantern Coaster at Warner Bros. Movie World in Australia.
Examples:
Steel Hawg at Indiana Beach, USA
El Loco at Adventuredome, USA
Timber Drop at Fraispertuis City, France
ZIERER VERTICAL DROP
In 2007, Zierer produced their first vertical drop coaster – Wicked at Lagoon. A bit ahead of it's time, the coaster was the first to feature a launch in addition to the vertical lift hill/drop.
Some eight years later Zierer built Impulse at Knoebels Amusement Resort, their second coaster with a vertical lift hill and drop. However this one does not launch and uses the more traditional chain lift.
Examples:
Wicked at Lagoon, USA
Impulse at Knoebels Amusement Resort, USA
Using many design elements taken from Zierer, Lagoon designed and built their own beyond vertical drop coaster in 2015 called Cannibal. Featuring a 208 foot high tower, the elevator lift coaster with a 116° drop stands much taller than any other vertical or beyond vertical drop coaster.
NAUTA-BUSSINK MINE DIVER
A shockingly frightening dive coaster built by Nauta-Bussink opened in 2001 with lap bars and a twisting 90° drop through an old mine tower. Since Tower of Terror at Gold Reef City in South Africa was built by an extremely small and little known company and installed mainly through in-house means by the park, there is little chance another of these coasters will ever be built.