Wooden Twister Coaster
A Twister coaster concentrates on lots of high speed, curving track and crossovers. Unlike a traditional Out and Back with huge hills and drops, the airtime on a Twister comes in short surprising bursts. Fast, furious and fun, fun, fun.
Notable Twister Coasters
BOARDWALK BULLET, KEMAH BOARDWALK
Boardwalk Bullet showed that The Gravity Group has the ability to build an exciting and deceivingly long coaster into a small 1-acre (0.40 ha) footprint. We say deceivingly long because just when you think the ride is going to end after the next curve, there's still more track around the bend.
Opened: 31. August, 2007
Height: 96 feet (29m)
Drop: 92 feet (28m)
Length: 3,236 feet (986m)
Speed: 51 mph (82 km/h)
Drop angle: 55°
THUNDERHEAD, DOLLYWOOD
Great Coaster International's Thunderhead features a record-setting 32 crossovers and was the first to feature a station fly through. Thunderhead won the Golden Ticket Award for the "Best Wooden Roller Coaster" two years in a row after opening and ranked in the top five for 10 straight years.
Opened: 3. April, 2004
Height: 100 feet (30m)
Drop: 100 feet (30m)
Length: 3,230 feet (980m)
Speed: 55 mph (89 km/h)
Drop angle: 60°
TWISTER, GRÖNA LUND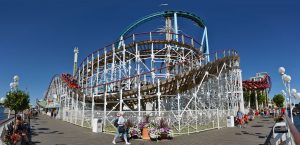 Peter Osbeck, Rides Manager at Gröna Lund, wanted to squeeze a wooden coaster in, under and around three existing steel coasters on the park pier and after riding Boardwalk Bullet he turned to The Gravity Group to create this marvel of engineering. Like its counterpart in Texas, this smaller version manages to use every inch of its compact footprint to extend the ride time.
Opened: 7. May, 2011
Height: 50 feet (15m)
Drop: 50 feet (15m)
Length: 1575 feet (480m)
Speed: 38 mph (61 km/h)
TWISTER, KNOEBELS AMUSEMENT RESORT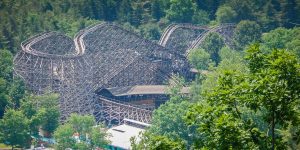 This recreation of John C. Allen's Mister Twister coaster that operated at the old Elitch Gardens in Colorado, USA, was manufactured entirely in-house. The design had to be modified to fit the space, forcing the park to create a mirror image of the original. The coaster's most unique features are the double helix wrapped around the station and the double lift hill where one is stacked on top of the other.
Opened: 24. July 1999
Height: 101 feet (31m)
Drop: 90 feet (27m)
Length: 3,900 feet (1,200m)
Speed: 51 mph (82 km/h)
ROAR-O-SAURUS, STORY LAND
Managing to always squeeze the most out of a small area, The Gravity Group designed an astounding dozen unique airtime moments into the coaster's extremely compact layout. This very family-friendly ride also features "Rory" – the Stegosaurus themed Timberliner train.
Opened: 24. May, 2014
Height: 40 feet (12m)
Drop: 40 feet (12m)
Length: 1,242 feet (378.5m)
Speed: 34 mph (55 km/h)
THUNDERBIRD, POWERLAND PARK
Thunderbird is the northernmost wooden coaster in the world and the first wooden coaster to be built by Great Coasters International in Europe. Another GCI coaster, American Thunder (formerly Evel Knievel) at Six Flags St. Louis in Missouri, USA, is a clone of this one.
Opened: 29. April 2006
Height: 82 feet (25m)
Drop: 80 feet (24m)
Length: 2,713 feet (827m)
Speed: 48 mph (77 km/h)
TREMORS, SILVERWOOD THEME PARK
Manufactured by Custom Coasters International and built by Rocky Mountain Construction, this coaster features four underground tunnels, including one the goes under the ride's gift shop. It was also the first coaster to receive RMC's Topper Track system, which diminishes wear and tear as well as providing a smoother ride.
Opened: 15. May 1999
Height: 100 feet (30m)
Drop: 103 feet (31m)
Length: 3,000 feet (910m)
Speed: 60 mph (97 km/h)
GWAZI, BUSCH GARDENS TAMPA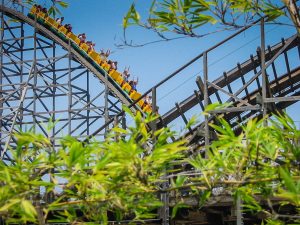 GCI's Gwazi was a racing/dueling wooden coaster with a record breaking six fly-by points (where the trains pass by one another in the opposite direction). The name Gwazi originates from a fabled creature with the head of a tiger and the body of a lion. Accordingly, the two sides were named "Lion" and "Tiger". In 2012 the Tiger side closed, followed by the entire ride closing three years later and has since become Iron Gwazi following its RMC I-Box steel track conversion in 2020.
Opened: 18. June, 1999
Height: 105 feet (32m)
Drop: 92 feet (28m)
Length: 3,508 feet (1,069m)
Speed: 51 mph (82 km/h)