Custom Coasters International (CCI), was founded in 1991 and exclusively build wooden roller coasters. Their first coaster – The Sky Princess at Dutch Wonderland in Pennsylvania, USA – opened in 1992. It took a few more years for their coasters to hit their stride, but in 1995 CCI opened two top coasters in the USA – The Raven at Holiday World in Indiana and Cyclops at Mt. Olympus in Wisconsin – that took the public and enthusiast community by storm. They were both fast, twisting and exciting due to the close proximity in which they were built to the terrain.
This led the way for CCI to break out and own the wooden coaster market. It could be argued that CCI were the driving force behind the resurgence of wooden coasters in the late 1990's. Rides such as Megafobia in a then unknown park in Wales (Oakwood) and Tonnerre de Zeus at Parc Asterix in France went straight to the top of enthusiast's favorite lists and they still rank highly today. Shivering Timbers at Michigan's Adventure is the tallest and longest coaster the company built and GhostRider at Knott's Berry Farm in California still holds the record as the longest wooden coaster on the USA's West Coast.
CCI hit their zenith in 2000, opening seven coasters that year, including Medusa at Six Flags Mexico, The Boss at Six Flags St. Louis in Missouri and The Legend at Holiday World. However, it was Boulder Dash at the little known Lake Compounce in Connecticut that went on to rule the rankings, still taking the Golden Ticket Best Wooden Coaster award some 15 years later (2013-2015).
Custom Coaster International's First Coaster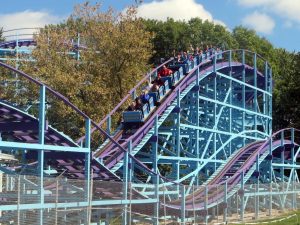 Known as the Sky Princess prior to the 2007 season, Kingdom Coaster is a family wooden coaster that remains the showcase attraction at Dutch Wonderland in Pennsylvania, USA. Originally all white, the coaster now has a sky blue support structure with purple track and although it's only 55 feet (17m) tall it still manages to hit a top speed of up to 40 mph (64 km/h). The coaster features many bunny hops that lift riders out of their seats as well as a tunnel and banked turns.
Opened: 1992
Height: 55 feet (17m)
Length: 2,000 feet (610m)
Speed: 40 mph (64 km/h)
Custom Coaster International's Notable Rides
BOULDER DASH, LAKE COMPOUNCE
Boulder Dash is a ground hugging coaster that uses the park's mountainside terrain to full advantage. The lift hill and first drop are never more than a few feet off the ground, including the entire outbound portion of the circuit as the coaster cruises through trees and around boulders completely out of sight of park guests.
The lakeside return trip is a more controlled ride experience with a series of man-made airtime hills that keeps riders flying out of their seats. The ride climaxes with a double-up followed by one last drop before hitting the final brake run.
Opened: 21. May, 2000
Height: 110 feet (34m)
Drop: 115 feet (35m)
Length: 4,725 feet (1,440m)
Speed: 60 mph (97 km/h)
Drop angle: 59°
MEGAFOBIA, OAKWOOD
The only wooden coaster in Wales, Megafobia is also the best coaster in Wales! An awesome ride that thrills from start to finish and changed Oakwood from a family leisure park into a major theme park destination. Custom Coasters International built this at a reduced price so they could show off their products in Europe.
Opened: 30. April, 1996
Height: 85 feet (26m)
Length: 2,956 feet (901m)
Speed: 48 mph (77 km/h)
Drop angle: 55°
RAVEN, HOLIDAY WORLD
Named after the famous Edgar Allan Poe's poem, Raven is a short coaster, but its ground hugging layout, amazing sweeping turn over a lake and great swooping drops make it a good one. So good in fact, that it won the Golden Ticket award as Best Wooden Coaster four years in a row (2000-2003).
Opened: 6. May, 1995
Height: 80 feet (24m)
Drop: 85 feet (26m)
Length: 2,800 feet (850m)
Speed: 48 mph (77 km/h)
STAMPIDA, PORTAVENTURA
Stampida is CCI's only wooden dueling coaster still operating. It has plenty of airtime, a great first drop, intense laterals forces, extremely fast finale and, of course, brilliant racing action!
Opened: 17. March, 1997
Height: 84 feet (25.6m)
Length: 3,127 feet (953m)
Speed: 46 mph (74 km/h)
CYCLOPS, MT. OLYMPUS
Just like the God Cyclops, this coaster had one good thing going for it – the drop! The second drop was so intense and powerful, only those aged 18 or above were allowed to ride the back seats. However, in 2014, the second hill was re-profiled, and now the last two rows are no longer restricted.
Opened: 1995
Height: 70 feet (21m)
Drop: 75 feet (23m)
Length: 1,900 feet (580m)
Speed: 58 mph (93 km/h)
Drop angle: 52°
LOST COASTER OF SUPERSTITION MOUNTAIN, INDIANA BEACH
Lost Coaster of Superstition Mountain might just be the world's most unique coaster. Built inside a man-made mountain that used to be a mine cart dark ride and featuring an elevator lift, the near-miss filled, fast-paced and seemingly random layout is a ton of fun!
Opened: 6. June, 2002
Height: 35 feet (11m)
Length: 1,400 feet (430m)
Speed: 20 mph (32 km/h)
NEW MEXICO RATTLER, CLIFF'S AMUSEMENT PARK
CCI's last coaster might not be as well known as the others we've mentioned due to its location, but it's still an excellent ride. The company filed for bankruptcy before completing construction, so the park was forced to finish the project and did so just before the end of the season.
Opened: 28. September, 2002
Height: 80 feet (24m)
Drop: 75 feet (23m)
Length: 2,750 feet (840m)
Speed: 47 mph (76 km/h)
Drop angle: 52°
Other information
In 2002, after 11 years and 34 action-packed coasters, Custom Coasters International declared bankruptcy.
This isn't quite the end of the story though. The main talent behind the CCI designed coasters went on to start two new companies – The Gravity Group and Great Coasters International, who, between them, have produced several top ranking wooden coasters.