D.H. Morgan was founded in 1983 by Dana Morgan, the son of Ed Morgan, a co-founder at Arrow Dynamics.
The company was originally founded to produce carousel rides, but their first order was for new trains for the wooden coaster Giant Dipper at Santa Cruz Beach Boardwalk. This coaster train business took off and D.H. Morgan soon filled their order books with train manufacturing business. Eventually this side of the business was sold to PTC (Philadelphia Toboggan Coasters).
As well as the successful train production business in the 1980's, D.H. Morgan also produced a fair number of carousel rides and antique cars rides.
In 1995 Gilroy Gardens asked D.H. Morgan to produce a "mine train" ride for them. Arrow Dynamics had a wide range of these rides already and D.H. Morgan manufactured Quicksilver Express for Gilroy, which looks very similar to the Arrow Dynamic design. However the coaster sat for five years before it was installed.
In the mean time D.H. Morgan had been requested to design and manufacture Hyper Coasters for Cedar Fair among others. Of the half dozen manufactured, Chance Morgan only officially produced one Hyper Coaster, the others were all under the D.H. Morgan banner.
Morgan's First Coaster
The first D.H. Morgan coaster was Wild Thing at Valleyfair in Minnesota, USA, which opened in 1996. It's a 207 feet (63m) tall, 74 mph (119 km/h) Hyper Coaster that open two weeks before the above mentioned family coaster.
When it opened, Wild Thing was the third tallest coaster in the world following the two Arrow Dynamic Hyper Coasters – Big One at Blackpool Pleasure Beach in the UK and Desperado at Buffalo Bill's Resort & Casino in Nevada, USA.
Morgan's Product Range
HYPER COASTER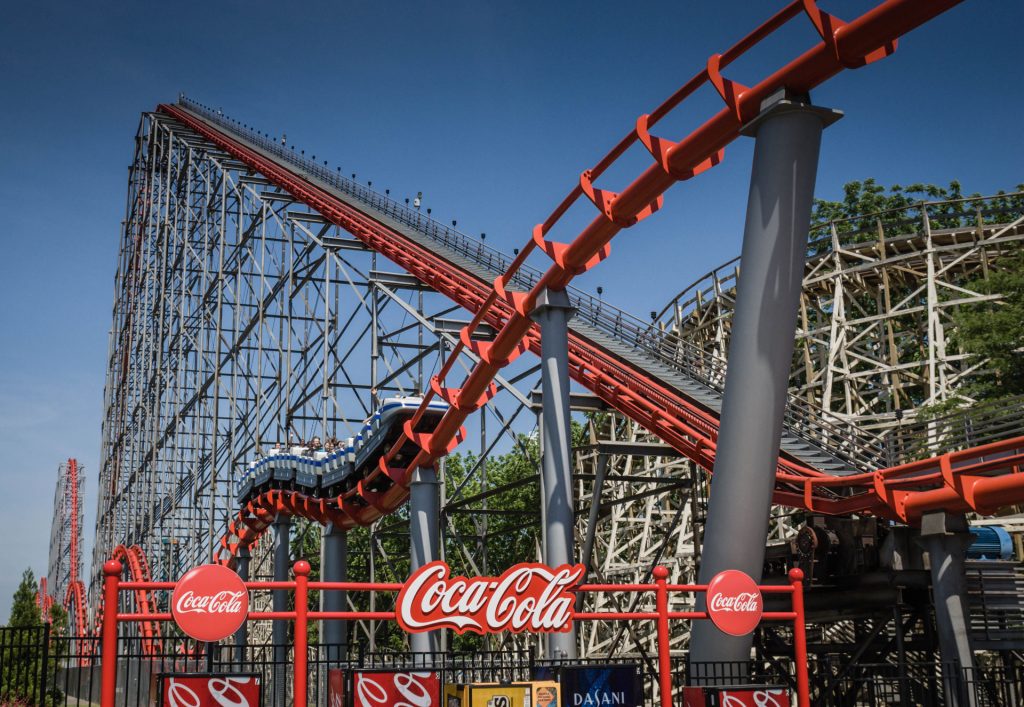 They may look like Arrow Hyper Coasters, but Chance Morgan are now the only people to produce this style of Hyper Coaster. They tend to be very traditional out and back designs, between 150 and 300 feet tall.
Even the trains look similar to their Arrow counterparts, however Morgan trains tend to offer a better ride as they do not suffer from the accordion effect that the Arrows do at the top of airtime hills.
Examples:
Mamba at Worlds of Fun, USA
Steel Force at Dorney Park, USA
Superman el Ultimo Escape at Six Flags Mexico
Steel Eel at SeaWorld San Antonio, USA
See also: Hyper Coasters
D.H. Morgan's possible crowning glory is Steel Dragon 2000 at Nagashima Spa Land in Japan, which broke the world record for tallest coaster when it opened. Although the record for height has been broken several times since, Steel Dragon still holds the record for the world's longest coaster.
The company showed their versatility with Phantom's Revenge at Kennywood in Pennsylvania, USA. The park wanted their Arrow "looping hyper coaster" to be redesigned, with the inversions taken out. D.H. Morgan redesigned the ride and ever since the coaster has been very well received.
HYPER-LITE COASTER
Like their Intamin and Mack Rides counterparts, the Chance Rides Hyper-lite is essentially a miniature version of the Hyper Coaster.
Standing roughly 100 feet (30.5m) tall with a top speed of 55 mph (88.5 km/h) and lots of hills and twists, the Hyper-lite offers an abundance of ejector airtime.
FAMILY COASTER
The Chance Morgan Family coaster is a steel ride for small spaces and lower thrills, the most well known example being Santa Monica West Coaster at Pacific Park in California, USA, which is small enough to fit onto a pier. It is the most photographed and filmed coaster in the world and has appeared in over 500 movies and television shows, as well as dozens of commercials.
Operating Examples:
Santa Monica West Coaster at Pacific Park in California, USA
TOBOGGAN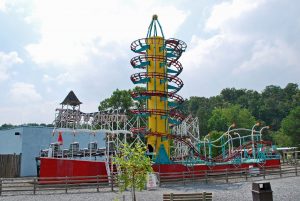 For many years, Chance Rides produced the "Toboggan" coaster. A lighthouse shaped lift hill (inside of which the tiny cars go up vertically) with track that spirals down around the central column. Chance rides no longer make these coasters and there are very few in permanent locations. If you're unlucky though, your local traveling fair may have one.
Examples:
Toboggan at Lakemont Park, USA
Wild & Wooly Toboggan at Little Amerricka, USA
Other information
In 2001 Dana Morgan retired and sold D.H. Morgan to Chance Industries, Inc. The newly formed "Chance Morgan" finished production of Superman el Último Escape at Six Flags Mexico. The only other coasters they have built are Freedom Flyer at Fun Spot America, Steel Lasso at Frontier City as well as Eagles Life in the Fast Lane and Shake Rattle & Rollercoaster at Hard Rock Park, which are all licensed Vekoma rides.
All future coasters will be produced under the Chance Rides name.
Manufacturer Contact Details
Chance Rides
P.O. Box 9046
Wichita, Kansas 67277
USA
Tel: +1 316 945 6555