Orlando, Florida, USA
November 21, 2019 – Over 40,000 people converged on the Orange County Convention Center  for the largest amusement park and attractions gathering in the world. The annual IAAPA Expo draws everybody from major theme park players to smaller start-ups, who spend up to four days perusing 10 miles of aisles choosing their next attraction.
Some 1,146 companies offered their services to 26,800 registered buyers (up about 1,300 compared to 2018) this year .We went along to bring you the all the major thrill ride news from the trade show floor.
The Big Reveals
IAAPA wouldn't be IAAPA without several new coaster trains. Park and manufacturer officials ceremoniously whipping sheets off from covered trains to the sound of cameras clicking is part of the experience. IAAPA 2019 didn't disappoint, with many big players choosing the trade show to reveal their rides.
Rocky Mountain Construction and Busch Gardens Tampa were first up, where they revealed the train for Iron Gwazi, the highly anticipated renovation of the Gwazi wooden coaster. Judging by the interactions on our social media, opinion was split but it still remains most people's "must ride" of 2020.
The Ice Breaker train for SeaWorld Orlando was unveiled at Premier Rides after an enthusiast-focused introduction by the SeaWorld's VP of Design & Engineering, Brian Andrelczyk. Lots of love both in the room and online for Ice Breaker, which opens in Spring 2020.
SeaWorld San Antonio revealed their Texas Stingray wooden coaster train on the Great Coasters International booth. When it opens in Spring, it'll be the tallest, fastest and longest wooden coaster in Texas. We really love the adorable stingray on the front!
Staying with the sea, Maurer Rides and Carnival Cruise Line unveiled the train for the world's first roller coaster on a cruise liner! Passengers on the Mardi Gras liner will be able to zip around the ship's funnel from early next year.
Back on dry land, ETF Ride Systems, Holovis and Merlin Entertainment revealed the cars for the Lego Factory Adventure dark ride opening in Legoland New York on July 4th, 2020. Using HoloTrac technology, recognition cameras will transform riders into a Lego character! Brilliant! See the transformation on CoasterForce Twitter.
Good news for dark ride enthusiasts continued when Triotech and Knotts Berry Farm officially announced their partnership to bring Knotts Bear-y Tales to the Californian park in 2020 during it's centenary year. The 4D dark ride will replace the five-year old Voyage To The Iron Reef. Watch the trailer on CoasterForce Twitter.
Under The Radar
Uncharacteristically for IAAPA, not all of the new stuff was presented with a fanfare, with some parks and manufacturers taking a low key approach.
Most notable was the B&M booth. Casually sat in the corner for all to see, without any spotlights or scheduled press event, was the lead car for Kings Island's "giga"-coaster, Orion, which opens next year. Reaction online seemed warm.
B&M also hosted a brief announcement of the name of SeaWorld San Diego's new floorless Dive Coaster – Emperor.
Similarly, Intamin showcased the train for Pantheon, opening at Busch Gardens Williamsburg in 2020.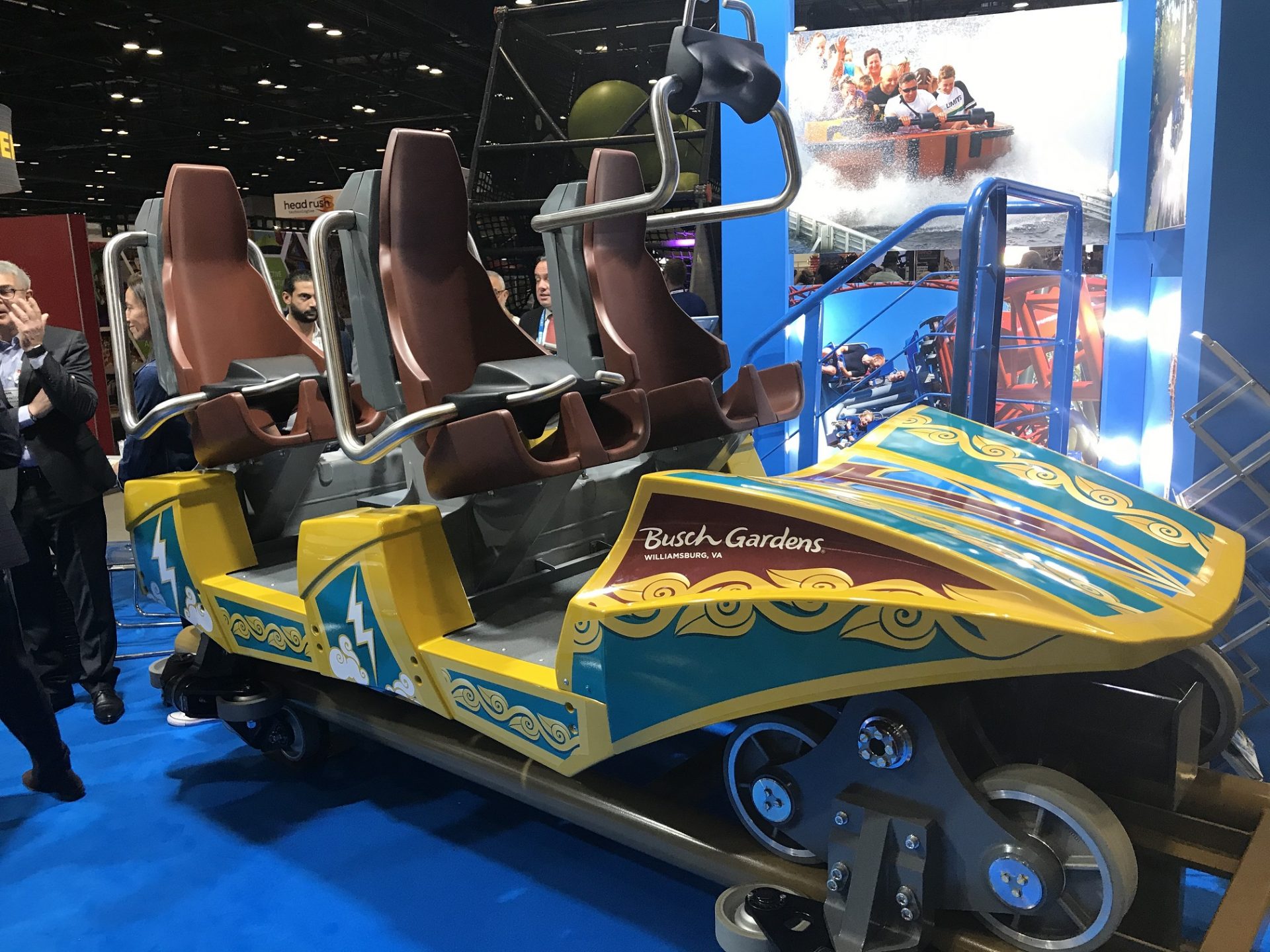 S&S played a video of their awesome-looking new Axis Coaster concept. The Axis Coaster is an evolution of the 4D coaster type where riders are rotated in a controlled fashion. This crazy coaster will turn your world upside-down!
Most surprising of all was Great Coasters International unveiling their new hybrid coaster track. Rather than choosing the Expo floor where thousands of potential buyers could see it, the Pennsylvanian wooden coaster company announced it at an after-show party!
Zamperla
One booth that nobody could miss was Zamperla. They stole the show. Slap-bang in the middle of the show floor, sprawling between several aisles, sat the Italian manufacturer showcasing several attractions. The centerpiece was NebulaZ, a rotating thrill ride that looks mezmerising and packs some surprising forces. Reaction to the ride was crazy on our social media, and judging by the constant queue line at the show, the attendees loved it too! Watch a video of it on CoasterForce Twitter.
Zamperla revealed two new coaster attractions. The first was an evolution of the Thunderbolt trains. The new Lightning trains are lighter, seat four across and have onboard audio.
More exciting than that was DangleZ, where the train has a 160 degree motion offering a unique experience for riders.
Luna Park at Coney Island, celebrates it's 20th birthday next year. Zamperla announced several new attractions for the park. These include a Junior Coaster, a Super Log Flume, an interactive water ride called Big WaveZ and a rope course.
To top off Zamperla's great show, the company's owner, Alberto Zamperla was inducted into the IAAPA Hall of Fame. Well deserved!
It's also worth noting that IAAPA also elected their first European female to the position of Chair. Blackpool Pleasure Beach's fabulous owner, Amanda Thompson, took up the role during the Expo's opening ceremony.
The Fads & Trends
Axe Throwing is on the up. Several companies were offering this traditional Canadian pastime. There was even an inflatable version…using inflatable axes, of course! We'd be surprised if we saw them at theme parks, but you can bet your bottom dollar they will appear at other visitor attraction types!
Virtual Reality was everywhere in 2017. Over 35 companies specializing in VR at the Expo exhibited that year; a greater number than coaster manufacturers present. There was noticeable decrease in that number in 2018, but this year there seemed even fewer. The VR craze has probably peaked and is passing into history.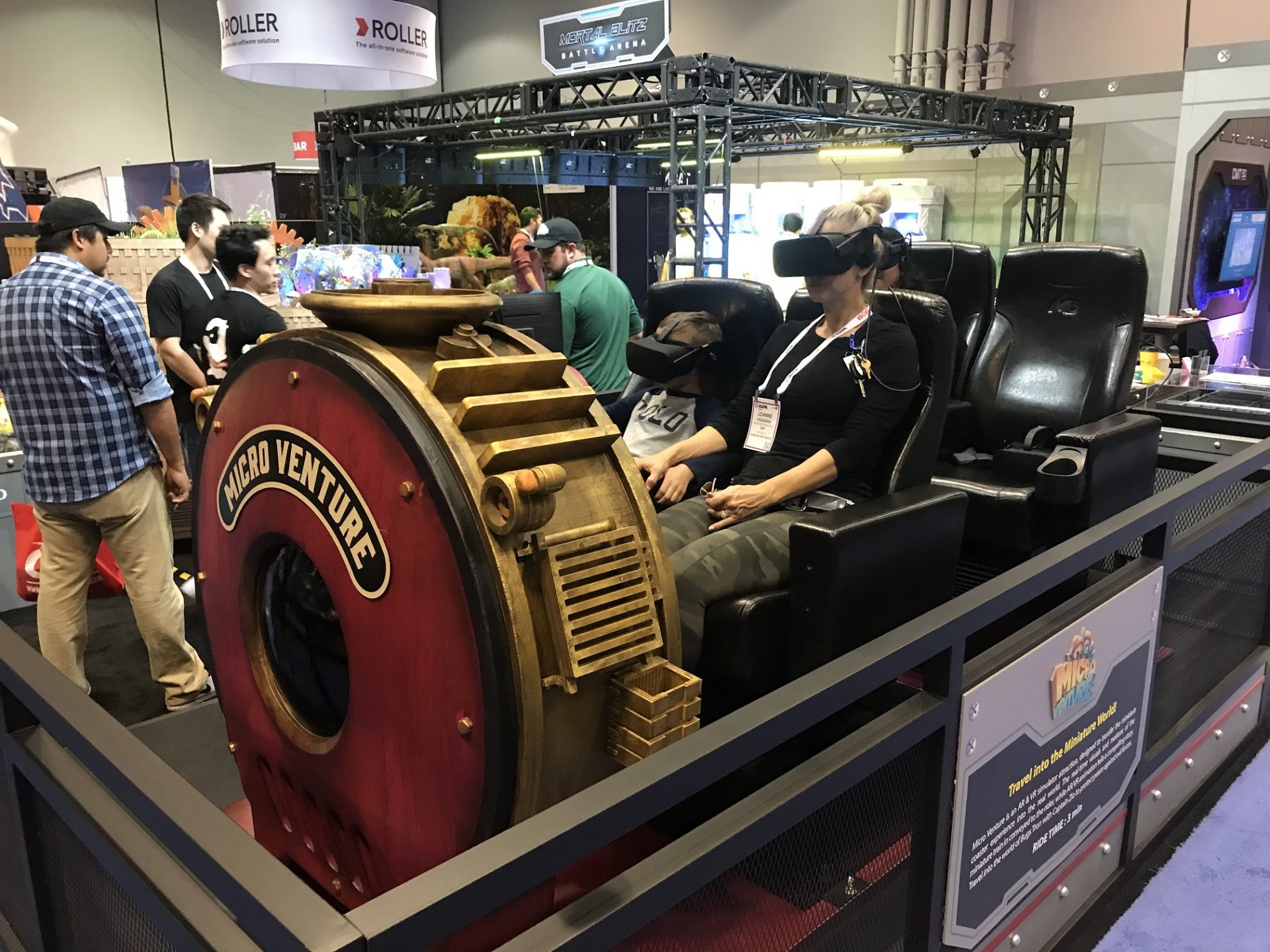 Escape Rooms also appeared to be in decline. The market is so established, there is probably no need for companies to exhibit, or maybe it's too saturated to compete. In addition, well known themed entertainment companies are likely to create their own escape room in-house, reducing the need for external companies. Whatever the reason, there were fewer available this year to try than in previous years.
The number of thrill and family ride manufacturers, water park attractions and simulators remained steady. There was an evident increase in the number of themeing companies, app developers, and front-of-house specialists. This can only lead to to a more immersive, easy-going and complete visitor experience.
Rides
As much as the IAAPA show floor is a playground, it's ultimately where big business takes place. In addition to Zamperla, many manufacturers opted to have rides to try. SBF Visa/Rides 4 U had a new spinning coaster train encircling their booth, which contained three other rides!
One of our favorites was the Rollglider, a suspended "coaster" by Walltopia. They've never had a version this big at IAAPA!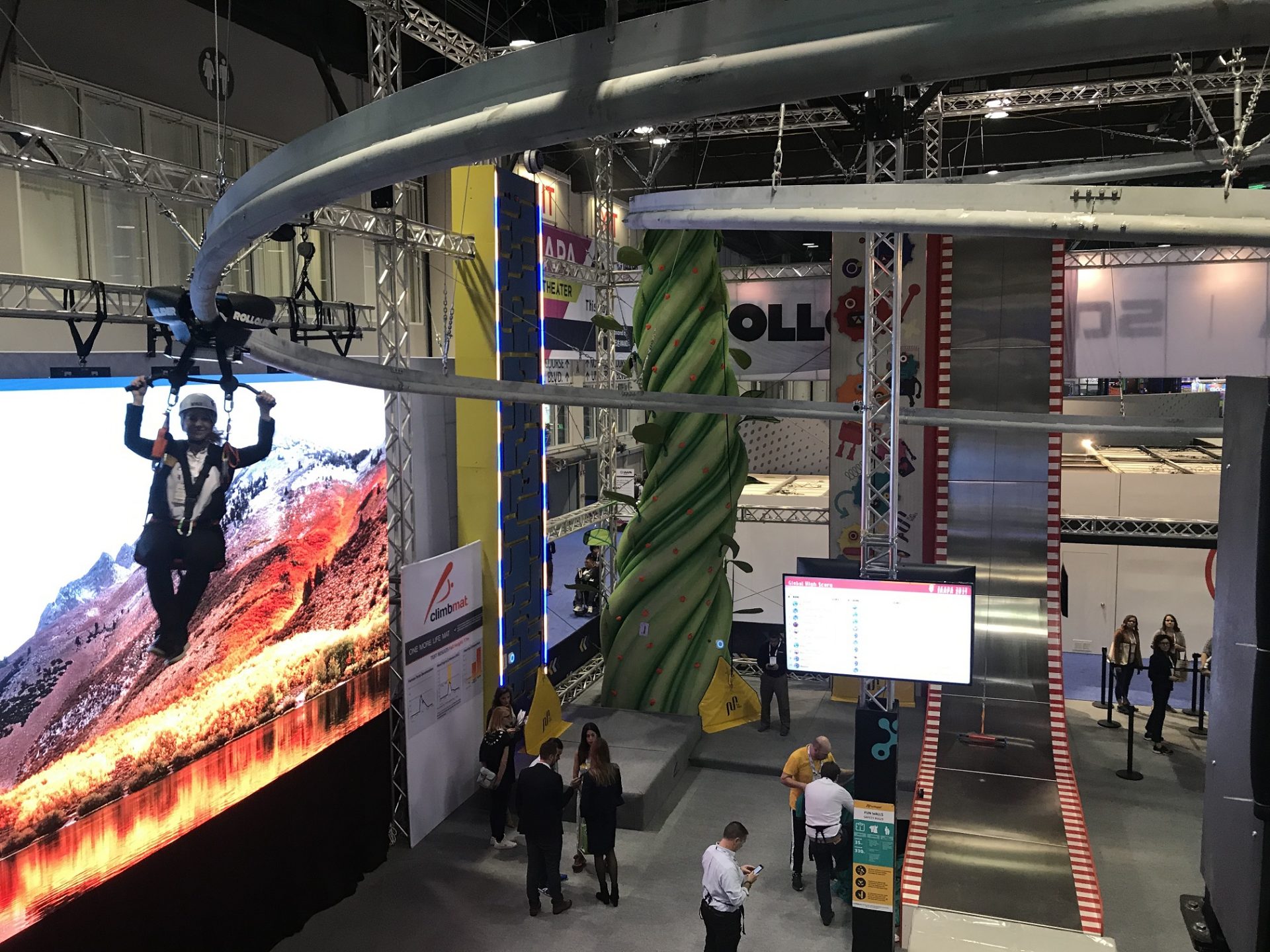 Racing Simulators took up a lot of the show floor, with many companies offering one version or another.
The Outdoor Exhibits had several thrill rides to try. Most notably was the 88ft tall Star Scream by ARM Rides. There's no better way to get a gentle breeze in the Floridan sunshine!
KMG offered a variation on the Top Spin ride with the Crazy Surf model. Although this has been seen in Europe, it was its IAAPA Expo debut.
As the new carpet smell and murmur of expensive-sounding conversations fade into the distance, we've nothing but positivity for this amazing hobby that we all share. The rides are good, the people who design them are even better, and the direction for the industry is firmly focused forward. We can't wait to see what's there next year! We'll be posting POV and other videos from IAAPA on our YouTube channel soon, so please head over and subscribe!
Written by Ian From CoasterForce.