Great Coasters International, Inc. (GCI) was founded by Michael Broodley and Clair Hain. Broodley was a coaster designer for now defunct manufacturer Custom Coasters International. Although the company was started in 1994, it took two years before their first coaster was unveiled to the world. GCI exclusively build wooden roller coasters, which often have a tightly twisted, fast and furious track layout. Most GCI coasters have a curved first drop to reduce rider nausea. Aside from standard (and we use that word lightly) twister coasters, GCI also design racing/dueling coasters and offer a shuttle coaster concept called Back Track. Some post-2005 GCI coasters have station fly-throughs where the train zooms through the station on an elevated section of track.
Great Coasters International's First Coaster
WILDCAT, HERSHEYPARK
Wildcat at Hersheypark in Pennsylvania, USA, has the honor of being the first coaster designed by Great Coasters International. The coaster appears taller than it actually is because it's built on a large hill. Wildcat originally had trains built by Philadelphia Toboggan Coasters, which were replaced with GCI built Millennium Flyer trains (pictured) for the 2007 season.
Opened: 26. May, 1996
Height: 106 feet (32m)
Drop: 85 feet (26m)
Length: 3,183 feet (970m)
Speed: 50 mph (80 km/h)
Great Coasters International's Notable Coasters
LIGHTNING RACER, HERSHEYPARK
With the success of Wildcat, Hersheypark went back to GCI for their wooden racing/ dueling coaster Lightning Racer. Widely considered to be one of the most fun dueling coasters in existence, both sides – Lightning and Thunder – travel through the same elements, although at different times. In addition to racing beside each other, there are two turn-arounds where the trains cross paths facing each other (known as a fly-by).
Opened: 13. May 2000
Height: 92 feet (28m)
Drop: 90 feet (27.4m)
Length: 3,393 feet (1,034m)
Speed: 51 mph (82 km/h)
Angle of first drop: 45°
THUNDERHEAD, DOLLYWOOD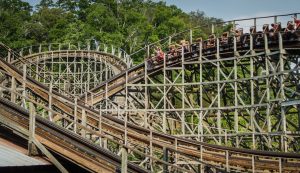 Thunderhead is a Twister Coaster that features a record-setting 32 crossovers and was the first to feature a station flyby. Thunderhead won the Golden Ticket Award for the Best Wooden Roller Coaster two years in a row after opening and was ranked in the top five for 10 straight years.
Opened: 3. April, 2004
Height: 100 feet (30m)
Drop: 100 feet (30m)
Length: 3,230 feet (980m)
Speed: 55 mph (89 km/h)
Angle of first drop: 60°
TROY, TOVERLAND
Ever since Toverland opened, the owners wanted to build an iconic wooden coaster. As Toverland is predominantly a family-friendly theme park, the biggest problem was finding something suitable for youngsters yet thrilling enough for high-octane, thrill-seeking guests. After observing the positive reaction of guests – young and experienced – after riding Thunderhead at Dollywood in Tennessee, USA, Toverland commissioned Great Coasters International to design a coaster… and this gem is the result!
Opened: 29. June 2007
Height: 104.5 feet (32m)
Drop: 100 feet (30m)
Length: 3,534 feet (1,077m)
Speed: 54 mph (87 km/h)
PROWLER, WORLDS OF FUN
This wooden Terrain Coaster features lots of twists and turns with an abundance of small ejector airtime hills as it plunges through a ravine and in and out of the surrounding woods.
Opened: 2. May 2009
Height: 102 feet (31m)
Drop: 86 feet (26m)
Length: 3,074 feet (937m)
Speed: 51 mph (82 km/h)
JORIS EN DE DRAAK, EFTELING
Themed around the legend of Saint George and the Dragon, the racing/dueling wooden coaster features a 39 foot (12m) tall animatronic dragon, trumpets sounding upon dispatch and a medieval flute soundtrack for the lift hill climb. The layout also features three crossover (where the trains pass over/under one another) and two fly-by (where the trains pass one another in opposite direction) points.
Opened: 1. July, 2010
Height: 72 feet (22m)
Drop: 72 feet (22m)
Length: 2,585 feet (788m)
Speed: 47 mph (75.6 km/h
WODAN TIMBUR COASTER, EUROPA PARK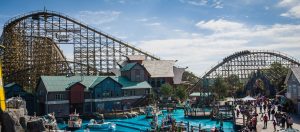 GCI's largest coaster is themed to Norse mythology and has the best queues of any wooden coaster featuring projection mapping, smoke screens and moving ceilings as well as fire, mist and water effects. Huge statues lining the loading area even turn and watch the train as it exits the station.
Opened: 31. March 2012
Height: 131 feet (40m)
Length: 3,444 feet (1,050m)
Speed: 62 mph (100 km/h)
WHITE LIGHTNING, FUN SPOT AMERICA
This wooden Out And Back Coaster shows off the company's ability to build an exciting airtime coaster with a small footprint. The coaster proved to be so popular that a clone of it was built in 2016 at Plopsaland De Panne in Belgium.
In 2020 GCI installed a section of their own version of steel I-box track, a first for the company. Unlike RMC's steel I-box track, which is used to replace the entire wooden track, GCI's version is designed to work in conjunction with existing wooden track to replace only sections of the layout.
Opened: 20. May 2013
Height: 70 feet (21m)
Drop: 67 feet (20.5m)
Length: 2,032 feet (619m)
Speed: 44 mph (71 km/h)
Angle of first drop: 58°
GWAZI, BUSCH GARDENS TAMPA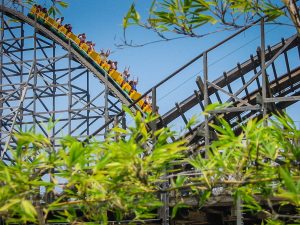 Gwazi was a racing/dueling wooden coaster with a record breaking six fly-by points (where the trains pass by one another in the opposite direction). The name Gwazi originates from a fabled creature with the head of a tiger and the body of a lion. Accordingly, the two sides were named "Lion" and "Tiger". In 2012 the Tiger side closed, followed by the entire ride closing three years later.
Opened: 18. June, 1999
Height: 105 feet (32m)
Drop: 92 feet (28m)
Length: 3,508 feet (1,069m)
Speed: 51 mph (82 km/h)
Other information
Unlike most wooden roller coaster manufacturers, Great Coasters International produce their own trains called Millennium Flyers. Millennium Flyer trains are recognizable by their open, gate-like fronts and cushioned bucket-style seats. Each rider has their own lap bar for safety and comfort.
Manufacturer Contact Details
Great Coasters International Inc.
P.O. Box 119
Sunbury, PA 17801
USA
Phone: +1 570 286 9330
eMail: info@greatcoasters.com