Hopkins Rides specialised in water rides such as log flumes and river rapids, but also designed and manufactured roller coasters. They started in 1962 as a firm engineering ski lifts and sky rides for theme parks. The move to water ride manufacturing occurred in 1980.
Hopkins Rides built over 100 rides, but only seven coasters. Six of the seven coasters were built in the USA, the other in Japan. Hopkins Rides stopped producing coasters after the final installation – New Wild Mouse Coaster at Misaki Park, Japan – in 1996.
Hopkins' First Coaster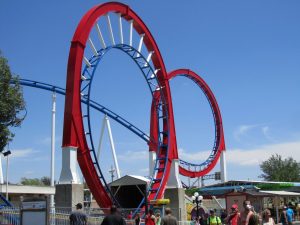 Hopkins Rides first coaster – Texas Tornado at Wonderland Park in Texas, USA – was designed on a napkin at a cocktail party for theme park industry guests. A unique feature of the coaster's design is that the double loops do not occur in a row, but are lined up to appear that way.
Opened: 1985
Height: 80 feet (24m)
Drop: 80 feet (24m)
Length: 2,050 feet (620m)
Other Hopkins' Coasters
DRAGON, ADVENTURELAND
Unlike its Texas predecessor, this $2.1 million coaster features traditional double loops that immediately follow one another. It's also the only double looping coaster to include a figure eight section.
Opened: 12. May, 1990
Height: 90 feet (27m)
Drop: 85 feet (26m)
Length: 2,620 feet (800m)
Speed: 55 mph (89 km/h)
Angle of First Drop: 45°
DESERT STORM, CASTLES N' COASTERS
Desert Storm at Castles n' Coasters in Arizona, USA, opened in 1992 and was Hopkins' third double looping coaster. Like the company's first coaster, this one also has loops that do not immediately follow each other. However, unlike the other two, Desert Storm has a compact, twisting layout rather than an out and back design.
PATRIOT, CASTLES N' COASTERS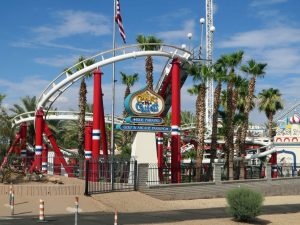 Along with Desert Storm, Patriot was part of a two coaster package Hopkins manufactured for the park in 1992. This family friendly coaster doesn't have any inversions and features a tire driven lift hill, rather than a chain lift hill.
POLAR COASTER, STORY LAND
As the name would suggest, Story Land in New Hampshire, USA, is a very family friendly park and all the rides are designed with children in mind. However, Polar Coaster is not a typical kiddie coaster like a Big Apple or kiddie oval, but rather a custom design that takes advantage of the hillside terrain it's located on. Polar Coaster opened in 1987 and is the second coaster Hopkins manufactured.
Other information
Most of the new ride types developed by Hopkins were launched at Wonderland Amusement Park in Amarillo, Texas, USA.
The company's founder, O.D. Hopkins retired in 1991 and passed away in 2010.
In October 2001 Hopkins filed for bankruptcy protection. The company reemerged as Hopkins Rides LLC in May 2002 and was for a brief time in partnership with French ride manufacturers Reverchon.
In August 2012, Hopkins Rides was acquired by water slide manufacturer, WhiteWater West. Hopkins still produce water rides under their existing name.
Manufacturer Contact Details
Whitewater Attractions
6700 McMillan Way
Richmond BC V6W 1J7
Canada
Phone: +1 604 273 1068