The original launched coaster before the days of Thrust Air and Hydraulic launches. From historic weight-drop to flywheel to catch car propulsion, examples of the evolution of the Catapult Coaster are still operational to this day.
The Original
SCHWARZKOPF SHUTTLE LOOP
The original Schwarzkopf shuttle loop coasters used a weight-drop hidden within a vertical spike to power its catapult launch system. One of the most famous Shuttle Loops was Thunder Looper at Alton Towers in the UK. These are one of the most common examples of inverting coasters that operate with lap bars only.
More "recent" versions of Schwarzkopf shuttle loops used a flywheel to power its launch instead of a weight-drop.
Examples:
Montezooma's Revenge at Knott's Berry Farm, USA
Cascabel at La Feria Chapultepec Magico, Mexico
Variations
VEKOMA LSM CATAPULT COASTER
Using Linear Synchronous Motors (LSM), a catch car propels the train down the launch track. The catch car then detaches and the train is sent around the track. All current Vekoma LSM Catapult Coasters are clones – examples include Disney's Rock 'N' Roller Coasters and Xpress at Walibi Holland.
Examples:
Xpress: Platform 13 at Walibi Holland
Rock 'n' Roller Coaster at Walt Disney World's Hollywood Studios, USA
See also: LSM Launched Coasters
ARROW SHUTTLE LOOP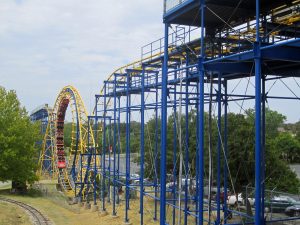 Arrow's shuttle loop coaster is very rare. It involves two raised platforms separated by a ground-level vertical loop. A raised station platform propels the train forward at a fairly slow speed. The train then travels down a hill, through a vertical loop, and up a hill, onto another flat launch section on the other side. The train is then stopped and catapulted backwards, repeating the circuit.
Examples:
Revolution at Pleasure Beach Blackpool, UK
Diamondback at Frontier City, USA
Sidewinder at Elitch Gardens, USA
ZAMPERLA MOTO COASTER
Zamperla offers a different take on the flywheel launch with their Moto Coasters. The trains for these coasters feature individual seating on 12 motorcycles or horses lined up in rows of two. Themed to a race with starting lights and a finish line, the compact layout features a series of sloping twists and turns without any big drops or inversions.
Examples:
Steeplechase at Coney Island's Scream Zone in New York, USA
Moto Bala at Mundo Petapa, Guatemala
Pony Express at Knott's Berry Farm, USA
MotoGee at Särkänniemi Amusement Park, Finland
PAX LOOP 520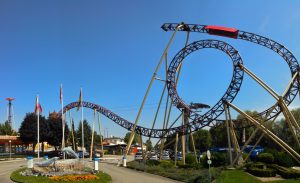 Russian manufacturer Pax Company designed the Loop 520, of which only one was ever built – Cobra at Conny-Land in Switzerland. Like the original Schwarzkopf models, these use a weight drop catch car to hoist the train up a spike out the rear of the station. The train is released and travels through a vertical loop and up a 520° "Scorpion Tail" an then do it all again backwards.
Example:
Cobra at Conny-Land, Switzerland