Orlando, Florida, USA
November 16, 2018 – The doors to the IAAPA Expo have closed for another year. Key players from the attractions, amusements and themed entertainment industry are exhausted and on their way home. The Expo was bigger than ever this year, with an extended tented area outside for first time exhibitors, making a grand total of about 11 miles of show floor to explore. Deals were inevitably made, networking was done (usually with a beer in hand) and your local theme park owner is undoubtedly bursting with ideas for their long term development plan. A perfect way to celebrate IAAPA's 100th Anniversary.
The Big Reveals
IAAPA wouldn't be IAAPA without somebody whipping off a sheet to reveal a new coaster train or announcing a new attraction with a big fanfare. Curtain-pulling reveals did feel a little thin on the ground this year. One reason could be that parks use their own means, chiefly social media, to promote new attractions on their terms, with their own agenda and schedule. Reveals at IAAPA are sometimes overshadowed by the next one but, without fail, there are always some unexpected surprises, and loads of cool stuff.
The one announcement that left the press pack stunned was the Intamin and Compagnie des Alps event. They announced not one, but TWO new coasters for Parc Asterix and Walibi Belgium for 2021. Both coasters have world's first elements and are in the running to be the top coasters of 2021. Hopefully this early announcement will encourage other parks to up their game. Bring on a coaster war!
S&S and Kennywood touched down by revealing the trains for their highly anticipated Steel Curtain coaster. The ride is themed to their local American Football team, the Pittsburg Steelers. The train is in the team colours, the year the team was established is printed on the front, and it has sweet looking football headrests. Most impressively is that the train has lap bars – not over the shoulder restraints – so riders will feel really exposed!
Kentucky Kingdom and Gravity Group jointly showcased the lead train for the Kentucky Flyer coaster opening on April 17th, 2019. The propeller at the front doesn't spin but we've been assured that the coaster will still fly around the track.
Dynamic Attractions yet again pulled something special out of their bag of tracks by revealing a Duel Motion Coaster, which hides the track and coaster wheels. The ride vehicle is on a motion platform allowing it invert, glide, drift, spin and shake creating a world of possibilities. The innovative company has already sold one which will be debuting in Malaysia next Spring. Basically, this allows a Mario Kart race course to be brought to life!
Sally Rides has teamed up with Sesame Street and PortAventura to bring the first ever Sesame Street Dark Ride to Europe. Big Bird was on hand to say hello, or perhaps that should be "hola".
Skyline Attractions (named after a local Chile takeout, so we learnt) unveiled the cars for the Tidal Twister coaster heading to SeaWorld San Antonio. Zamperla will introduce video game technology to traditional rides to give them more oomph. Triotech announced a new Rabbids interactive ride in conjunction with Ubisoft, which will increase hourly ride capacity to 900 people.
The Weird Sh*t
There are always a couple of bizarre attractions or ideas at IAAPA. The first one we saw was a snowflake making machine. Although we're all used to fake foam snow being blown about, this donut-making-resembling machine creates a big foam snowflake that is blown skywards. It's pretty cool.
Number two is, err, a number two. The Smiling Poo emoji has been immortalised into an inflatable play thing. This gives park owners an opportunity to actually install a piece of shit in their park should they wish.
Both weird AND awesome was the actual working real Transformer by Sensei Technologies. One moment it's a car, the next it's a robot that might actually one day kill us all. The car can travel up to 60 km/h (yes, that's not a typo), and the robot can roll cigars between its thighs before crushing them like flies. Ok, so we made that up. If the robot does end up taking over the world, we hope it's first mission is to step on that giant inflatable turd.
What really took the biscuit was the cake. Premier Rides and Busch Gardens Tampa are opening Tigris, a Sky Rocket II coaster, in 2019. Instead of unveiling something sweet, both companies unveiled a cake. It did look mighty fine, though.
The Trends
VR based attractions seemed quieter than previous years. Sure, there were still plenty of dedicated booths with people queuing to test the products, so they're not going away anytime soon. However, there was certainly less of a sparkle in the virtual air with few, if any, companies offering anything groundbreaking or mildly interesting. One exception was Paradrop, a parachute VR experience by SimWorks, which is fairly unique without being ridiculous.
Self-service, ticketless and mobile phone guest experiences were well represented. Soon enough theme park goers will be able to rock up and not interact with any member of staff!
Water park attractions and services are on the up. The booths from the big players seemed bigger than ever, and many smaller ones were trying to make a splash. This is great news. Even if water parks are not your thing, it means theme parks are shifting towards becoming proper destinations, rather than just single-day experiences.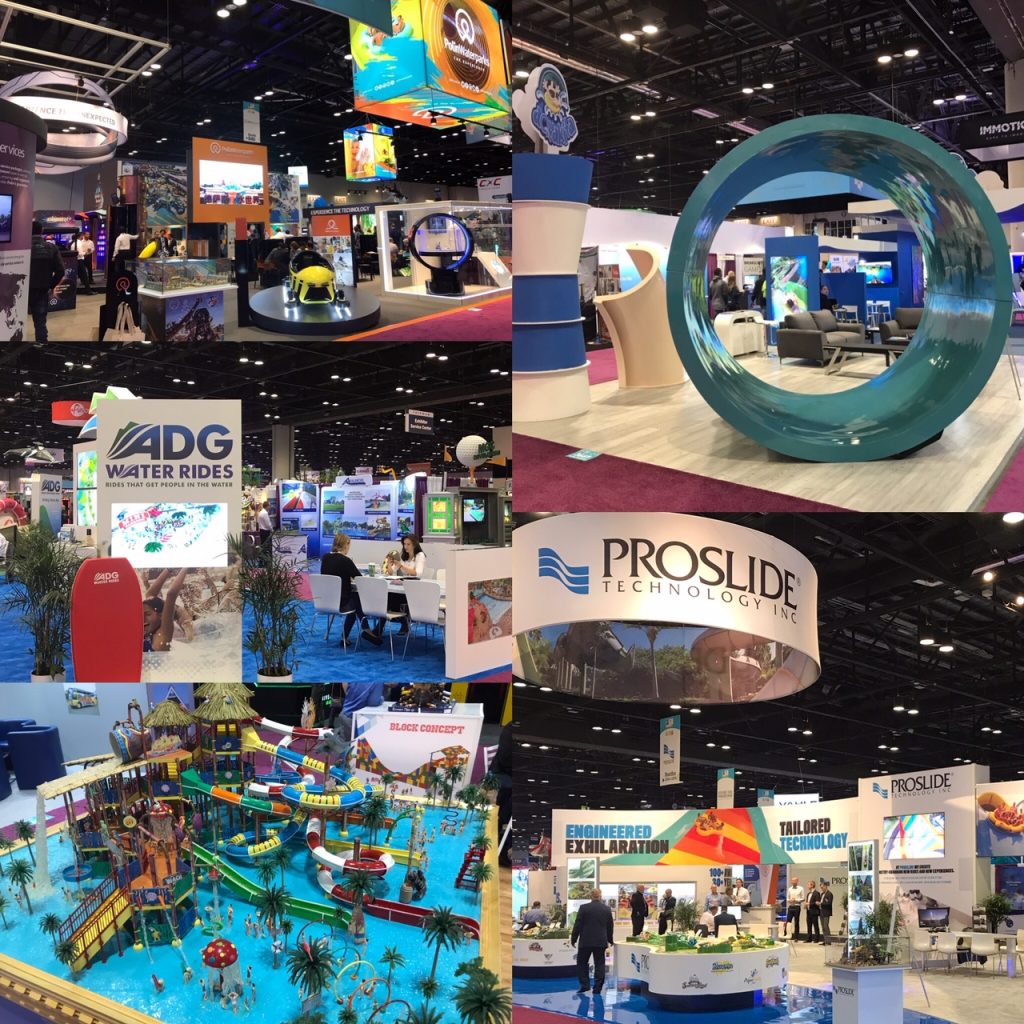 Holiday and seasonal theming is now a big thing. Many booths offered Christmas, Halloween, autumnal (Fall) and other season holiday products and ideas. With more and more top parks trying offering year-long openings to enhance guest experiences, it makes perfect sense. Holiday and seasonal events are going to continue to grow if this IAAPA is anything to go by. It's almost like the closed season will be a thing of the past!
And talking of closing, it's time to round off this round-up. Of course, this report doesn't cover everything at the IAAPA Expo – this report would be under construction until next year if it did! There were plenty of other announcements geared towards visitor attractions and products that fall outside of our definition of a theme park, most of which can be found on the IAAPA website. The IAAPA Expo 2018 in Orlando was, as it always is, the best place to get a whiff of what's to come. We're already counting down to 10am, November 19, 2019.
Written by Ian Bell.