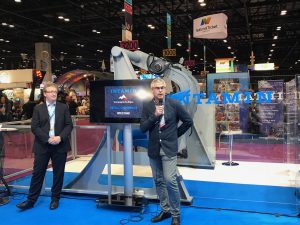 Orlando, Florida, USA
November 15th, 2018 – Picture the scene – it's Day 3 at the IAAPA Expo and, by this point, all of the "big" announcements are done. The press gather at the Intamin booth expecting a low key announcement. The Leisure Park Destination Vice President of Compagnie des Alpes, Francois Fassier, and Daniel Schoppen, Vice President of Design & Development at Intamin, walk on and deliver the biggest mic drop in IAAPA history.
Although both of these coasters are part of the Compagnie des Alpes medium term plan and won't open until 2021, nobody expected an announcement of this magnitude.
First to be announced, was one of the most advanced LSM Launch Coasters in the world, featuring non-stop action airtime elements, close to the ground manoeuvres and three inversions. The yet-to-be-named coaster will be Parc Asterix's eighth roller coaster.
The coaster will have 30 unique elements, more than any other unique LSM coaster in the world, and 23 (yes, twenty three!) airtime moments. The four-time launching coaster will have a world's first "switch track" element where the rider zips forwards, heads up a "cliff hanging stall" before going backwards but switching to another section of the track.
Just as the gathered press pack stopped gasping, both parties confirmed the long-rumoured Mega Coaster for Walibi Belgium. At 50 metres (164 ft) tall, The Mega Coaster will be the highest roller coaster in Belgium – and the Benelux area. It will feature 15 airtime moments and the world's first banked double-down.
At the time of writing, Intamin and Compagnie des Alps have not released any media for either coaster. The images in this report are photos of the video displayed during the press conference.
Discuss the Parc Asterix Launch Coaster on our Forums.
Discuss IAAPA 2018 on our forums.
Compagnes des Alps website.