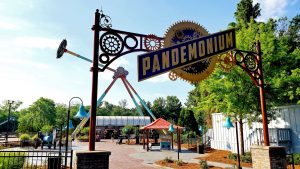 Austell, Georgia, USA
May 23, 2019 – Pandemonium opened at Six Flags Over Georgia near Atlanta. Standing 150 feet (46m) tall, the Zamperla Giant Discovery rotating pendulum attraction swings riders at speeds up to 70 mph (112.5 km/h) high above the park.
Pandemonium is the first of three of these rides opening at Six Flags parks in 2019 following the success of CraZanity, the record breaking Giant Discovery that opened at Six Flags Magic Mountain last year. The other two are The Joker Wild Card at Six Flags Fiesta Texas and Wonder Woman Lasso of Truth at Six Flags Great Adventure in New Jersey, both of which will tie CraZanity as the tallest rotating pendulum rides in the world.
See what our members are saying about the ride's opening in our Forum discussion.