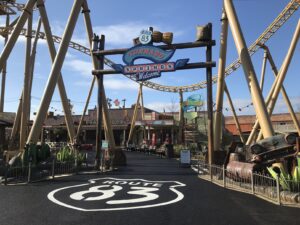 Ower, Hampshire, UK
April 12, 2021 – After a delayed season due to Covid-19, Paultons Park today opened their new £12m area Tornado Springs, the UK's biggest and most ambitious new offering this season. So it was no surprise that hundreds of guests caused a cheerful stampede when the rope dropped at 10am as they charged towards the signature roller coaster attraction: Storm Chaser. To throw a couple of cliches at it – it caused a storm and and blew people away!
The brand new themed world, inspired by 1950's America, features eight new rides and experiences, including a spinning coaster, gyro swing ride and a driving school attraction. Jump in your Chevy, buckle up, and let's take a quick ride through Tornado Springs.
Route 83
Tornado Springs is a quintessential semi-rural American town set on Route 83, inspired by the real life Route 66. Diners serving burgers and a gas station inspired tat shop sit alongside the highway. '83' represents the year that Paultons Park opened. The area was designed by Leisure Expert Group (LEG), who also designed projects for Djurs Sommerland and Movie Park Germany. The design is great – not only do guests enter the area by walking under part of Storm Chaser, but Americana fills every inch of your eyeballs. The COVID-19 delayed opening allowed Paultons Park and LEG to add extra magical touches such as telegraph poles (part of of Storm Chasers story, more later), covering supports with fake crates, props with comedic sound and visual effects, and several other things you'll have to visit to discover. Also, the number plates dotted around the area represent members of Paultons staff birthdays, names etc! It's big, it's bold, it's brassy…it's 'Merica, man!
There's a Storm brewing
The central and signature attraction in Tornado Springs is Storm Chaser. Storm Chaser is a Mack Rides Spinning Roller Coaster, the first of it's type in the UK.  The story goes that tornadoes and storms have been causing damage to the town for a while now and the residents have had enough! Using various contraptions, the residents harness the power of the storms to electrify the town – hence the telegraph poles and "sparking" power boxes dotted throughout the area. Riders take their seat in 'tornado collector' pods that whisk away on a twisty journey along 1,506 feet (459m) of yellow track reaching a top speed of 36 mph (59 kph). The spin isn't as ferocious or intense as some other spinning coasters, but this ride is aimed at younger children, rather than thrill seekers. Having said that, most experienced coaster goons will certainly enjoy the helix half way through!
Keep on spinning
By now you've got the idea – storms, havoc, power. Which leads on nicely to another top attraction in Tornado Springs, Cyclonator (almost feels like it needs a 'the' prefix), a Zamperla Discovery rotating pendulum ride. Cyclonator is Paultons Park's most intense attraction in the whole park. When asked if this was a turning point for the park and a move towards more intense rides, several senior members of staff reaffirmed that Cyclonator is to satisfy families with larger age gaps between siblings, and is as bold as they're likely to go. "Something for everyone." From a thrill seekers perspective, it's a welcome addition, but it's not going to alter the park's primary target market of 4-12 year olds.
Drive safely
The younger end target market isn't forgotten. Aside from two adventure play areas, there's AJ's Auto Academy. Young children self-drive a car around a course and obtain their own driving license, an additional purchase from the Tornado Springs gift shop. From an adults perspective, it's a bit of a strange attraction. There's an awesome looking beer bottle tree, as commonly found on the real Route 66, which is a bit of a drink-driving message, perhaps? Although for kids, they're just bottles but for adults, it's the sweet reward after an exhausting day at the park! The attraction is also (obviously) American themed, yet the road signs are British and kids are encouraged to drive on the left. Familiarity with real life in the UK presumably? Perhaps we're overthinking this mash-up of messages. It is a theme park attraction after all. And it's aimed at kids, not pedantic adults!
The best of the rest
The windy and spiny theme continues in the form of Windmill Towers, a twin set of Zierer family drop towers. One themed to a water tower, the other a windmill. Take you pick and ride your favourite but they both do the same bouncing-spinning thing which is surprisingly forceful! Several other attractions have been spruced up to fit Tornado Springs. The dingy water slide is now called Buffalo Falls, the Trekking Tractors have been remodeled to an Americana theme, and the train that has been at the park since year dot has been rewarded with with a gorgeous paint job and chuffs it way through the new area.
Blown away
After the turd that was 2020 in general, the appetite for something exciting in 2021 for UK theme park goers was way past the munchies stage. Thrill seekers may accomplish the area in swift time, but those with families and who appreciate detail will find plenty of enjoyment throughout Tornado Springs. Paultons Park has proved once again that they're a park extremely comfortable in their own skin. They've delivered Tornado Springs extremely well, setting their own bar higher once again. It's fab and well worth a visit – and next year Tornado Springs will expand even further with another coaster aimed at younger riders! Would love to chat some more, but gotta go….there's a storm brewing…
See the convo about Tornado Spring on our forum.
Paultons Park website
Leisure Expert Group website