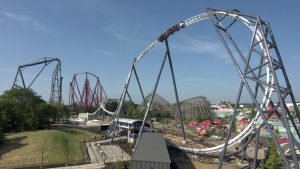 Gurnee, Illinois, USA
July 4, 2019 – After much anticipation, Maxx Force at Six Flags Great America opened to the public. This S&S compressed air launch coaster features five inversions, including the world's tallest double inversion at 175 feet (53m), the world's fastest inversion at 60 mph (96.5 km/h) as well as the fastest launch in North America going from 0-78 mph (0-125.5 km/h) in under 2 seconds!
The ride doesn't last long, taking just 24 seconds. Following the very extreme launch, it soars up into the 17 story double inversion element that looks similar to a cobra roll, then back to the ground in an extended corkscrew that's the world's fastest before it heads into two more quick inversions and the ride comes into the final brakes before returning into the station.
Maxx Force is one of five S&S coasters of this type currently operating and the only one located outside of China and Japan. It's also the second one to be built in the USA, following HyperSonic XLC, which operated from 2001 to 2007 at Kings Dominion in Virginia.
See what our members are saying about this thrilling coaster in our Forum discussion.