The term Giga Coaster was coined by Cedar Fair and Intamin AG to describe their world record breaking ride: Millennium Force. This coaster was built in May 2000 and was the first coaster to go over 300 feet in height. Essentially, any full circuit coaster between 300 feet and 399 feet (91.4m-121.6m) should be classified as a Giga Coaster.
The Original
INTAMIN GIGA COASTER
The first (and only for ten years) Giga Coaster by Intamin was multi-award winning Millennium Force at Cedar Point in Ohio, USA. Standing 310 feet (94.5m) tall with a top speed of 93 mph (150 km/h), Millennium Force proved that you could have massive height coupled with an excellent layout people adore.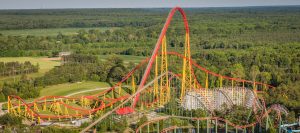 In 2010, Intamin opened its second Giga Coaster – Intimidator 305 at Kings Dominion in Virginia, USA. I305, as it is affectionately known, is 305 feet (93m) tall with a top speed of 90 mph (145 km/h) and travels relatively close to the ground – other than on the massive lift hill.
Examples:
Intimidator 305 at Kings Dominion, USA
Millennium Force at Cedar Point, USA
Variations
MORGAN GIGA COASTER
Within months of Millennium Force opening, Nagashima Spaland in Japan opened Steel Dragon 2000. This Morgan beast topped Millennium Force by 8 feet (2.5m) and captured the record for height; not that it would be keeping it too long.
B&M GIGA COASTER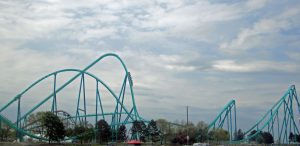 Over a dozen years after manufacturing their first Hyper Coaster, Bolliger & Mabillard stepped it up a notch with Leviathan at Canada's Wonderland – the company's first Giga Coaster. Instead of featuring an abundance of floater airtime, this 306 foot (93m) tall, 92 mph (148 km/h) monster is strictly all about height and speed.
In 2015 B&M created their second Giga – Fury 325 at Carowinds in the Carolinas, USA. Some 14 feet (4m) taller and 5 mph (8 km/h) faster than it predecessor, this record breaker also features airtime hills and a unique clef note turnaround in its layout.
Examples: