TOGO coasters have a reputation amongst many enthusiasts for creating uncomfortable coasters. While this may be true of their coasters in the U.S.A, TOGO's coasters in Japan fair a lot better. Over 95% of their coasters can be found in the Far East.
TOGO's went bankrupt in 2004 after a court case brought against them by Knott's Berry Farm in California, USA, who tried unsuccessfully to claim $17,000,000 damages from from the company, citing problems with their "Windjammer" roller coaster. Despite winning the case, TOGO's reputation was in tatters and orders dried up.
Even though they might not be amongst the most popular coaster companies, TOGO has played a very important role in the amusement park industry. Their innovative ideas have inspired designers from other companies. For example, TOGO invented the Stand-Up rollercoaster in 1979 and the Twist & Dive inversion.
TOGO's First Coaster
TOGO's Product Range
SITDOWN COASTERS
There are more sitdown TOGO roller coasters than any of their other models. They come in various sizes and some contain inversions. From the track layout to the trains, each TOGO sitdown coaster is unique.
Example:
STANDING
TOGO was the first coaster manufacturer to produce a Standing model. Riders stand for the duration of the ride. The first Standup Coaster, Momonga Standing and Loop Coaster at Yomiuriland in Japan, opened in 1979. Ten of these coasters were built and six of them are still in operation today.
Examples:
SkyRider at Canada's Wonderland
Shockwave at Kings Dominion, USA
See also: Standup Coasters
ULTRATWISTER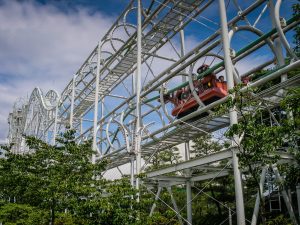 Known as a "pipeline coaster", this coaster features a vertical lift hill, a near vertical drop and rolling inversions. The single cars sit between the tracks, as opposed to on top or underneath, meaning that this is the only type of coaster that can perform true barrel rolls.
Other information
Although TOGO built 50 roller coasters whilst they were in business, less than 30 of them are still operating today.
TOGO's original company name was "Toyo Goraku Ki Kabushiki Kaisha" which means "East Sea Amusement Machine Joint Stock Corporation Company" when directly translated into English.