Various Parks, United Arab Emirates
CoasterForce's Ben recently returned from a week long visit to the United Arab Emirates and the parks out there – his fourth visit to the country! So, as a few people have asked us for our hints and tips for visiting the area, Ben thought he'd put it all in one place and compile this handy little guide for you! After all everybody wants to ride the World's fastest Roller Coaster, right?!
What parks are there to visit?
It's incredible how much the theme park industry has grown in the Emirates over the last few years – with the first major park, Ferrari World, only opening as recently at 2010 and many more popping up in the years since! So, lets run through our top picks for parks to visit in the country;
IMG Worlds of Adventure
The largest indoor theme park in the World (and that's saying something when the others in the region are all also huge!), IMG is made up of five incredible themed areas, including Cartoon Network, Marvel and the Lost Valley. Our favourite rides here are Spider-Man: Doc Ock's Revenge, an indoor Mack Spinner, Avengers: Battle of Ultron, a massive 4D dark ride and Velociraptor, the only outdoor attraction – a Blue Fire clone!
Dubai Parks and Resorts
Consisting of Legoland Dubai and Waterpark, Motiongate and Bollywood, Dubai Parks and Resorts is a fully integrated theme park resort, also home to the Riverlands, a massive Citywalk/Disney Springs style shopping and eating district that's themed as well as anything any of the big chains would do.
Legoland is exactly what you expect it to be – and is pretty similar to the others found around the World. Great for kids, and not a bad place to spend a few hours as a grown up the highlights are the Dragon roller coaster and Atlantis submarine ride that takes you through an underwater World filled with real fish!
Motiongate is the region's largest Hollywood inspired park, featuring characters from Dreamworks, Lionsgate and Columbia Pictures films – that means Hunger Games, Shrek, Kung-Fu Panda, How To Train Your Dragon, Madagascar, Hunger Games, Step Up, Hotel Trasnsylvania, Ghostbusters, Green Hornet, Underworld, Cloudy with a Chance of Meatballs, Zombieland and MORE are all featured – that's a lot of characters! Dragon Gliders is a spectacular mix of a coaster and dark ride, Madagascar is a thrilling indoor launched coaster and the park has an incredible FOUR trackless dark rides! Well worth a visit.
Bollywood is a strange park to visit as a Westerner who's completely unexposed to anything about Bollywood movies, but it's pretty great. Imagine stepping out of a bunker and then visiting Universal Studios and you have a pretty good idea of what happens. Things will happen in rides that you will have absolutely zero context for, and it's weird, but go with it and it's a blast. And I'm sure if you actually follow Bollywood it's really great seeing such a big park bring it all to life.
Yas Island
Just outside the country's capital, Abu Dhabi, and right next door to the world famous Marina Circuit, lies Yas Island, a massive resort consisting of hotels, a large mall, the race course and of course, Ferrari World, Yas Waterworld and Warner Bros World Abu Dhabi.
Ferrari World is the 'oldest' of the major parks in the country, opening in 2010, Ferrari World is famous for being home to a little thing called the WORLD'S FASTEST ROLLER COASTER, Formula Rossa. Taking inspiration from the high speed car brand the park is themed after, this coaster accelerates riders to 149.1mph in just under 5 seconds before hurtling around over a mile of track in the desert. Not content with just one massive thrill ride, the park is also home to the Intamin Wing Hyper, Flying Aces, and Turbo Track, which launches you straight up and out of the centre of the park's massive roof.
Yas Waterworld may be a water park, not a 'theme park', Yas Waterworld is home to a coaster and that makes it worthy of the list! Bandit Bomber is a family suspended coaster from Vekoma that used to feature water guns and bombs you could drop on unsuspecting visitors below, though unfortunately these were turned off for our last visit! The park also features some fantastic slides, like Dawwama and Falcons Falaj, two massive hydromagnetic water coasters, Liwa Loop, a free fall looping slide, and Slither's Slides, six different entailed tube slides!
Warner Bros World Abu Dhabi is (currently!) the newest theme park in the region, and is an incredibly themed indoor park with areas themed to Gotham City, Metropolis and Bedrock! This park may lack in big thrill coasters, but the dark rides including Knight Flight, a Batman themed robot arm dark ride, League of Justice, a massive 4D ride and the Green Lantern flying theatre make this well worth a visit!
Where to stay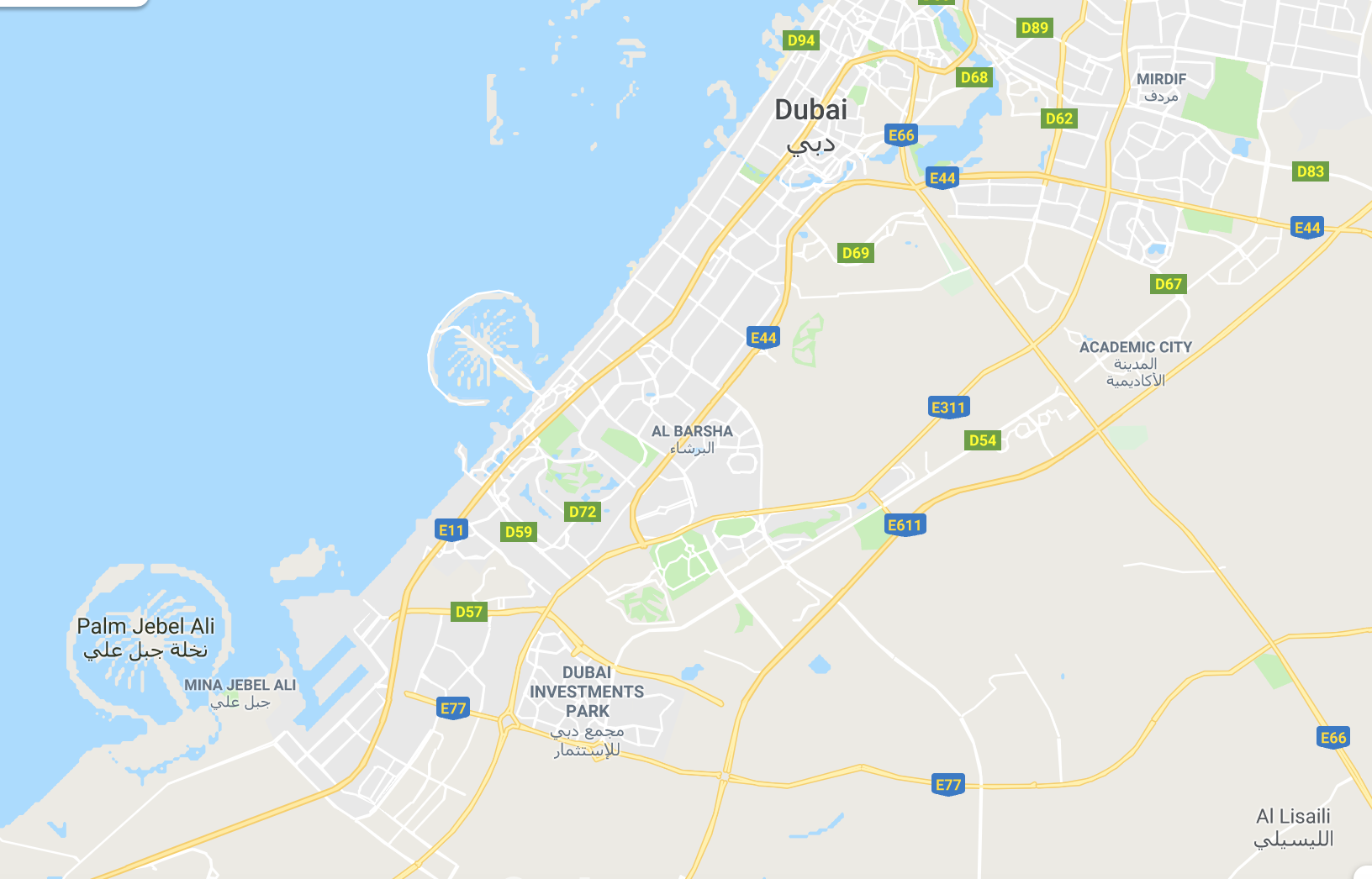 Dubai is set out in a bit of a line, with the Marina at one end and the airport and Burj Khalifa area at the other end. It actually stretches out for miles, and whilst getting around is really easy, staying close to the bits of the city that interest you is quite a smart idea. For us, we'd recommend looking up near the Marina end, just because you're then on your way out to Dubai Parks and Resorts, not too far to IMG and you're on the right side of the city to head up to Yas Island. However, if you're looking for more of a beach vibe to your holiday or worse, you're having to go with a non-goon, areas like the Palm make for a better relaxing beach break.
Getting around
Whilst Dubai stretches out in a long line, getting around is actually really easy. Sheikh Zayed Road basically runs the length of the city, taxis are fairly cheap and the likes of Uber and Lyft abound if you don't fancy carrying cash to pay a local cab. There's also a really fabulous Metro that runs along Sheikh Zayed Road, from the airport up to the Marina.
Hot tip: when going to Dubai Parks and Resorts you can take the Metro to the terminal station, UAE Exchange, and then get a taxi, which will really reduce how much you spend on a cab!
A lot of the parks run a shuttle bus, including Yas Island who run a free shuttle bus service from Dubai that can save you a very pricey hour plus taxi journey if you're willing to plan ahead.
The last option is to rent a car – we've done this a few times and it's fine, cheap and easy enough, but just a word of warning – the Emirates are not a place known for amazing driving! It's not dangerous, but just make sure you're confident or you may get caught a little off guard!
How long do I need?
Obviously this is totally different for each person, so please take in to account how much you like to do re-rides, how much you value that precious pre-park sleep, if you're going in peak times and everything else you want to see in the city. For us, a week is probably the minimum amount of time you want to set aside for a first time visit if you want to be totally relaxed, and we'd break that down as;
1 day at IMG Worlds of Adventure
1 – 2 days at Dubai Parks and Resorts
2 days at the Yas Island parks (you could happily stretch to 3 and really enjoy the parks and the area!)
2+ days to enjoy the city, sightsee, shop, swim, sand dune… whatever!
Dubai is one of those places where there's so much to do that you can go for a good few weeks and still feel like there's stuff you'd want to see!
When should I go?
We don't actually have a lot of experience in this field, because for whatever reason every trip we've ever done has ended up being in basically the exact same week in September! However, it's worth noting that in the Summer months of May to September the temperatures will sit way above 40c pretty consistently, which can make walking around fairly uncomfy. This is why so many of the parks are built in huge buildings, so they can control the temperature, but it's worth keeping in mind for outdoor activities or riding the massive Intamins at Ferrari World! Some restaurants may also be closed in the Summer and the parks can run reduced opening hours – particularly at Dubai Parks and Resorts where we got caught out on a visit to the really nice Riverland where we discovered most of the restaurants were closed!
Another key consideration is Ramadan, which is the Islamic Holy Month. The timings change each year, so do a quick search to check when it will fall. During this time, local Muslims cannot eat or drink from sunrise to sunset, so some businesses do have different timings – including some of the parks. Just one to check before you visit!
Is it safe?
I can't tell you how many times the likes of my gran has shown concern over the fact that I love to go off to Dubai for a holiday! There's a real stereotype about the fact that you'll get arrested on the street for holding hands if you're not married or even worse, having a limp wrist. And the reality is yes, some behaviour we think of as perfectly normal in the Western world can get you in trouble if someone really wants it to, but as long as you are sensible and don't do anything stupid, you should be fine. Dubai is an absolute melting pot of cultures, with people from all around the World and an absolutely massive ex pat community (apparently only around 85% of people are actually Emirati that live there!) – and with that, things have had to get a little bit more lax. So, remember, 99% of the time you will be fine, but just exercise caution and don't be stupid!
So that's it – hopefully everything you need to go out and have a great UAE adventure of your own! Obviously things change quickly, so make sure you do your own research and catch us on Twitter @CoasterForce if you have any questions!
Written by Ben Fry
socialmedia@coasterforce.com