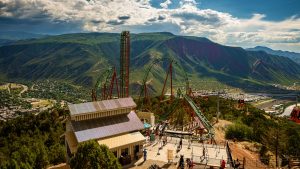 Glenwood Springs, Colorado, USA
July 31, 2022 – From its unique mountaintop location some 7132 feet (1274m) above sea level, making it the world's highest roller coaster, Defiance offers fantastic views of the Colorado River and surrounding Rocky Mountains. We couldn't be there for it's opening day on July 1st, as the saying goes, but better late than never.
This new Gerstlauer Euro-Fighter features a 75 foot (23m) tall vertical lift hill, a 110 feet (33.5m) 102.3° beyond vertical free-fall drop into a ravine, a Twisted Top Hat, a Banana Roll and a Zero-G Roll, all while reaching speeds up to 56 mph (90 km/h). That's a lot to take in on it's own, much less when your surroundings almost overshadow the ride experience. Of course, that can be said about almost every attraction at the park. However, unlike the others, this one doesn't rely on it's surroundings to provide the thrill.
See what our members are saying about this thrilling coaster in our Forum discussion.
Glenwood Caverns Adventure Park website