A Half Pipe Coaster is a type of shuttle coaster that travels back and forth along a compact upright U-shaped track. The car is either pulled up one side of the track by cable and released or launched up each side by a Linear Synchronous Motor system.

The Original
INTAMIN HALF PIPE
Following the success of their Impulse Coasters, Intamin Amusement Rides created the smaller footprint Half Pipe coasters starting in 2003 with the one at Särkänniemi Amusement Park in Finland. A LSM launch propels the car forward and backward up the track each time it comes through the loading station. The cars are designed like skate boards with two sets of six rotating seats that spin freely.
Examples:
Half Pipe at Särkänniemi Amusement Park, Finland
Avatar Airbender at Nickelodeon Universe, USA
Half Pipe at Elitch Gardens, USA
Intamin created a variation called Surfrider, like the popular RC Racers at the Disney parks in France and Hong Kong. Inspired from Mattel's popular Hot Wheels line of toy cars, the coaster features a wide orange track and a race car themed train.
See also: LSM Coasters
Variations
SAFECO SHUTTLE COASTER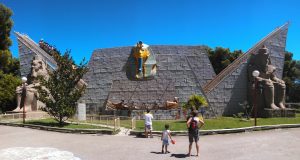 Ramses at Parque de Atracciones de Zaragoza in Spain is a one off shuttle coaster and the only coaster manufactured by Safeco, a Spanish company specializing in fun fair and amusement park rides. Built some 16 year before Intamin's Half Pipe in Finland, this coaster first opened in Barcelona's Parque de Atracciones de Montjuic in Spain, where it operated between the years of 1987 and 1998, when the park closed for good.
The coaster features two upward V-shaped tracks with trains that travel on each track in opposing directions. However, this lasted only a few years before the park switched to single train operation. Another unique feature of the coaster is that the trains have eight sets of three-across seats where riders sit facing each other.
Example:
SUNKID HEEGE BUTTERYFLY
These shuttle coaster type rides are hotly debated among coasters enthusiasts – are they or are they not roller coasters? While technically they match all the necessary criteria, many do not count them.
Butterflys are self operated and hold two riders who face each other. After boarding and moving the lap bar into place, one presses a button to engage a cable wench and, like the Safeco shuttle coaster above, the cars are pulled forward up one side of the compact V-shaped track before being released. Gravity takes over from there as the car travels back and forth until the momentum dwindles and it comes to a stop.
Examples:
Butterfly at Skyline Park, Germany
Butterfly at Bayern Park, Germany
ZAMPERLA DISK'O COASTER
Although Zamperla named them coasters and they look similar to Half Pipe coasters, these flat rides are not roller coasters. We've listed them here because they are very common rides found at parks the world over and many people believe them to be roller coasters, but we wanted to clearly state that they are not.
There are three different versions of these Disk'O rides. A standard Disk'O has a 33 foot (10m) tall half pipe and a Mega Disk'O has a 51 foot (15.5m) tall half pipe, whereas a Disk'O Coaster has a 51 foot tall half pipe with a hill in middle. Once again – the Disk'O Coaster rides are not roller coasters, it's just the name the company gives it to separate it from other versions of the ride type.
Examples:
Disko at Fantasilandia, Chile
De Grote Golf (Big Wave) at Plopsaland De Panne, Belgium
Crazy Surfer at Movie Park Germany
Tyrsky (Surge) at Särkänniemi Amusement Park, Finland