E&F Miler was founded in the late 1940's in Portland, Oregon, USA, by Carl Miler under the name of Miler Manufacturing. They specialized in family and Wild Mouse roller coasters which were built exclusively in the USA between the 1940's and 70's, after which the company ceased building new coasters.
Miler Manufacturing was reopened in 1989 by Carl's son, Fred Miler. The first coaster to be built under Fred's watch was The Great Pumpkin Coaster at Kings Island in Ohio, USA, in 1992, which coincided with another company name change to Miler Coaster, Inc. Carl Miller passed away in 2001 and the company changed its name to E&F Miler Industries in 2013 when Fred's son, Eric, joined the board.
E&F Miler's First Coaster
In the early 1940s E&F Miler built oval kiddie coasters at Playland Pier in Idaho and Funderland Amusement Park in California, USA. The one in Coeur d'Alene opened in 1942, but the exact date of the one in Sacramento is unknown and it's anyone's guess as to which came first.
E&F Miler's Product Range
HI-MILER
An E&F Miler Hi-Miler is large oval footprint coaster with multiple tiers. The lift hill stretches up and across almost one entire long side of the oval. At the top of the lift hill, the track makes a 180° turn, heads down a small drop and then up towards another 180° turnaround. After each turnaround, the track becomes lower through the tiers before it ends at the station. Hi-Milers come in three sizes; 38 feet (11.5m), 52 feet (16m) and 88 feet (27m). The first Hi-Miller to open was Screamer at Scandia Amusement Park in California, USA in 1992.
In 2012 a Hi-Miler, Star Jet at the Casino Pier on the Jersey Shore, was sent into the Atlantic Ocean when Hurricane Sandy caused a section of the pier to collapse.
Examples:
Screamer at Scandia Amusement Park, USA
Viking Voyage at Wild Adventures, USA
WILD MOUSE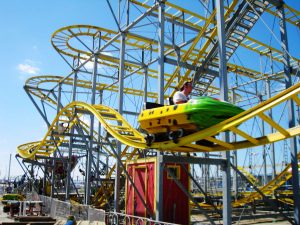 After changing their name to E&F Miler Industries, the company only produced one Wild Mouse that is similar in design to other non-spinning wild mouse coasters. Wild Mouse at Casino Pier in New Jersey, USA, operated from 1999 until 2012, when Hurricane Sandy wiped out much of the Jersey Shore. Unlike Star Jet, which was swept out into the Atlantic Ocean, Wild Mouse sustained minimal damage from the super storm and was relocated in 2015 to Scandia Family Fun Center in California, USA.
Miler Manufacturing created their Mighty Mouse wild mouse coasters in the 1950s, which are similar to a traditional wild mouse with a smaller footprint and a narrow car with column seating.
Examples:
Wild Chipmunk at Lakeside Amusement Park, USA
Mighty Mouse at Funtown Pier, USA
See also: Wild Mouse Coasters
WATER COASTER
A roller coaster with a water splash, similar to what you would find on a log flume. So much so that many riders might think it is one. Big Timber Log Ride was the world's first Water Coaster when it opened in 1996 at Enchanted Forest in Oregon, USA.

FAMILY COASTER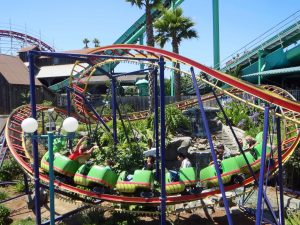 E&F Miler Family Coasters are most suitable for riders under 42 inches (1m) in height, although adults can ride. The layout is typically an oval shape, perhaps with an indentation, and a couple of small bunny hops. The height of the coaster is relatively short making them an ideal first coaster for young children.
The exception is Wild Waves at Playland's Castaway Cove on the Jersey Shore, USA. Although it consists of several bunny hops suitable for young riders, the station and oval layout are located two stories up surrounding the GaleForce coaster in order to provide room for the much larger coaster's station as well as the Wirlwind kiddie coaster below.
Other information
Aside from creating new roller coasters, E&F Miler Industries renovate coasters created during the Miler Manufacturing era. Since all their coasters are special order, the company hires employees on an as needed basis.
Manufacturer Contact Details
E&F Miler Industries
P.O. Box 20548
Portland, Oregon
USA
Telephone: +1 503 252 9539