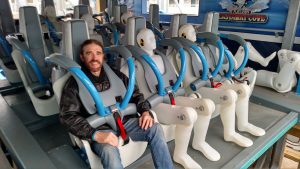 Playland's Castaway Cove, New Jersey, USA
November 10, 2017 – Our own East Coast(er) General was invited to test ride GaleForce at Playland's Castaway Cove. The S&S triple launch prototype coaster has had issues that set its opening back until next spring due to track alignment.
A 30 foot section of track that leads back into the station could not be lined up correctly with the dual launch stators and a new piece of track is currently being manufactured at the plant in Italy.
East Coast(er) General described the coaster as nothing like he's experienced before, that has "a fantastic launch, a great drop and pacing, as well as a fun element" that reminds him of a Norwegian Loop.
He also reports that Wild Waves, the E&F Miler coaster that surrounds GaleForce, had its train hoisted onto the track on Tuesday and should begin testing soon.
Read his full report with many more photos in the GaleForce Construction Discussion Forum.
Learn about ride manufacturer S&S on CoasterForce.
Website for Playland's Castaway Cove.