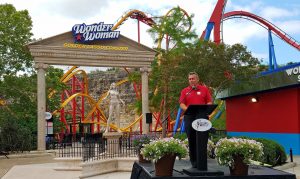 San Antonio, Texas, USA
May 12, 2018 – Six Flags Fiesta Texas opened Wonder Woman Golden Lasso Coaster, the first of its kind RMC (Rocky Mountain Construction) Raptor coaster. This unique coaster uses a single rail that allows for quicker and smoother transitions than traditional dual track coasters. It stands 113 feet (34m) tall with a 90° drop, features three inversions and reaches a top speed of 52 mph (84 km/h).
The twisting steel coaster is located in the Rockville section of the park, replacing the Power Surge water splash attraction that closed on July 23, 2017.
"Six Flags continues to lead the industry in introducing innovative coasters, rides and attractions." said park president Jeffrey Siebert. "Continuing that tradition, Wonder Woman Golden Lasso Coaster joins her fellow DC Super Heroes as the first-ever single rail streamline designed coaster. This is an incredible ride that delivers big thrills from start to finish."
Read what our members are saying about this unique coaster in our Forum discussion.