a.k.a Pre-Fab Coaster, Prefabricated Coaster
When a coaster is constructed, it's usually to a set of plans that engineers will follow and shape the wood as each part of the plan dictates. An Intamin Plug'n'Play (or Pre-fab/Prefabricated) coaster already has this done. The coaster essentially arrives "flat pack", with a set of "insert A into C and tighten with bolt 9F" instructions. The engineers at the park have to simply put it together on a flat bit of ground. While this makes the entire process sound very whimsical and simple, there's nothing whimsical or simple about the rides themselves. Highly engineered, laser cut and designed to give maximum thrill and airtime, Plug'n'Play coasters are an enthusiast's dream ride.
The Original
COLOSSUS, HEIDE PARK
Heide Park in Germany was the first theme park to take a chance on Intamin's prefabricated coaster concept and the gamble certainly paid off. When it opened in 2001, Colossus took the fastest wooden coaster World Record, a title it held for five years until El Toro at Six Flags Great Adventure in New Jersey, USA (see below) was built. It was also the steepest wooden coaster and held the title of the tallest wooden coaster in the world.
What really separates it from anything that had previously been built wasn't so much the records, but rather the ride itself. With a range of up to 4.5 G's from the bottom to the top of the eight airtime hills, which max out a -1.5 G's, riders spend as much time out of their seats as in them!
Opened: 13. April, 2001
Height: 197 feet (60m)
Drop: 159 feet (48.5m)
Length: 4,409 feet (1,344m)
Speed: 68 mph (110 km/h)
Angle of first drop: 61°
The Others
BALDER, LISEBERG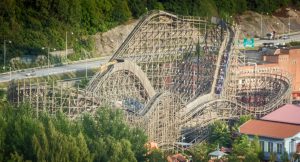 In spite of the huge success of Colossus, it took two years before the second Pre-fab debuted. Due to the park's zoning restrictions Balder at Liseberg in Gothenburg, Sweden, couldn't duplicate its predecessor's layout or record breaking stats, but it still offers an airtime filled ride in a more compact design.
The restrictions not only affected the layout. Prior to the second year of operation in 2004, noise screens were added to muffle rider's screams on the first drop as well as the signature "Intamin fart" sound the trains make as they crest the airtime hills.
Opened: 12. April, 2003
Height: 118 feet (36m)
Length: 3,510 feet (1,070m)
Speed: 56 mph (90 km/h)
Angle of first drop: 70°
EL TORO
When Six Flags Great Adventure decided that wanted a record breaking wooden coaster, it was an easy decision to go with an Intamin Plug'n'Play. That's exactly what they got with El Toro, the fastest and steepest wooden coaster when it opened, is still widely considered to be one of the best ever. Although all the Intamin Pre-fabs are ejector airtime machines, none got it quite as right as the Wild Bull.
Opened: 12. June, 2006
Height: 181 feet (55m)
Drop: 176 feet (54m)
Length: 4,400 feet (1,300m)
Speed: 70 mph (110 km/h)
Angle of first drop: 76°
T EXPRESS
Like Colossus and El Toro before it, T Express at Everland in South Korea was another record breaker when it opened, edging out the steepest drop by a single degree. Unfortunately, it spite of all four Plug'n'Play's popularity and success, this was the last one manufactured. Although these prefabricated coasters were designed to cut construction costs, they all came in at a budget of well over $10 million at the time. Even with inflation rates they are still less expensive than many popular steel coasters, but parks willing to invest that much in a wooden coaster have become very scarce.
Opened: 14. March, 2008
Height: 184 feet (56m)
Drop: 151 feet (46m)
Length: 5,384 feet (1,641m)
Speed: 65 mph (104 km/h)
Angle of first drop: 77°