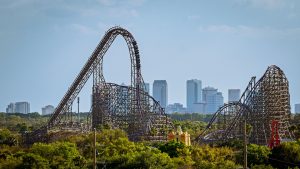 Tampa, Florida, USA
March 10, 2022 – After a two-year-long delay due to the Coronavirus pandemic, Iron Gwazi at Busch Gardens is finally opening to the public! The much anticipated RMC (Rocky Mountain Construction) I-Box track conversion of the park's formed classic wooden coaster was completed last year and guests will be able to experience the ride this weekend. We were part of the lucky few who got a sneak peak today.
The original Gwazi opened in 1999 and had gotten quite rough over the years, so the park decided to go with the trend to have RMC retrofit the existing layout with steel track utilizing a portion of dueling woodie's original structure. Marketed as the tallest, steepest, and fastest hybrid roller coaster in North America, Iron Gwazi reaches a height of 206 feet (63m) and features a 91° drop where it reaches a top speed of 76 mph (122 km/h). It also features two inversions – a Barrel Roll Downdrop and a Zero-G Stall.
Check out the videos below to see what it's like to be in the front seat of this thrilling coaster, what it looks like, how we reacted to the ride and what Jonathan Smith, Corporate Vice President of Rides and Engineering for SeaWorld Parks & Entertainment, and Jake Kilup, Chief Operating Officer & Designer at RMC (Rocky Mountain Construction), share with us about the attraction.
See what our members are saying about the coaster's conversion in our Forum discussion.
Busch Garden Tampa website