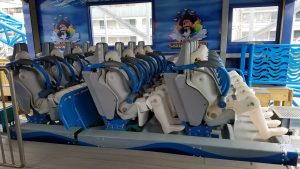 Ocean City, New Jersey, USA
April 14, 2017 – GaleForce, the beleaguered S&S triple launch coaster at Playland's Castaway Cove on the Jersey Shore that was originally scheduled to open last year, has received a new train that features many improvements over its predecessor. The new train makes for a smoother ride thanks to the removal of the stadium style seating, relocation of the rear axle and a pivot joint between rows 2 and 3 that allows the third row to move independently from the front two.
Other improvements include larger wheels and a straight through rear axle that replaced the old one that worked off a central pivot point and caused the rear seats to bounce. Our own East Coast(er) General, who rode the coaster with the old train last year, had another opportunity to ride with the new one.
"The new car is a big improvement," he said. "Not only is the ride even smoother, it's also eliminated the squealing noise the wheels used to make."
Read and view more photos and videos in our Forum Discussion.