Floorless coasters are a particular form of B&M multi-looping coasters. The circuit of the coaster is heavily based on inversions, but the gimmick here is that the coaster train "loses" its floor before it leaves the station. Once passengers are securely seated, the floor folds away underneath the station and the legs of the riders are left dangling over the top of the track. Floorless coasters have virtually replaced the traditional B&M sit down coasters with a floored train, much to the dismay of many enthusiasts. Floorless coasters are commonly regarded as being not as forceful and exciting as the older B&M multi-loopers, where the trains have a floor.
The Original
BOLLIGER & MABILLARD FLOORLESS
B&M are currently the only company to have floorless coasters in production. The first floorless coaster was Medusa (since renamed Bizarro) at Six Flags Great Adventure in New Jersey, that opened in 1999. The coaster was such a success in its first year of operation that four more opened the following year: Kraken at SeaWorld Orlando in Florida, Superman Krypton Coaster at Six Flags Fiesta Texas, Medusa at Six Flags Discovery Kingdom in California and Dominator at Geauga Lake in Ohio (relocated in 2008 to Kings Dominion in Virginia).
Examples:
Kraken at SeaWorld Orlando, USA
Superman/la Atracción de Acero at Parque Warner Madrid, Spain
Dæmonen at Tivoli Gardens, Denmark
Medusa at Six Flags Discovery Kingdom, USA
Variations
FLOORLESS DIVE COASTER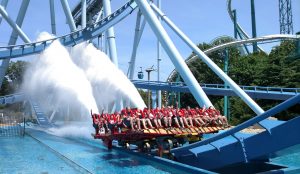 B&M also offer a floorless version of their Dive Coasters. Following the success of Griffon at Busch Gardens Williamsburg in Virginia, SheiKra at Busch Gardens Tampa in Florida was retrofitted to have new trains without the floor. After all these years the jury is still out on whether this really improves things or not, but all Dive Coasters built since have floorless trains.
Examples:
SheiKra at Busch Gardens Tampa, USA
Krake at Heide-Park Soltau, Germany
Griffon at Busch Gardens Williamsburg, USA
See also: Dive coasters