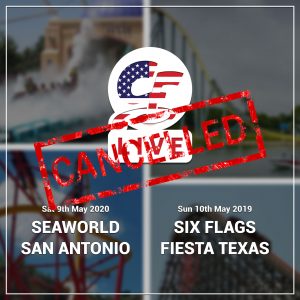 Coronavirus (Covid-19) Pandemic Message – 30/03/20
CF Live event status – Cancelled
The health and well being of our members and CoasterForce Live attendees is very important to us. CoasterForce is monitoring the advice given by the Government, health organisations, and the parks we plan to visit. Considering the current official advice from the Government and the park, we have decided to postpone this Live. We might reschedule for later in 2020 but, until there is clarity, it is not possible to commit with confidence to a definitive date. If you have made travel and/or accommodation arrangements, please check with them for their specific Covid-19 advice.
We're kicking off our 2020 USA CF-Live season with our first official visit to Texas with a weekend at San Antonio's two theme parks!
Both keystones of the Heart of Texas, Six Flags Fiesta Texas and SeaWorld San Antonio offer an amazing array of not only world class roller coasters, thrill rides, and animals but also some of the best atmosphere you think of. Both parks are 100% musts when visiting the Lone Star State!
We start with SeaWorld San Antonio, one of the biggest and most well known theme/animal parks in the Midwest. With its big shining new attraction, Texas Stingray, this park has a little bit of everything for everyone. You can't go wrong with some of the biggest steel and now wooden rides around. And how can you forget Shamu! Plus there's nothing wrong finishing up the night with the beautiful city of San Antonio that has everything you could want and more.
Next, Six Flags Fiesta Texas rounds out the weekend with enormous thrill rides left and right, shaped by those lovely RMC contraptions Wonder Woman and and Iron Rattler. Not only that, but several B&M rides makes the visit worth every second. So come on down and start the year off right in the good ol' USA by finding out how much fun we really have by attending this CF Live!
Hurry up and grab your tickets already! May 9th and 10th are closer then they appear. We hope to see you there!
THIS EVENT IS NOW POSTPONED INDEFINITELY. PLEASE DO NOT MAKE ARRANGEMENTS.