Chertsey, Surrey, UK
October 6th, 2023 – Over the last few years, something has drastically changed with Fright Nights at Thorpe Park. Gone are the long dark corridors of nothingness, gone are the jumbled mix of IP and original mazes. With 3 original mazes, 3 large scare zones and a huge array of shows to watch, Fright Nights feels as though it has reached peak form in 2023.
Put simply: the event is just so slick this year. In contrast to other theme parks, where the Halloween atmosphere may not be present until you are inside a maze – Fright Nights sets a spooky vibe the moment you enter the turnstiles. Smell pods have been added to the entrance, red Fright Nights imagery flashes on the big screens and a haunting synthwave soundtrack plays.
This doesn't feel like stepping into any old theme park, it feels like stepping inside a fully realised world.
Gazing at the view from outside The Dome, visitors will see a tastefully-lit skyline full of purples, pinks and slime green through the fog. The lighting at Fright Nights this year is enchanting; especially the lighting /audio additions on Detonator – where riders are treated to the original ticking sound effect, a spooky voice over and lights that flash up the drop tower in time with the countdown and change colour for the drop.
You could very easily wander round Fright Nights for a whole evening just appreciating the audio and lighting alone. But alas, there's so much more to see and do, starting with the parks 3 original mazes.
Stitches is the parks new maze for 2023. It has a rather unlikely theme of a toy factory, with this year's event mascot being the Toy Maker. How do you make toys scary? Very easily, apparently.
Stitches has one of the most unsettling finales to a maze I have ever experienced. The last room created a proper knot of fear in my stomach, to the point where I almost did not want to walk through it. It's been years since I've felt that kind of dread in a horror maze. With its twisted amalgamation of toys and gore, Stitches is the strongest horror maze Fright Nights have created. It's colourful, it's unsuspecting and it's beautifully decorated. Stitches avoids all the usual horror maze tropes, and in doing so creates a unique, terrifying and memorable experience. 10/10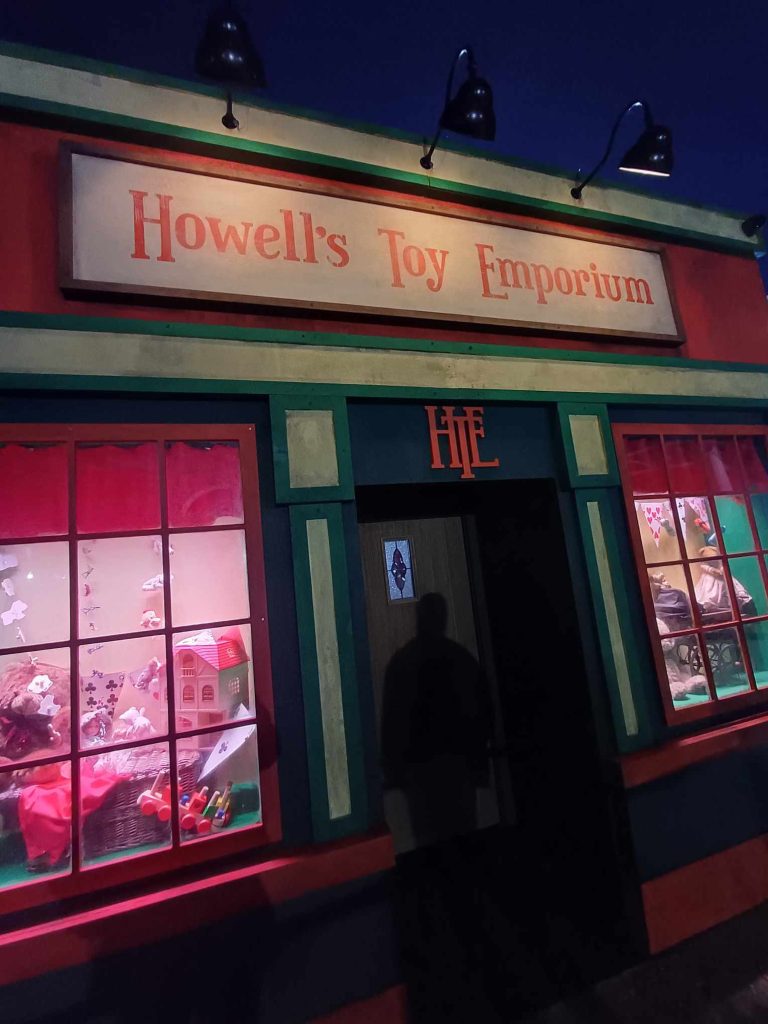 Trailers feels like the perfect sister maze to Stitches. With its 90s-style neon lighting and catchy synthwave soundtrack, nothing about Trailers immediately screams horror in an obvious way. Which is exactly why it's so good. The queue line boasts a retro charm that lulls visitors into a false sense of security; before they are pulled through a giant cinema screen and into the horrors of the trailers. The concept of movie trailers as a maze theme is a perfect way to create a maze with so many varied scenes, all of which are tied together with Fright Nights easter eggs. Another fantastic concept, delivered superbly by the high-energy actors inside this maze. 9/10
Survival Games feels like the odd one out in Thorpes maze line up this year. With actors taking a very hands-on approach – grabbing guests and shouting at them, the experience feels more confrontational than scary. From the offset, actors pull each guest into seperate cages. Guests must then navigate dark corridors of strobe, while actors bang the walls, scream in their faces and send them down dead end corridors. It's a loud, hectic, sensory-overload experience that sadly verges on irritating. Clearly inspired by the TV series Squid Games, the costumes of light-up masks and jump suits lack finesse compared to the detailed costumes in Thorpes other mazes. It's an interesting experience, but Survival Games leans too heavily on chaos and not enough on frights. 3/10
Fright Nights also has 3 large scare zones that guests can enter free-of-charge.
The Crows of Mawkin Meadow is one of Thorpe Parks greatest Fright Nights creations ever. This scare zone gets bigger and better every year, with indoor tent sections now added for 2023. Drenched in orange light, guests must navigate through pumpkin piles, hay bales and some of the thickest fog you'll ever see. All while being approached by the creepy Crows, who move in a distinctly unsettling manner. While Fright Nights has a dedicated official mascot each year, I maintain that The Crows of Mawkin Meadow are the true icons of Fright Nights. They always give the best jump scares, and they have a fascinating story line. The Crows are the kind of horror creatures that magnetically draw you in, resulting in an utterly captivating scare zone. 10/10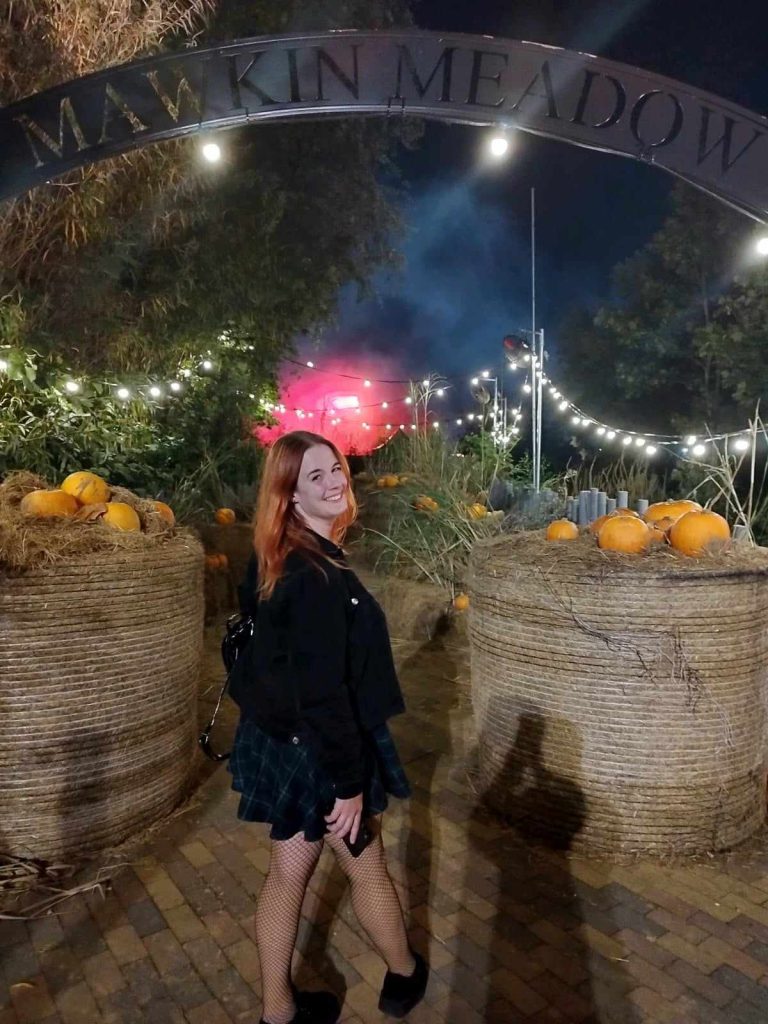 Death's Doors is another inspired Fright Nights concept: a scare zone you enter through a giant keyhole, where guests knock on doors and various creatures leap out from behind them. Half way through the zone all hell breaks lose, lights flash dramatically, the music kicks up a notch and all of the characters suddenly break free from behind their doors – surrounding anyone inside the zone.
Death's Doors features some outstanding costumes, making this a unique scare zone top-tier. 9/10
Lucifer's Lair is a scare zone that also features several stage shows, food, fire and entertainment. It's brilliant to see Thorpe Park introduce a proper hub area for Fright Nights 2023 and its works splendidly. Lucifer himself sits a top a huge set piece with a backdrop of real flames, whilst his demon minions terrify those in the area below. Strings of red lights cross over the area, and it's safe to say Lucifer's Lair is reminiscent of something you would find at Universals Halloween Horror Nights. 9/10
There are many shows to watch in Lucifers Lair, from fire performers to live bands – but the best show is easily the Fire / Dance / Light show. Set to a sublimely mixed DnB soundtrack, this high-energy show features a hypnotic dance routine while strobes flash and flames burst atop the stage. This is seriously high production stuff from Thorpe and the show creates an amazing atmosphere.
Creature Campus is the latest iteration of the ongoing Amity / Lycanthorpe highschool saga. Bleachers tower next to Stealths launch track, where an incredible flash mob of vampires, werewolves and sorcerers occurs throughout the evening. The dancing on display in this show is very impressive. Creature Campus elevates the atmosphere around the Stealth plaza in a very infectious way.
Fright Nights 2023 is not just Thorpe Parks best year for the event, it's also easily the best scare event in the UK. Quirky, unique and bursting with entertainment – Fright Nights is always good, but this year it is absolutely shining.
Review by Serena Cherry, pictured above, at the Press Launch of the event.
For tickets and further about Fright Nights, check out Thorpe Park's website.