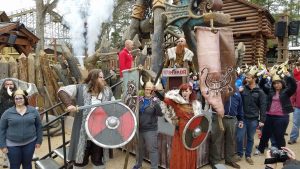 Williamsburg, Virginia, USA
April 7, 2017 – Following last night's VIP preview event, Busch Gardens Williamsburg opened InvadR, their new wooden terrain coaster, to the public today. The GCI (Great Coasters International) hybrid coaster is the park's eight coaster and its first woodie. It's designed with families in mind, but its 74 feet (22m) tall drop in a tunnel and nine airtime hills will thrill adrenaline junkies as well.
"One of the things we always try to do is have that hook or unique element," park president David Cromwell said. "We didn't have a wood coaster and when you think about our overall portfolio of attractions, a wood coaster fills a gap."
The coaster is located in the New France village area and interacts with the nearby Le Scoot log flume and a section of the park's railroad line. The park also used a three month long, guest driven web campaign that allowed fans to be involved in choosing the Viking theme and the coaster's name.
Read more about the coaster and watch videos of it in our Forum Discussion.