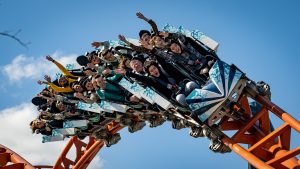 Orlando, Florida, USA
January 27, 2022 – After a two year delay due to the Coronavirus pandemic, SeaWorld Orlando is finally ready to open Ice Breaker to the public this weekend. We were among the lucky few to get a preview of the park's new custom designed Premier Rides Sky Rocket coaster today and were surprised by thrills and airtime this family friendly LSM (Linear Synchronous Motors) multi-launch coaster offers.
Ice Breaker features four launches, both backwards and forwards, culminating in a reverse launch into the steepest beyond vertical drop in Florida – a 93 feet (28m) tall spike with 100° angle. The thrills continue as riders fly over a near vertical top hat maneuver into a series of exciting twists, turns, and airtime hills at speeds reaching up to 52 mph (83,5 km/h) along 1,900 feet (579m) of track.
See what our members are saying about this exciting addition to the park in our Forum discussion.
SeaWorld Orlando website