a.k.a Mountain Coasters
Alpine Coasters (or Mountain Coasters) are similar to, and were inspired by, Bobsled Coasters, but use rails instead of a trough to form the track. The use of rails means the rides can operate all year round, replicating traditional ice formed bobsleds. Alpine Coaster sleds are safely attached to the track in a similar method to roller coaster trains, using side friction and up-stop wheels.
Alpine Coasters either have a double rail system, similar to a roller coaster, or a singular rail like a monorail. Unlike a roller coaster, riders control the speed of the sled using break levers, although anti-collision and other safety systems prevent dangerous riding. Riders feel exposed on an Alpine Coaster which can create a heightened sense of speed and intensity.
The Original
BRANDAUER ALPINE COASTER
The first Alpine Coaster to open in 1996 was created by German manufacturer Brandauer at the Karkogel Resort in Austria. The ride, Sommerrodelbahn, is 36,512 feet (1,133m) above sea level and travels down 6,496 feet (1,980m) of track into a valley while traversing though fast turns, steep slants and tunnels at a speedy 19 mph (30 km/h).
Brandauer Alpine Coasters are recognized by their singular tube tracks made from aluminum. Brandauer has built 50 Alpine Coasters that are mostly found in Europe.
Variations
WIEGAND ALPINE COASTER
Josef Wiegand, founder of German toboggan company Wiegand, is credited with developing the first Mountain Coaster to use parallel steel tracks. Wiegand's first installation to open using the trademarked term "Alpine Coaster" was Rhönbob at Ski- und Rodelarena Wasserkuppe in Germany, in 1997. Wiegand Alpine Coasters are by far the most popular with over 250 installations worldwide and can reach speeds up to 25 mph (40 km/h).
Examples:
Glenwood Caverns Alpine Coaster, USA
Smoky Mountain Alpine Coaster, USA
Coaster at Goats on the Roof, USA
Gatlinburg Mountain Coaster, USA
AQUATIC DEVELOPMENT GROUP ALPINE PRODUCTS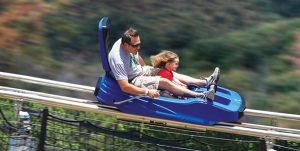 Designed and manufactured in the USA, ADG Alpine Products boast their installations have "more dips, more turns, more zigs and zags, more ups and downs" than any other alpine coaster manufacturer. ADG Alpine Coasters have a parallel rail design similar to Wiegand's.
ADG was the first Alpine Coaster to market with a collision avoidance system that safely delivers all the exhilaration of a rider-controlled experience.
Example: