Hey All.
Hopefully Mods are OK with just having one construction topics for Fantawild parks.
Theres just too many to have a topic for each i think.
I shall try to list what we currently know they have under construction.
Just to note the later parks opening dates are estimates.
1) Fanta Park Road of Rejuvenation - Huai'an - 2022
This is the first park in Huai'an but one of 2 shown on the plans. Huai'an you may remember from the pictures and videos of the recently opened Gouldrix of China, Buddhism Boundless.
This Fantawild park however ups the ante a bit and will open with a Vekoma Top Gun launched coaster and a Vekoma 335m junior coaster. Both rides are already installed but heres a lovely shot of the Top Gun.
2) Fantawild Animation Park - Taizhou - 2022
An interesting park because its getting a unique coaster. The first park in the world to open a Vekoma Renegade coaster which features Vekomas first stall inversion. The park will also feature a Vekoma Junior Boomerang Rebound model, The same model seen at Paulton park.
3) Fantawild Oriental Heritage - Zhengzhou - 2022
The third fantawild park in Zhengzhou after the 2012 Fantawild Adventure and the 2015 Fantawild Dreamland. These are the busiest parks in the entire Fantawild chain and the 7th busiest resort in China. Has made the interesting decision to go for a Vekoma Space Warp launched coaster. Better known here as a clone of Formula at Energylandia. This is only the 2nd version of this model, oddly despite the launched version being first the extended lift hill version has been much more popular.
The park also features yet another Vekoma junior boomerang rebound model.
4) Fantawild Dinosaur Park - Zigong - 2022
Another unique park in the FW chain, at least in regards to themeing. This park is in Zigong which is famous for its Dinosaur Fossils so FW have lent into that and themed the whole park around Dinosaurs. The unique entrance area seen below is pretty cool.
Coasterwise the park seems to be lacking though. So far only a Vekoma Junior Boomerang Rebound model and an SFC of the Orkanen design have shown up on site. The original park plans had another Vekoma Hyper Space Warp but the SFC is in the space that that was shown so it may have been cut.
5) Fantawild - Xuzhou - 2023
Another new Fantawild that has a unique coaster on the roster. This is the park that will have the first Vekoma Super boomerang that was revealed recently. It will also have a unique for China junior coaster, a clone of the new one at Tayto Park. The park may also be recieving a Vekoma Hyper Space Warp (Lift hill version of Energylandia's Formula), its on the model and the concept art but no proof just yet.
6) Fantawild - Heze - 2023
Not a whole lot is known about this but a Vekoma Junior Boomerang is already up. A 2nd larger coaster, possibly another Vekoma Hyper Space Warp is expected.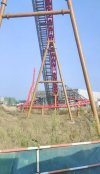 7) Fantawild - Jinin - 2023
In the early stage of construction but confirmed to be getting another Vekoma Top Gun coaster and a Vekoma Junior Boomerang Rebound model. Track and footers for the Top Gun were done a few months ago and its likely the coaster is up by now.
8) Fantawild - Yingtan - 2024
Very Very early in the construction process. The latest Vekoma reference list confirms this park will be getting another Vekoma Hyper Space Warp Model.
9) Fantawild - Shangqiu - 2024
Not much is known about this one but the park has a Vekoma Junior Boomerang Rebound model already on site. However if we can tell anything about the 6 parks above this then there is probably a bigger Vekoma coaster on the way too.
10) Fantawild - Kunming - 2024
The park is confirmed but almost nothing is known about it. Its in a city where its going up against some big competition so expect a big coaster here.
I shall keep this topic updated as new stuff comes along.
Last edited: