Firstly, an apology for the often terrible photos in this trip report. The reasons for them in most cases will become clear, but in some cases there's no excuse! I did shoot some video at most parks which I'll get on YouTube at some point.
This trip report has a title with dual meaning – there were a number of creds with weather-related names during the trip, but also the weather played a pretty big part in our holiday and some of the park trips.
That started right at the beginning, when our flight to the US was cancelled, supposedly due to a storm in Philadelphia. As a result we ended up flying to Frankfurt, then Chicago, then staying overnight there (which had grim weather btw) before finally flying to Philly and our eventual destination of Burlington, Vermont almost a day late.
As a result of all that, our planned activities in Lake George were cut down and our first park trip went from a full day that should've included the waterpark to a pretty hectic afternoon cred-run. So let's get started!
The Great Escape – Sunday 28th May
This was Memorial Day weekend and we expected the park to be reasonably busy, and so it came to be. Any plan to still get a couple of hours in the waterpark vanished almost as soon as we arrived, though in retrospect it wasn't as bad as it looked and I easily picked up all the creds and a bit more besides.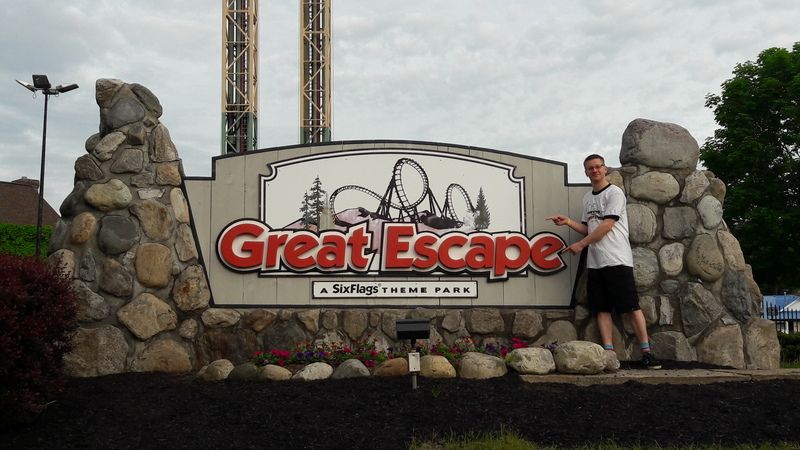 First job was to register our Six Flags season passes, which was an incredibly easy process that took less than a minute, then grab a red sports bottle that gives free refills on the first day of use, and 99c refills any other days. This geared us up nicely for visits to the other Six Flags parks on our trip. Then it was off to the back of the park for the most important cred – The Comet.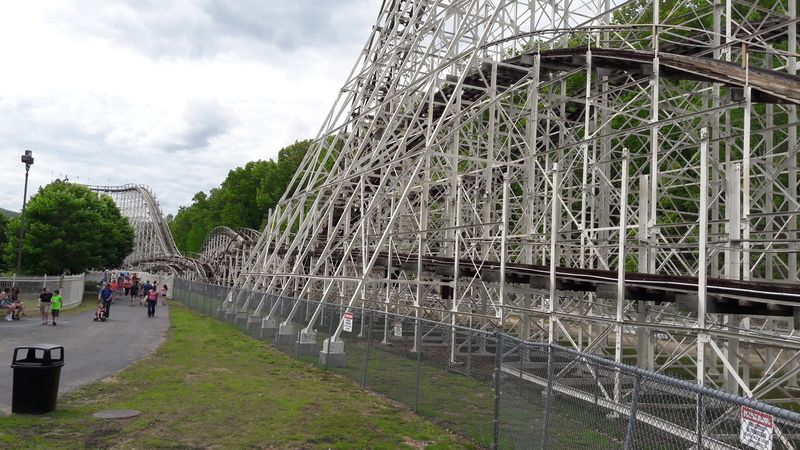 After a couple of wrong turns, we got there and my wife sat in the shade while I joined the queue, only to find that the ride was temporarily closed! After 5 minutes of inactivity I decided to head elsewhere, only for the ride to start operating again as I walked away from it. So back in the queue I got. The Comet does seem to have a single rider line, but it wasn't in use, which is annoying when you can see the train dispatching with odd empty seats. As it turned out, the regular queue does split into front and back half of the train, and the back half was way shorter, which suited me fine, as I was aiming for a back row ride anyway.
First impressions, pretty decent. It's no world-beater and has some rough moments as most old woodies do, but some recent retracking on the drops helped a lot I think, and the long layout offered some reasonable airtime moments and thrills. I came back at the end of the day for three more rides, including another back row and the front, and overall really enjoyed it. I guess there's something special about riding a coaster with lots of history, which allows you to forgive some of its shortcomings. 7/10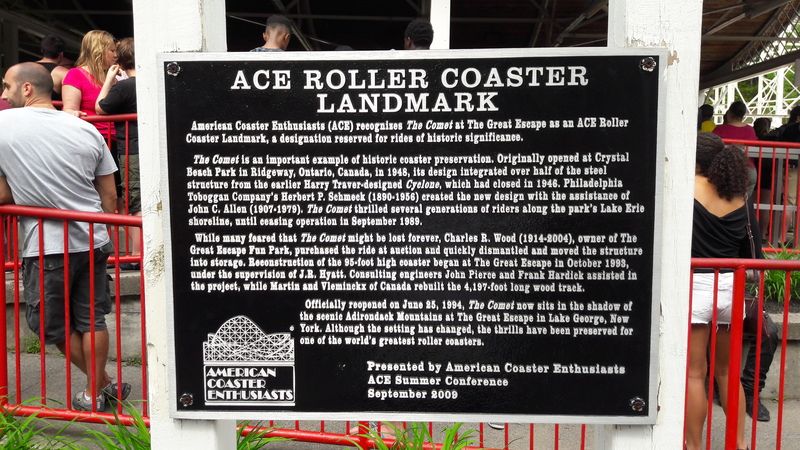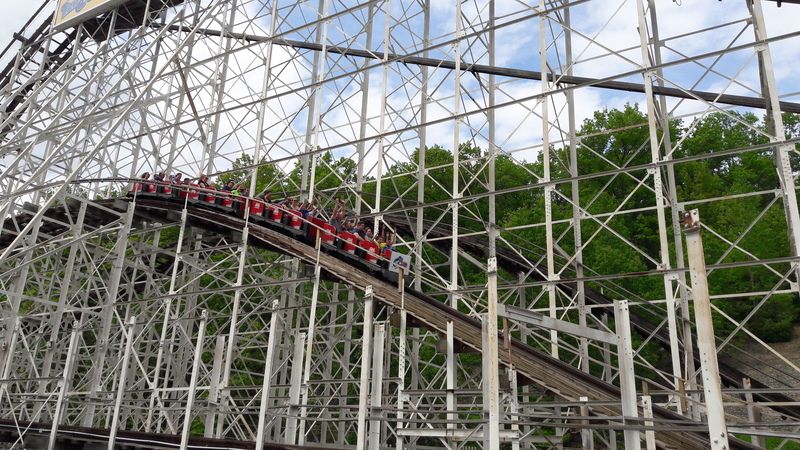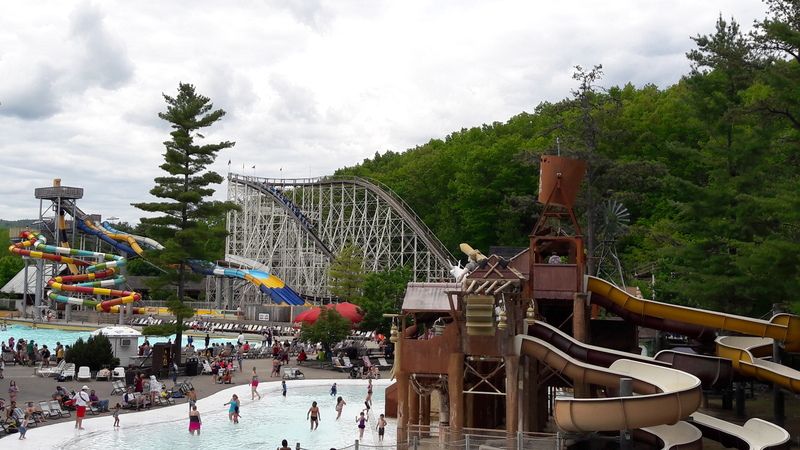 With The Comet done, we headed back towards the front of the park, where most of the other creds are, and the log flume, which was our next stop on this fairly hot day. This was one of several rides in the GhostTown western-themed area, which was reasonably well done.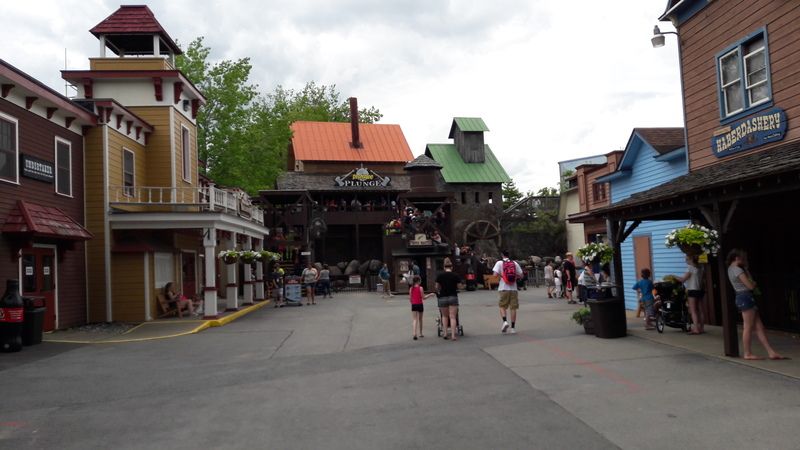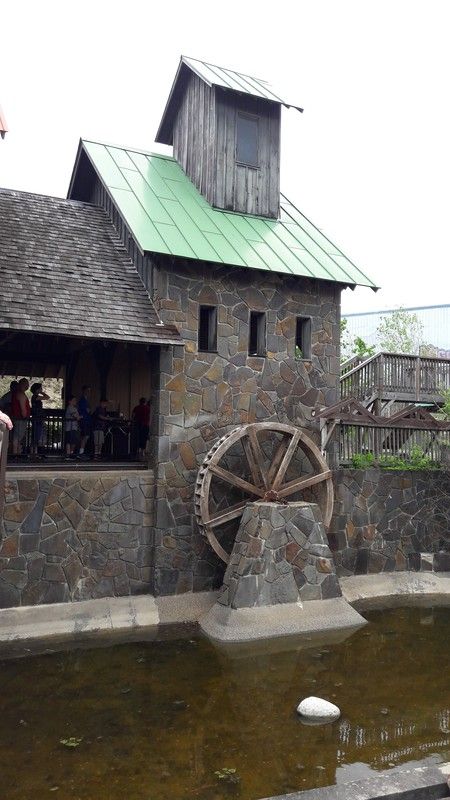 Desperado Plunge, the log flume, is really nothing special but has one particularly amusing moment which I couldn't take a photo of, where there's an animatronic lumberjack that, from behind, appears to be masturbating his giant log. The other notable thing is that this ride gets you absolutely soaked! There is one small drop of no more than about 5 foot where you get drenched, followed by a bigger drop at the end that finished the job. You probably can't tell from the photo but I am soaked head to foot here...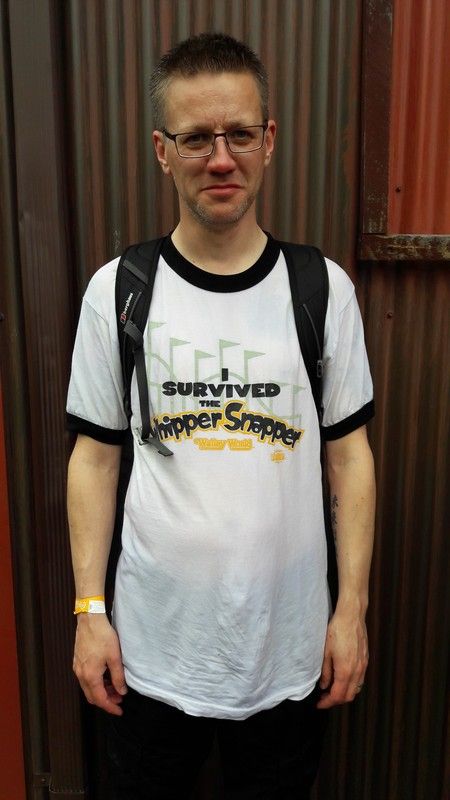 Next up were the two coasters in this area. Firstly Canyon Blaster, the Arrow mine train. It's pretty forgettable, but did differ from other Arrow mine trains I've ridden in that it went up quite high, and had quite an intense helix at the end which helped dry me out. 5/10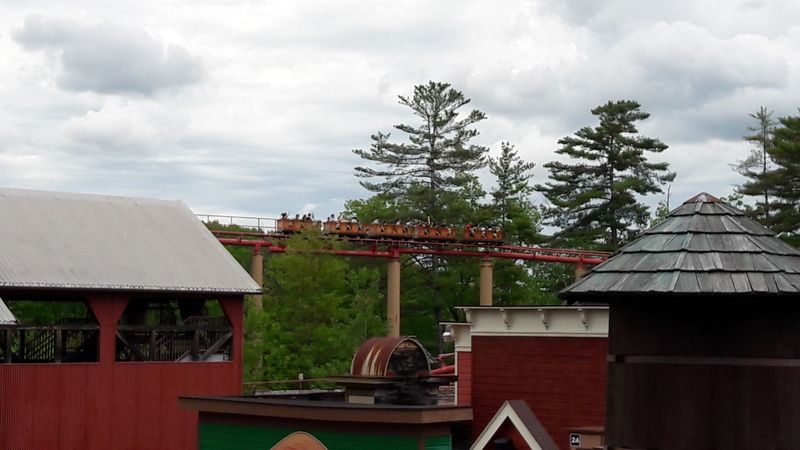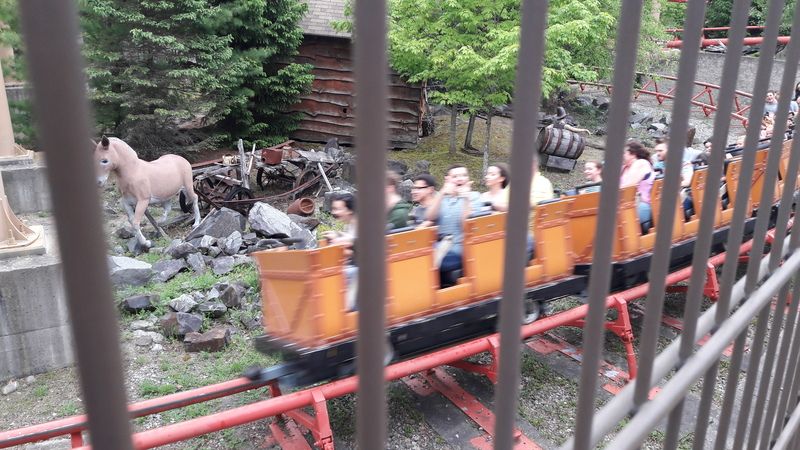 After that was Steamin' Demon, the park's Arrow looper (a loop and two corkscrews to be precise). I was expecting the worst here, but with reasonable bracing it actually wasn't as rough as I expected. The whole thing is barely a ride by modern standards though, and was over in less than a minute, with nothing after the two corkscrews. I did like the colour scheme and at least there was no queue! 5/10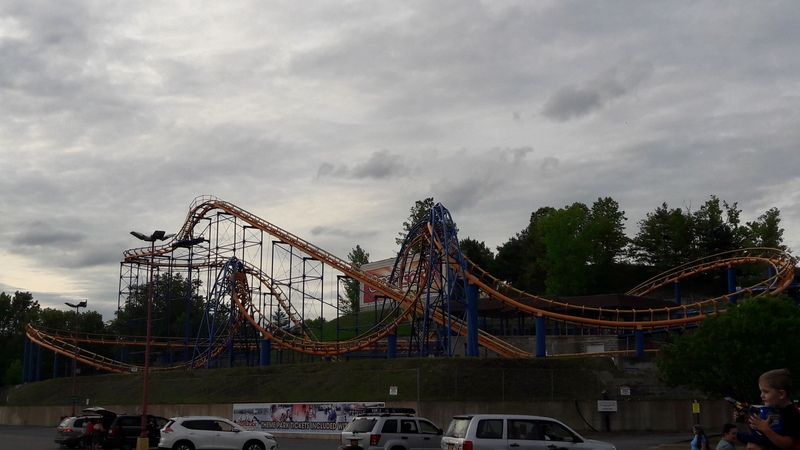 (Pic from outside the park)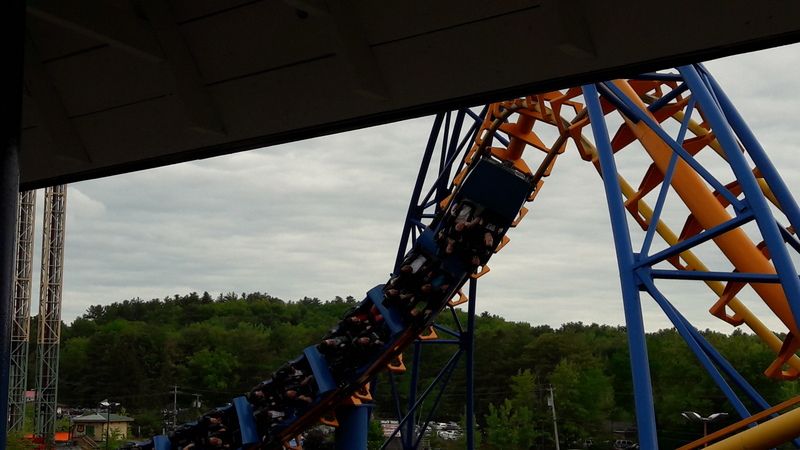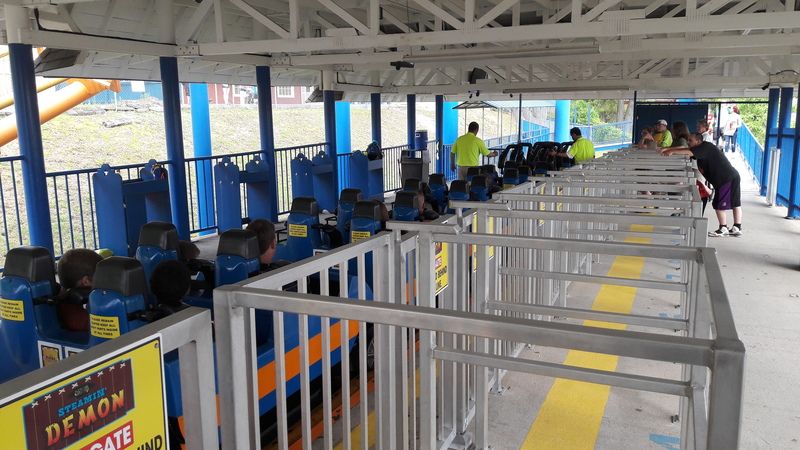 Since I was on a roll with things being less rough than expected, my next stop was Flashback, the Boomerang. I haven't ridden one of these since the 80s (which was the one at West Midland Safari Park) and to be honest it wasn't that bad. The worst thing about it was the operations, which were painfully slow for a ride like this. At one point the ride op stopped to have a chat with some guys in the queue, which didn't help. 5/10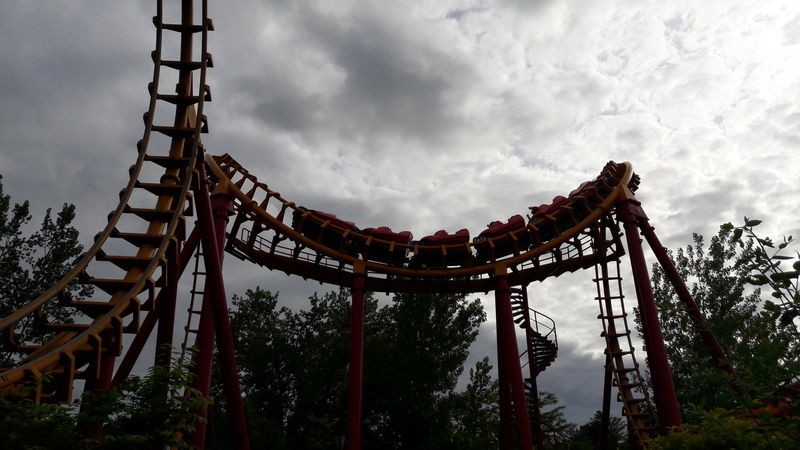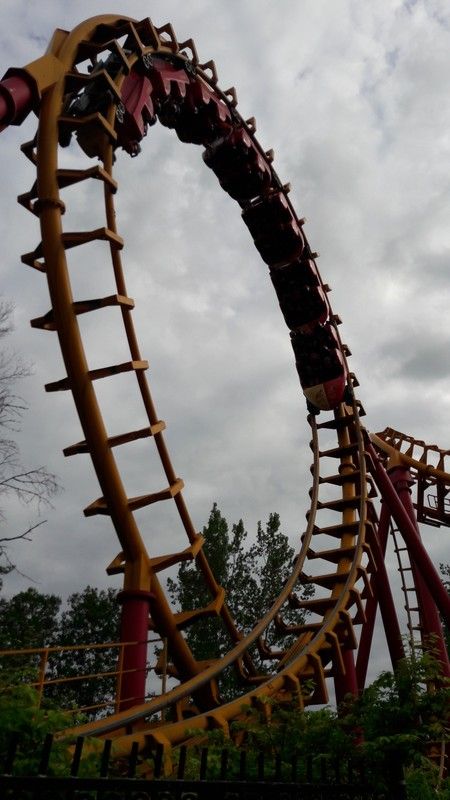 That just left one coaster (the kiddie cred doesn't allow adults) but before that we went on the Raging River rapids, and if we thought the log flume got us wet, this was even worse. I have no issue with getting randomly splashed on water rides but I hate it when they put unavoidable features on the ride that get you soaked with no chance of dodging them, and this was full of them. So once again we were drenched!
The final cred was the Alpine Bobsled. Apparently this ride is closed more than it is open, and we hadn't realised it but they close the gate at 6pm so we just got on, and were on the last car of the day, so that was doubly lucky! Compared to Avalanche at BPB it was a poor relation, as it clangs into the sides a lot on the brake sections, but it's something a bit different and the second best cred of an admittedly poor selection. 6/10
(Only half decent pic I got!)
As I mentioned, after that I went back for more rides on The Comet, and that was that. It would have been nice to have spent more time at the park and take the atmosphere in a bit more rather than running around. I would've liked to ride the drop tower and go into the waterpark, which looked far better quality than the amusement park side of things. The ride line-up is mostly crap, but it seems like quite a nice, small park with a bit more character than most Six Flags parks (based on my experience) and the surrounding area is very pretty. They're in desperate need of a new coaster though – I think something like a Vekoma SFC or a Gertslauer Family launched coaster would fit this park well. The park layout is a bit odd though and there are several dead ends – getting to The Comet is certainly more difficult than it first appeared!
If I was ever in the area again I would go back to check out the stuff I missed, and I think this place does have the cheapest season passes of any Six Flags park, so that opens lots of other opportunities, which we took advantage of almost immediately... But that's a story for another day
Random park pics I got on my way out: