Okay so I have finally decided it is time to share some of my projects that I have been working on away from what you have seen in the contests, and to just generally have a place to update and share future projects they come to life.
So I must confess my first set of pictures I'm going to share are a bit raw, and the general idea of whats happening here is a bit odd.
Alright, so lets begin, the first thing I want to share is ride with no name, it is actually my first ever ride I have produced on NL!
This B&M ride took an absolute eternity for obvious reasons, there was no practice coasters that got made to learn and bin, all the basics and schooling of how everything works went into this ride.
Coming from a strictly RCT3 background, I'm used to just snapping pieces of track together like a jigsaw, so you can imagine how my brain was blown away when I started making this, although I knew NL is more complex, it does not prepare you for that immediate, how the hell am I going to do this moment you have when you first get going.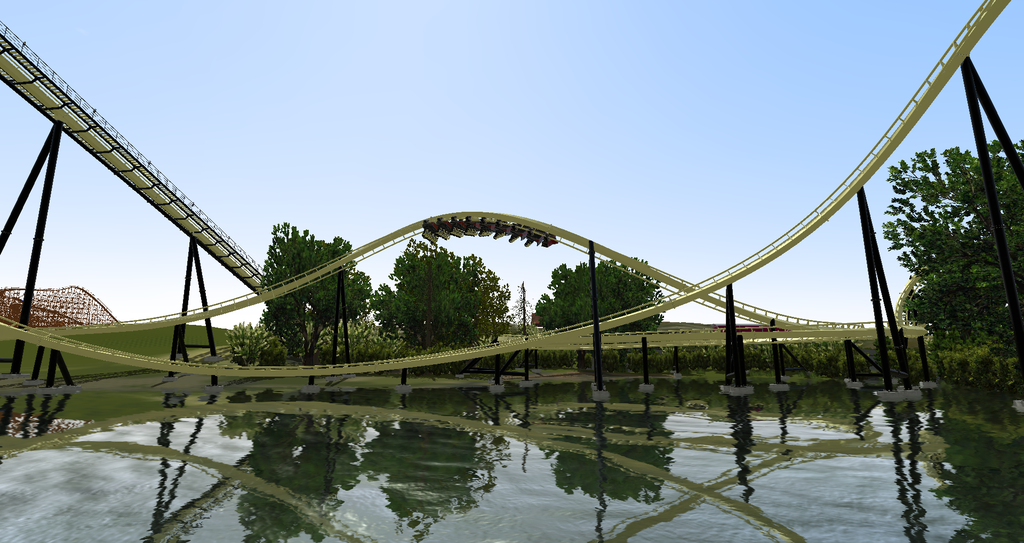 I did use all the tutorials to get this started, I would never been able to do anything without them, and although it is far from a great ride, I think it is really nice for a literal first attempt, I don't know how many of you guys still have your first attempt, I don't even remember my first RCT3 ride, I think its quite romantic to be able to keep it and share it with you guys.
Sentimental section out of the way its now time to share something a bit more current, I give you The Laboratory.
So rather than this being an actual project this is actually something a little different, The Lab is actually my construction park, work bench, ride storage area.
I use this park file to make my non contest rides and rides not requiring too much terrain editing. I make them here then either plug them into the park I need or just keeping here in storage until a time when I require them for a park project or even as a plug in background ride like I did in the last contest.
Although there are only 2 finished rides here, they're both main event rides, I want to get building some more frequently used rides that parks use to fill areas, rides such as, a boomerang, SLC, wild mouse, impulse coaster etc, so I can surround main event rides with them, also the great things with these kinds of rides is I can use them in multiple projects if I choose too.
So here's what I have so far.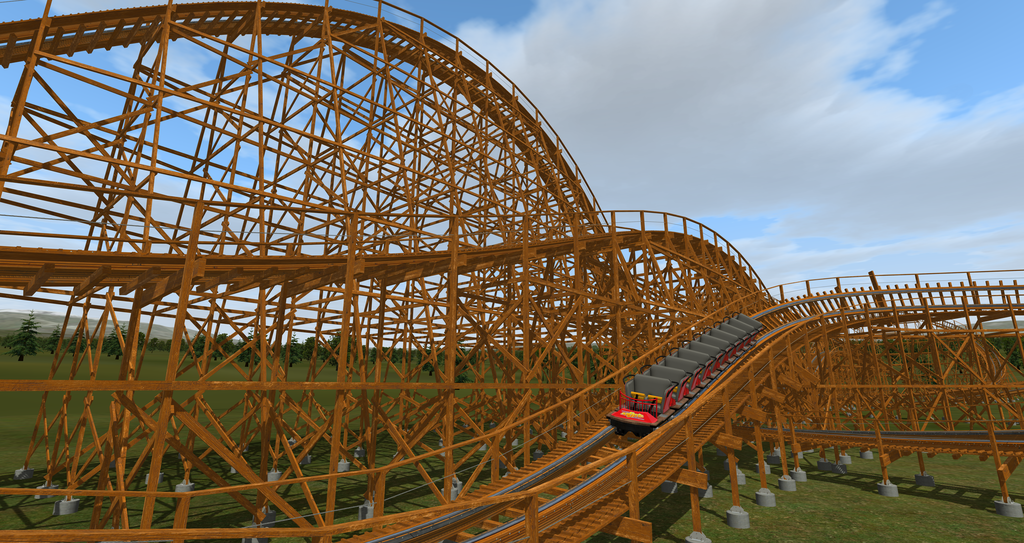 So a millennium flyer to begin with, I'm not too sure how I feel about this one, I can't decide whether I like it or not, I think it will be suited to some nice terrain, the ride could look quite nice. Interesting fact, this ride took about and hour start to finish to make up.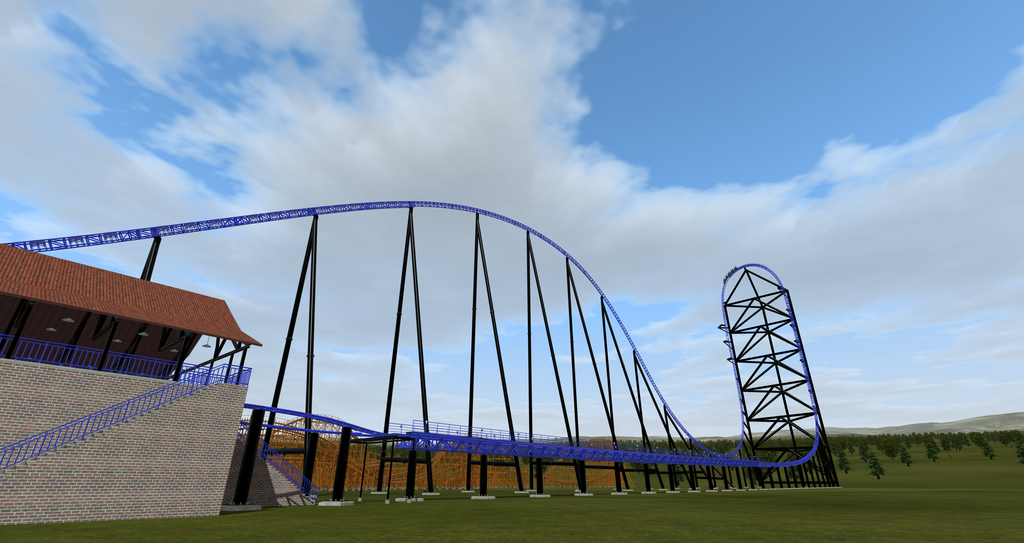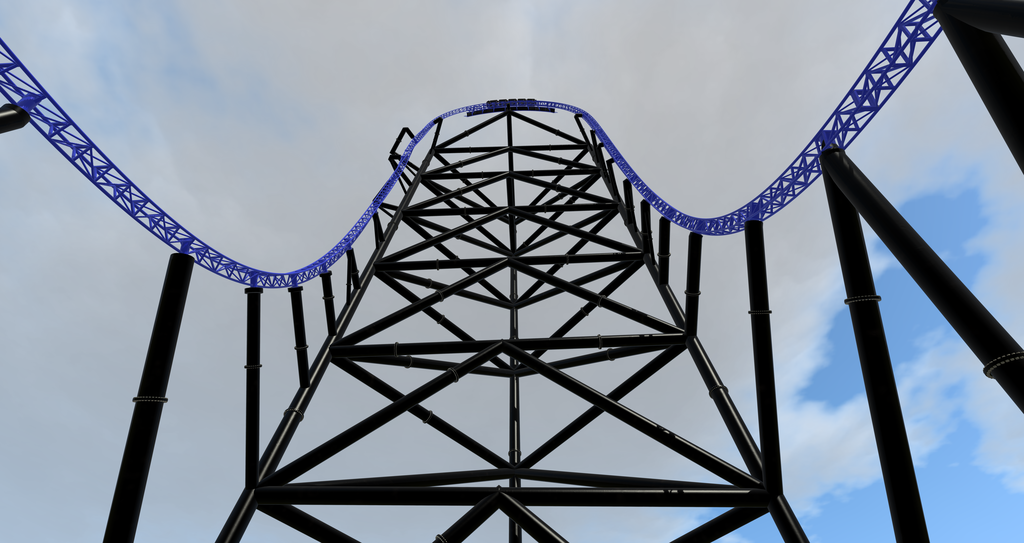 Now we have a stratacoaster, really simple layout to make and it looks and rides quite nice, I'm very happy with the supports, however if I do use this ride in a park, there's a possibility the colour scheme will be changed.
So these completed rides sit in a corner of the park out of the way of the construction area, in storage, but there is another ares in this park, The Bone Yard, here are finished rides that require either further work or a revamp, see if you can recognize these coasters,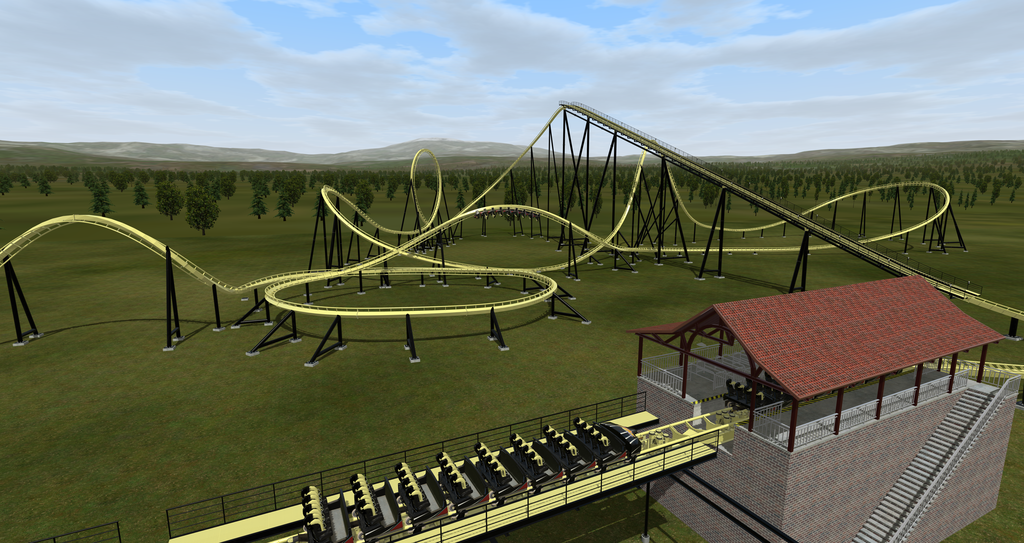 So I have my first ride, this needs some slight changes, as I have made more and more rides, I have learn't more from the game and certain aspects (such as dupumping vertices) are not implemented on this ride, it just needs bringing up to scratch basically.
Then there's Sabre, the flop from my first contest, I struggled so much with this ride and I have grown to hate it, that being said I can't just delete and forget about it, rather I see it as a project, I have 2 ideas, either keep it as is, just edit the layout to be more true of the ride type, or convert it to a eurofighter, the layout maybe more suited to that, I will also line up the lift hills and what not, I want this ride to be different and better but at the same time, kind of be the same, we will see, should be a nice project though.
So yeah in conclusion this is my first ride and my lab, quite a cool little thing, I don't know if any of you do this or if you just build on site, but this is how I have found best for me.
There will be more coming in the future including my first park project, I need to get a couple of signature coasters built first though, one will be built in the lab and the other will probably be built on site, so there should hopefully be a park project up soon.
Until then I will continue to update you with any work that goes on in The Lab, there's my first coaster for the park and hopefully a small filler ride or two.
Welcome to my page, all comments/feedback welcome