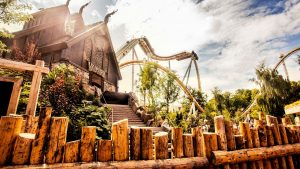 Gothenburg, Västra Götaland, Sweden
August 10, 2018 – Liseberg opens their newest addition, the Bolliger & Mabillard dive coaster Valkyria. This coaster plunges vertically from a height of 152 ft (47m) to reach a speed of 65 mph (105 km/h), and features three inversions across its 2300 ft (700m) of track. The initial drop is 164 ft (50m) tall, because the track dives into an underground tunnel. Allegedly, problems with the construction of this tunnel delayed Valkyria's opening to the middle of the summer season.
Valkyria is built in the spot formerly occupied by the Intamin hydraulic launch coaster Kanonen, which was built in 2005 and dismantled to be sold in 2016. As we have covered previously, it is unknown where Kanonen will eventually end up.
Valkyria's name and theme come from the Norse mythological creatures known as valkyries. In this, it follows the theme set by the neighbouring Intamin Wooden Coaster Balder and a Gyro Swing named Loke, completing an area themed to Norse mythology at the back of the park. Valkyria also has the honor of being the northernmost coaster ever designed by B&M.
Members of the CoasterForce forums have already been to Liseberg and ridden Valkyria. Read about their reactions and discuss Valkyria in our Forum discussion.