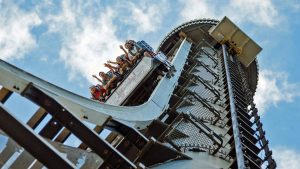 Coomera, Queensland, Australia
October 23, 2019 – Dreamworld confirmed the long rumored upcoming closure of Tower of Terror II, the continent's tallest and fastest roller coaster. Built on one side of the 390 feet (119m) tall Giant Drop free fall tower, Tower of Terror II opened in 1997 and final rides will take place on November 3rd this year. The Giant Drop will continue to operate as normal, with the coaster track being removed from the iconic Dreamworld Tower structure over time.
The Intamin LSM launch coaster propels passengers backwards from 0-100 mph (161 km/h) in 7 seconds 377 feet (115m) up the tower, where they experience another second or two of weightlessness before racing back down facing the ground. Originally known as the Tower of Terror until it was modified from a forward facing launch to the backwards one in September 2010, it was the first coaster in the world to reach that speed and height.
See what our members are saying about the ride closure in our Forum discussion.