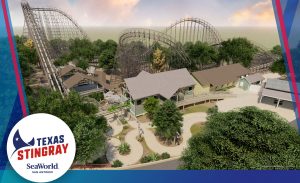 San Antonio, Texas, USA
September 12 – SeaWorld San Antonio also held a press confrence for Texas Stingray, a GCI (Great Coasters International) traditional wooden roller coaster opening in the park next Spring. The park's first wooden coaster will be the tallest, fastest and longest wooden coaster in the Lone Star state. It will also be GCI's first new coaster built in North America since King Island's Mystic Timbers and Busch Garden Williamsburg's InvadR opened in 2017.
Texas Stingray will have a 96 foot (29m) tall lift hill with a 57°, 100 foot (30.5m) drop thanks to the elevated terrain the coaster is built on. Reaching a top speed of 55 mph (88.5 km/h), the ride will feature large 76° banked turns, 16 different airtime hills and a 100 foot (30.5m) long tunnel along its 3,379 feet (1030m) of track.
Unlike today's other announcements, SeaWorld San Antonio has released a POV animation of the full ride (below).
See what our members are saying and follow the construction of this record breaking coaster on our Forum Discussion.