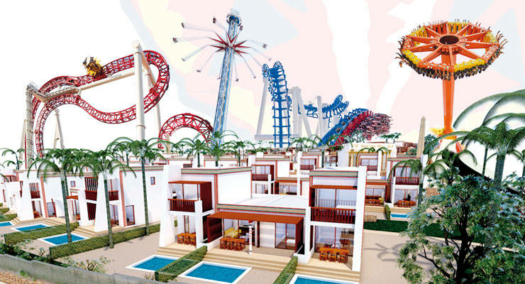 Benidorm, Alicante, Spain
24 June , 2020 – Terra Mitica theme park owners have announced they will not open for the 2020 season. Last week, the Spanish Government announced easing of certain Covid-19 related restrictions, which would allow theme parks, zoos and other outdoor attractions to open again from Friday, 3rd July. Bosses at the Benidorm theme park decided to keep their gates closed for their 20th anniversary year to complete other projects in the park, ready for a grand re-opening in April 2021.
Aside from general maintenance, the plans are to finish constructing the Grand Luxor Villages, a luxurious on-site hotel with indoor swimming pools.
Benidorm is a popular holiday resort for both Spanish and international travellers. The impact of the Coronoavirus pandemic is likely to negatively affect visitor numbers to to area. Taking time out to ensure visitor safety and to complete their resort may prove to be a shrewd move for the Terra Mitican owners.
Terra Mitica has approximately 25 attractions including three roller coasters and the theme park enthusiast favourite, "Laberinto del Minotauro", a trackless dark ride!
See what our members are saying about how the COVID-19 pandemic is affecting the theme park industry in our Forum discussion.